Q&A with tenoverten co-founder, Nadine Abramcyk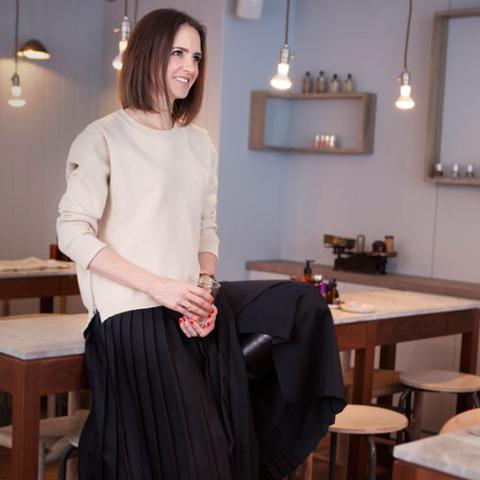 Co-founder of

tenoverten

nail salons and non-toxic nail care products, Nadine Abramcyk is mother to 2, Zoe Lee (5) and Solomon (3) living in Manhattan and enjoying the wild journey that is life as a mum and an entrepreneur.
We are so thrilled to have her join our BURU Tastemaker Tribe! Read our exclusive Q&A with her below + shop her curated #momstyle HERE.
I love seeing the world through the lens of my children. Being a mom has surprised me in so many wonderful ways but truly the most wondrous has been how life affirming it is to watch them experience things for the first time.
Motherhood has changed me in so many ways but has taught me a higher level of patience and selflessness than I ever could have imagined.
Zoe Lee is 5 years old. She is whip smart and very curious. We get stopped all the time when we are together because people say we look exactly alike.
Solomon is 3 years old. He is a true lover in every sense of the word, he loves to cuddle and is on a mission to make those around him laugh.
I breast fed Zoe Lee for a year to the day and Solomon 16 months. It wasn't a premeditated choice, but rather something that felt natural with each of them. I lived in button down shirts for those months and hideous nursing bras.
My style has changed to suit my new lifestyle of being on the floor a lot or running around a park. I have a much larger wardrobe of casual pieces to wear when I'm with the kids. I don't think my style overall has necessarily changed all that much, I am just more mindful of saving my more precious clothing for going out at night without the kids and have an affinity for certain silhouettes that work with my body type such as a high-waisted pant. I stick to a sort of uniform which takes the stress out of getting dressed.

Shop Nadine's Tastemaker collection >
1.  A pair of

jeans

that sit high on your hips so that you feel comfortable on the go.
2.  Some staple

sweaters

that are easy to throw on for the weekend.
3.  A pair of comfortable yet fashionable

sneakers

.
4.  A low heeled

bootie

.
5.  Large

sunglasses

to cover up tired eyes on the occasion.
Tenoverten was born out of personal frustrations that there were no neighborhood nail salons that were thoughtful on multiple levels. I had no background in beauty yet was living in NYC and enjoyed getting my nails done with my friend and now business partner Adair Ilyinsky. We always thought we could improve on the model and started a list of things we would shift in the industry. One year after those conversations started we signed a lease for our first salon in Tribeca and the rest is history.
The most important moment in the history of tenoverten was in May 2015 when the NY Times wrote an expose on nail salons across New York. It was a wonderful moment because it brought the spotlight onto our industry and in particular workers rights. There were some pretty awful things occurring in some salons and since the article, many bad ones have closed, while the others are now held to higher standards and regulations. I think it has elevated salons and more importantly created safer working environments for manicurists. My next hope is that we address the chemicals widely used across salons and make some important bans.
I'm so thrilled with the evolution of the tenoverten polish line. It started as sort of a side passion project and has grown into such an instrumental part of our business. We have 32 colors and a nail care component that is expanding rapidly. The most exciting part of building the product line is that we are an 8-free, vegan and cruelty free collection which means that we are constantly trying to improve the ingredients that go into our polish without compromising quality. It is extremely rewarding to stand behind a collection that is safe for our clients and employees to use week after week. My go to color is Fulton, to me it is the perfect nude!
Creating safer nail polishes and care items became our mission after my first pregnancy when I suddenly became hyper aware of the chemicals in my beauty products. I was searching for elegant colors in less toxic polish collections and couldn't find them so we started our own namesake line and it has naturally grown from there. There is no such thing as a completely natural manicure but we strive for a less toxic option that is safer for all women especially expectant moms and kids.
It is important to make time for yourself in whatever way is rewarding to you so that you are happy from the inside out and feel good waking up each day. That could be in the form of getting a tenoverten manicure or taking a yoga class. I also think this sets a good example to our kids that they too must exercise self care throughout life.
I live in Tribeca in Manhattan. My husband happens to be a restaurateur with a few places in the neighborhood so we frequent those often; Tiny's & the Bar Upstairs, Warren 77 and Smith & Mills. We use Playgarden as our go to indoor playground when the weather is too cold for us to venture outdoors and the Hudson River Parks are incredible source for us to go in warmer weather. Brookfield Place also has great kids programming with such things as an ice skating rink and the Nutcracker for kids. We absolutely love our neighborhood and just taking walks and running into people in our community is a fun activity for us.
There is no typical day and I think that suits my entrepreneurial spirit. We have 4 locations in NY so I am constantly going between them using a pedicure chair as my office. It is really important to me to be on the ground connecting with my incredible staff. They are what makes tenoverten tick.
Being supportive and nurturing.
mother: present
wife: partner
business owner: decisive
friend: loyal
Bedtime Story: Where the Wild Things Are
Lullaby: Goodnight Sweetheart
Vacation spot: Punta del Este, Uruguay
Restaurant: Yves in Tribeca
Children's Brands: DeBuci Baby, Makie
Your life will change so embrace it and be flexible.
Be Curious and Stay Present
Save
Save
Save
Save
Save