Our production partners make Buru possible.
Every factory Buru works with meets a variety of standards. First, are they at the top of their game when it comes to meeting safety, ethical and environmental standards? Do they understand our ethos of making the most of things – efficient, but without compromise? Lastly, do they empower our Buru family to keep growing responsibly?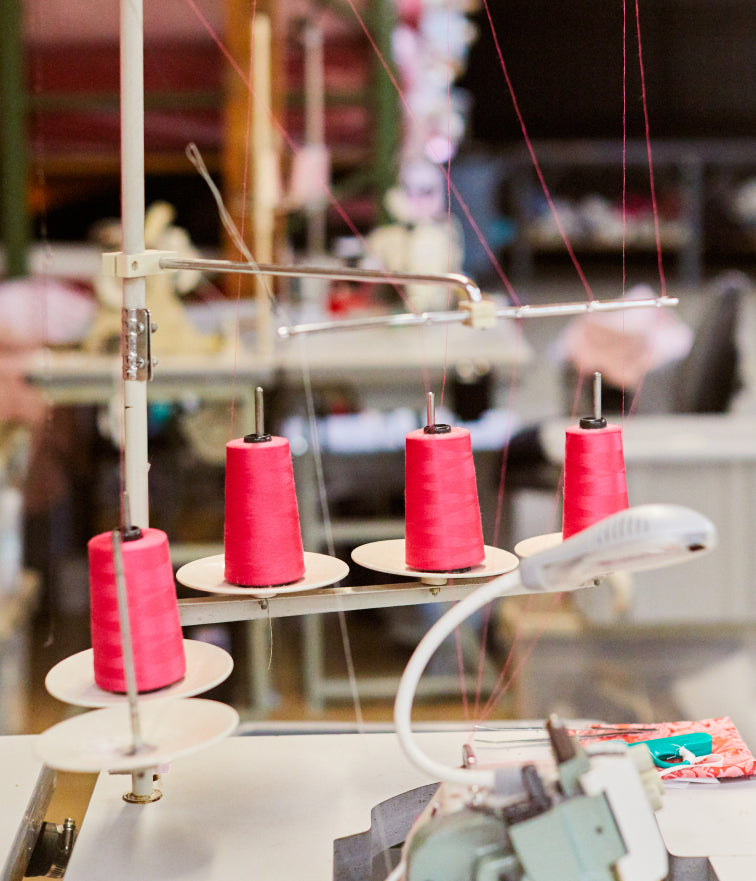 Our Factories
Start Date

Location

Factory Qualifications

More Details

Daily personal oversight and in-person interaction with our domestic production team ensures the most responsible, productive and ethical manufacturing methods. Our LA team is like family and we treat them as such, by offering paid vacation, healthcare and wages above industry standards.

We started the factory in 2016 with one sewer, Julia, who still works for us today, and we've grown to 30 full-time production team members – ranging from pattern makers, graders, cutters, sewers, finishers and fulfillers. We hire and train local talent with a "fabric to fulfillment" model where styles are patterned, sampled, cut, sewn and shipped under one roof.
 
BURU's domestic production exclusively uses deadstock textiles, vintage buttons and trims to create styles in woven cottons, brocades and rayons, as well as our lovely loungewear in double-knit jacquards.
 
In 2022 we purchased our own 8000 sq foot building, still in the Arts District of DTLA, to accommodate the production team and machinery growth – allowing us to create and cut ever-more styles for our small-batch releases.

amfori BSCI Certifications in: ethical business behavior, protection of the environment, no bonded labor, no child labor, occupational health and safety

We've worked with a small factory in Humen, China, since our first visit to them in late 2017. With 70 skilled workers on staff full-time, the factory's vast production capabilities were what first attracted us. However, it was the team's eagerness to help expand our size range in a manageable way that truly solidified our partnership.Today, their talented teams play a key role in the Buru operation, cutting and sewing many of our signature brocades, lurex and sparkle styles, as well as several of our novel prints and elevated essentials.

Despite being an ocean away, the factory holds multiple amfori BSCI Certifications, ensuring ethical practices for both laborers and the environment (standards we consider nonnegotiable at every link in our chain).

Social Accountability System, Worldwide Responsible Accredited Production, Supplier Ethical Data Exchange, Business Social Compliance Initiative

The most recent addition to our network, our production partner in Noida, India, produces all of our custom print cotton poplin styles. We began working with them in 2021, and have been blown away by their capabilities every day since. With state-of-the-art software and technology and seemingly endless innovation, the factory allows us to think bigger and more creatively than ever before, and we're excited about the possibilities that still lie ahead.

Spanning 250,000 square feet and including an onsite US Consumer Product Safety Commission-approved laboratory for chemical and mechanical testing, the modern facility takes great care to maximize efficiency. Its certifications include a Social Accountability System, Worldwide Responsible Accredited Production, Supplier Ethical Data Exchange, a Business Social Compliance Initiative.