Q&A with Marysia Reeves, founder of Marysia Swim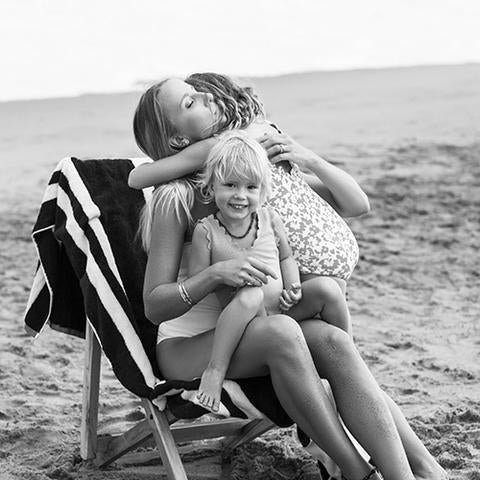 I am the founder and designer of a luxury swim and resortwear brand MARYSIA. I attribute much of my success to the work ethic and dedication I developed during my years studying to be a ballerina. I'm also an avid, curious traveler who finds creative inspiration in art, architecture and on beaches everywhere. I live and work in Venice, California with my husband Nathaniel, daughters Tola and Elle, and our pets Saba, Peanut, Kicius, and Sunny the gecko.
What do you love most about being a mom?
Feeling the most special love there is and being so proud of their achievements.
How has motherhood changed you?
It's like I don't remember life before the girls. Having my first child at 26 made me grow up really quick… the instincts I always knew I had came out full force.
Tell us about your mini squad. 
Elle is 10 and the sweetest goofball I know. She's smart and shy at first but once you get to know her it's no longer. She loves animals and is very curious about everything around her, especially animals and nature. She also has the most incredible memory. 
Antonia is the most friendly and happiest 4-year-old. The moment she steps through the door she lights up the room with her contagious smile. Like her big sister, she's also goofy and very smart. She's extremely strong willed. She loves to play dress up and pretend she's a princess but can also get down and dirty with her big sis looking for bugs and inspecting the earth.
Did you breastfeed? If so, how did it affect your wardrobe choices?
 Yes, 18 months with Elle and 9 months with Antonia. My wardrobe choices became more flowy and easily accessible like loose tops and nursing bras.
Tell us about your company. What's its story or history? 
Inspired by my time in Poland as a professional ballerina and love for the ocean and surfing, I truly understand the body and value the ability for lightness of movement in swimwear. Having spent most of my life in either a ballet leotard or a wetsuit, I wanted to create something stylish that always looks fresh and effortless. The line, launched in 2009, eschews trendy prints and typical cuts for perfectly executed silhouettes in premium fabrics.
What is your favorite aspect about running your own business? What is your least favorite?
I'm doing what I love every single day and having the freedom to basically do whatever I want when I want. I don't really have a least favorite I just would say trusting someone else to do something for you. You have this vision in your head that is pretty uncommon for others to have that exact same vision. Also, when someone copies you, like another designer. It gets to you personally. There are so many daily operations that take place in running your own business, you can never turn it off.
What does a typical day look like for you? 
Well, I wake up early around 6:30am and get the girls ready for school. If I wake up earlier, I'll try and squeeze in a workout like Pilates or yoga. I take Elle to school at 7:30am and drive back to then walk Tola to school. Nathaniel takes her majority of the time because she has a hard time leaving to go in with me. Then, I go to the office and work all day unless I have a meeting or appointment, I don't even leave for lunch usually. After work, if I haven't already in the morning, I'll go workout in the evening but it doesn't always happen. We have dinner as a family, early. Then it's homework time, baht time and bed time for the girls. Nathaniel and I then either take a steam or catch up on whatever series were watching on Netflix and go to sleep. We wake up the next morning ready to do it all over again.
Has your personal style changed since becoming a mom? How would you describe your #momstyle?
Two words: more comfortable. You're constantly carrying someone, bending over, tying shoes, picking up messes, etc... But most importantly, flat shoes! However, being a mom definitely hasn't affected my love for fashion. I'd say my #momstyle is chic comfortable.
What are your must- haves from BURU and why do they work in your mommy lifestyle?

The Laundress Baby Detergent- best smelling clean detergent I've used for years
Lemlem Tabtab Caftan- pretty and comfy
Ulla Johnson Areli coat - comfortable and cozy but adds a little something special to an outfit
What key pieces should every mama have in her closet? 
One piece to throw on that always makes you feel good to go and a great pair of sneakers. I love my golden goose's. I wear them all the time.
We would love to hear more about your home base.
We live in Venice, CA right off Abbott Kinney blvd. and steps away from the beach. The girls love Cha Cha Chicken, so we always go there as a family. Nathaniel and I love Gjelina in Venice, not just because it's so close to home and work. We enjoy walking to Clover Park in Santa Monica or we go to the beach either near home or in Malibu.
What does Motherly mean to You?
Loving, Caring, Nurturing
In one word how would you describes yourself in all the roles you play?
Mother
: Guilt-ridden, said with a chuckle
Wife: Loving
Business owner: Juggling
Friend: Supportive
Can you share a few of your favorite mommy moments?
Bedtime Story: The girls love to hear stories from Nathaniel and I's childhood
Lullaby: I sing a lullaby that was a sang to me as a child in Poland and we say the Lord's Prayer in Polish also at bedtime
Vacation Spot: Swimming together in the ocean at Harbour Island
Restaurant: Au Fudge is fun with kids and other mommy friends
Children's Brands: Bonpoint
What is the one thing you wish you would have known before becoming a mom? 
The toll is takes on your body, physically and hormonally- I had no idea.
Words to live by
If you don't like it, change it. Change it fast even though not everything is that simple.
Save