Q&A with Designer, Mignonne Smith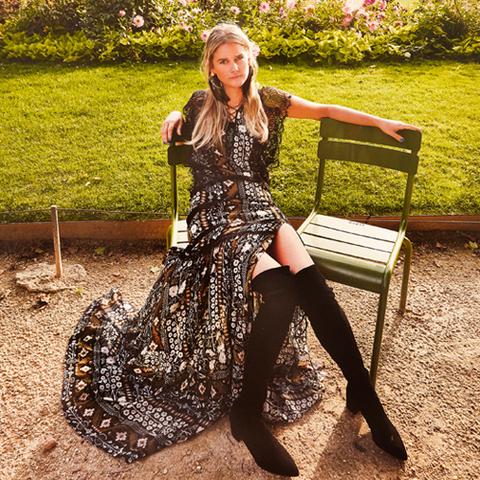 I am a New York designer with Southern roots and a bold sense of style. I love bright colors, intricate embellishments, genuine people, the energy of New York and my family. I've founded the accessories company, Mignonne Gavigan, after designing for 15+ years in the New York fashion industry. We make one of kind, uniquely embellished necklaces, earrings and bracelets that give the wearer a greater sense of confidence.
What do you love most about being a mom?

Man, there are SO many things:
The fact that I was able to bring Fields into this world. Each day he learns a new thing and changes, as well as teaches me new things. He is a blessing for sure. I had a hard time with pregnancy and whenever I look at him and he produces one of his enormous smiles, I melt and am overwhelmed with the love I have for him.
The wholeness I feel as a human being now that Fields is here.
The love I see that my husband has for Fields when he interacts with him.
How it has brought our extended family so much closer and we connect so much more often.
The sense of duty I feel to guard and protect him.
My need to balance a job I love with a child and family that I love as well.
How has motherhood changed you?
I am a creative person, so logistics and scheduling are not my forte. I have had to learn how to balance the baby's needs and care taking with my work schedule. I am much more efficient in the mornings so that I have time to hang with Fields and am able to then quickly jump in the shower, get dressed and hustle out the door. I am also now more aware of making sure I'm taking care of myself health wise, so that I can be strong for him. I was diagnosed with Type 1 diabetes several years ago and after a period of being angry and ignoring it, I now know I need to be as healthy as possible so I can be there for Fields as he grows and gets older.
Tell us about your mini squad.
I have one little man named Fields who is 6.5 months old and is a big guy (weighing 23 pounds). He has the biggest smile I have ever seen and one huge dimple just like his dad. He has an enormous head of hair and every morning when he wakes up, it is standing up in a different direction. He couldn't be sweeter unless it's time to eat or sleep. And then he'll let you know he's ready.
Did you breastfeed? If so, how did it affect your wardrobe choices?
Yes, I breastfed and pumped for 3 months and man, I had no idea how much it changes your body…especially when the milk comes in and your boobs become enormous and the milk squirts out everywhere. I wore pads in my breastfeeding bras at all times because the leaking was so bad and I rotated denim button down shirts and a long elastic waist-banded skirt until my c-section area didn't hurt as badly.
Tell us about your company, Mignonne Gavigan. What's it's history?
The Mignonne Gavigan accessories line is a high-end luxury line that creates wearable necklaces, earrings and bracelets using elevated couture bead-work and embellishments.   I made the original scarf necklace that launched the line in 2007 and sold them to friends and family. While draping a runway gown I had used ripped up pieces of a vintage gown for bead-work inspiration. There was a piece on the floor that I picked up, tied around my neck with a safety pin and walked home through Soho. On my way home, 3 different people stopped me to ask where I found and if they could buy one. And that's when I started making them!
What is your favorite aspect about running your own business?
I love to create pieces that make people happy, gives them something that makes them feel good about themselves and doing it in a way that makes me smile. I love to have fun with fashion and to create mini works of art.   When I used to design shoes for Loeffler Randall and Rachel Roy, I saw designing footwear similar to designing an entire outfit in one accessory. I feel the same way about jewelry!
What is your least favorite?
My least favorite aspect about running my own business would have to be the fact that I constantly feel like there is NEVER enough time to get everything done. I'm constantly looking at my watch thinking, "How can it already be 5pm?"
What does a typical day look like for you?
In the early mornings, Fields and I grab a bottle and cup of joe together as we inch our eyes open. We hang for a bit doing some jump-a-roo or some tummy time then Fields hangs with me in my bedroom while I jump in the shower and dress quickly. Getting ready happens in a fraction of the time it did pre-Fields. Our wonderful nanny arrives at 8:30am and I am out the door. We started Mignonne Gavigan in my apartment 3 years ago but moved to an official office space last March and are moving again next month to a place 3x the size of our current one. We have been very careful to spend money where necessary and with 8 full time employees and several on the horizon, we need adequate space to house ourselves. I grab some hard-boiled eggs and an ice coffee on the way to the office and the second part of my day begins. Design, social media, photo shoots, etc. all fall under a day's work but so do parts of HR, operations and company culture, that I share with my amazing business partner, Layne Logigian. Before I know it, I race home to see Fields and my husband, Gray, and we try to wind down the best we can before starting all over again.
Has your personal style changed since becoming a mom? How would you describe your #momstyle?
My #momstyle has definitely changed, especially at the beach. I haven't worn a one-piece since elementary school and now when I take the little guy in the waves and water I need something that won't fall off ☺. Also, after working in fashion for so long, I feel it is necessary to get dressed. Not put on a pair of workout leggings and a tank top, but to actually get dressed. This was very important to my sanity when I was home that first month with the baby, nursing and not sleeping. I NEEDED to take a shower and put on normal clothes so that I didn't lose my sanity. I've highly recommended it to all the new mom's I've spoken to since having Fields. But overall, I'd say my #momstyle consists of comfortable stylish staples, such as a great pair of jeans, a cool button down top or a t-shirt, and I spice it up with an Mignonne Gavigan piece. Developing your own staples is key so that you have your go-to's and you can get dressed easily and quickly.
click any image below to shop
What are your must-haves from BURU and why do they work in your mommy lifestyle?
Um, I'm obsessed with Morgan and BURU, I think she has created a wonderful chic yet fun way to look at mommy style. Every image she posts with her little people makes me smile and want to dress just like her!
click any image below to shop
What key pieces should every mama have in her closet?
A great pair of boyfriend jeans (Redone, DSTLD,Frame, Current Elliot / Hatch)
A good pair of sneakers (Golden Goose, Nike Air Max, Stan Smith Adidas)
A cool T-shirt (Iro, NSF, Proenza Schouler)
A Mignonne Gavigan scarf necklace or pair of earrings (Mini Madelines)
click any image below to shop
We would love to hear more about your home base?



I live in a part of New York City called Tribeca (short for Triangle below Canal Street) which is located in the lower (more narrow) part of the city. The building my husband and I live in was built in the 1890's and used to be a rice refrigerator. You can still see the barrel imprints on the original wood floors found in the apartment. We love the access to so many incredible restaurants that surround our street on each corner. Just across the cobblestone street we live on are some of the most delicious restaurants in NYC. If you walk a block further, you reach the Hudson Pier playgrounds that were built on top of old piers. Tribeca used to be a large port
What does Motherly mean to you?
To nurture and care for those around you.
In one word describe yourself in all the roles you play.
mother: caretaker
wife: best friend and partner
business owner: passion
designer: creativity
friend: family
Can you share a few of your favorite mommy moments?
Bedtime Story: Goodnight Moon (was my favorite book as well)
Lullaby: any Adele song ;)
Vacation spot: Seaside, Florida
Restaurant: Estancia
Children's Brands: Giggle, Egg by Susan Lazar, Petit Pehr, Aden + Anis, Monica + Andy, Oeuf, Babiators, Patagonia, Petit Bateau, Jellycat, Rockets of Awesome
What is the one thing you wish you would have known before becoming a mom?
I wish I had know how hard the first month was…. I felt blindsided when I went through it.
Words to live by:
Never give up. Dreams can come true if you work hard enough.