Morgan Smith in the Mama Mini Dress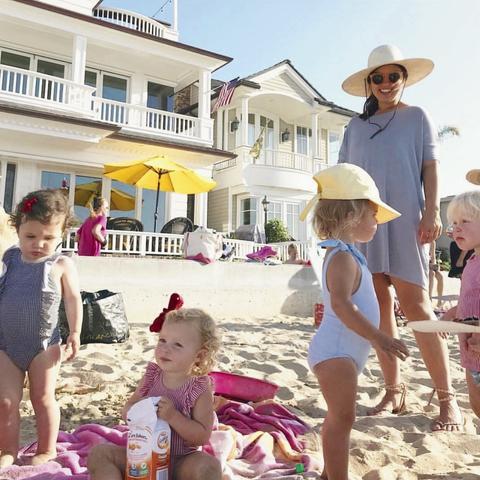 We asked 4 chic mamas to style their favorite color MAMA Mini Dress.
Naturally, the California native and creator of minnow, Morgan Smith,
chose our chambray blue—the color of the sea and one that pairs
perfectly with minnow's summer collection of the sweetest
swimsuits for your minis.
MORGAN SMITH
founder of minnow

 
Mini Squad:  |  Where do you call home:
 mom of two  |  hometown: balboa island, ca
Our 3 word slogan is:
Mom. Life. Styled.
please share with us your motto for each:
MOM
I can only hope to show by example, some days are easier than others, but I would
like for them to see the grit and the grace.
LIFE
We find ourselves down on the beach 3-4 a week winter or summer, either in sweatshirts
on a cool day or suits on a warm one. It's a place we all feel good and enjoy being together.
STYLE
I feel most me in a sundress.
(shop her chambray mama mini dress here)
 
BIGGEST ACCOMPLISHMENT
Landing my husband + two sweet babies!
BIGGEST MISSED OPPORTUNITY

I really wanted to live abroad after my husband and I got married. I'm still hoping
that the stars align, and we go with our kids now.
PRODUCTS YOU CAN'T LIVE WITHOUT

(click to shop her must-haves)
ADVICE FOR YOUR YOUNGER SELF

Relax. It will happen.
(I've always struggled with patience)
BEST ADVICE FOR YOUR LITTLES

Hard to pick just one—but I want to encourage them that they can do the hard things.
Not sure we are all prepared for how hard adulthood can be—that trials will come
and that they are strong and built to get through them and come out even better on the
other side. To persevere and keep fighting the good fight. To not lose sight of their
dreams and remind them that they can make them happen!
BEST PIECE OF ADVICE YOUR MOTHER GAVE YOU

It's better to be weird than boring.
(she always said this when pushing me to do something out of my comfort zone)
 
 SHOP MORGAN"S DRESS HERE
SHOP ALL MAMA MINIS HERE