Mère du Soleil Travel Guide—The Heartland of America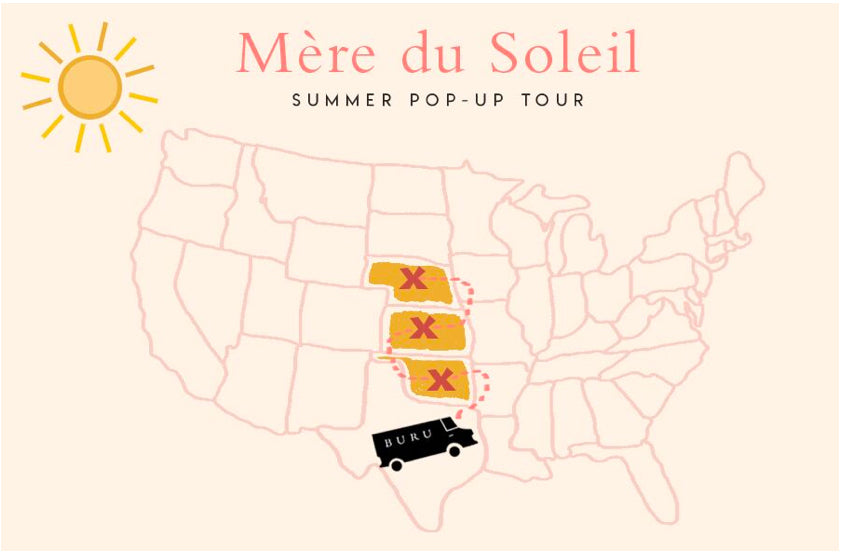 It's a busy week for the BURU Bus with 5 Style Stops and a thousand miles to be trekked through the Heartland of America. Check out our favorite pit stops and hidden treasures along the route.
Oklahoma—where the wind comes sweepin' down the plains...
The Sooner State, where we will make stops in Tulsa (@shoppesasha) and Oklahoma City (@grettasloane) is full of hidden gems and tasty food. Here are two treasures from each city that made our "must visit" list!
TULSA
To Eat: The Pop House
Enjoy delicious and truly unique flavored, small batch popsicles (like Mango Chile Lime and Chocolate Dipped Banana) in a super cute little red, white and blue house.
To Do: The Philbrook Museum
A world class art museum, The Philbrook is a fun activity for the whole family. Beautiful art and installations grace the space, but the picturesque gardens take the experience to the next level.
OKLAHOMA CITY
To Eat: St. Mark's Chop Room & Bar
If you're looking for an intimate setting and some dee-lish meat, then look no further than this 6 table top steak joint, specializing in wagyu beef, tenderloins and ribeyes.
To Do: Orr Family Farm 
For some good old fashioned, outdoor family fun—visit Orr Family Farm. You can fish, take an old school train ride, check out the petting zoo or ride pedal cars on the Orr Grand Prix.
From Oklahoma, we head north to Kansas, Nebraska and Minnesota...
Here are our top 2 picks from each stop!
KANSAS CITY
To Eat: Parlor
When traveling with your entire family, satisfying everyone's tastebuds can be challenging. We love food halls that offer a big variety of delicious cuisines. Parlor is 3 floors of offerings from talented chefs ranging from sandwiches to Korean food to pizza (and more!).
To Do: Overland Park Arboretum & Botanical Gardens
Plan a tranquil day (if that is actually a thing with littles) and explore over 300 acres of gardens, grasslands and trails full of birds, deer, dragonflies and other wildlife. Bring your own coloring supplies for an impromptu art session.
OMAHA
To Eat: V Mertz
Located in the old market, this cozy restaurant with a sophisticated menu is a romantic date night spot. And who doesn't love a bread service of pork fat tossed coconut rolls?
To Do: Henry Doorly Zoo and Aquarium
Consistenelty competing for first place with San Diego, The Omaha Zoo is not to be missed. A true Midwest treasure, you and your kiddos will love a day in this beautiful, modern zoo.
MINNEAPOLIS
To Eat: Betty Danger's Country Club
How can a family go wrong with carousel dining (yes, you eat while in the cart), on-site mini golf and a menu that includes fried artichokes, smashed avocado and hushpuppies!?
To Do: Valleyfair
Sometimes an old fashioned theme park with long lines, old school rides and midway games is just what summertime calls for. Valleyfair is full of activities for every age group in your fam.
Don't miss our POP-UPS this week in all 5 cities.  Visit our EVENTS page for the full scoop.