Meet Megan Stokes + Sneak a Peek at our NEW Collab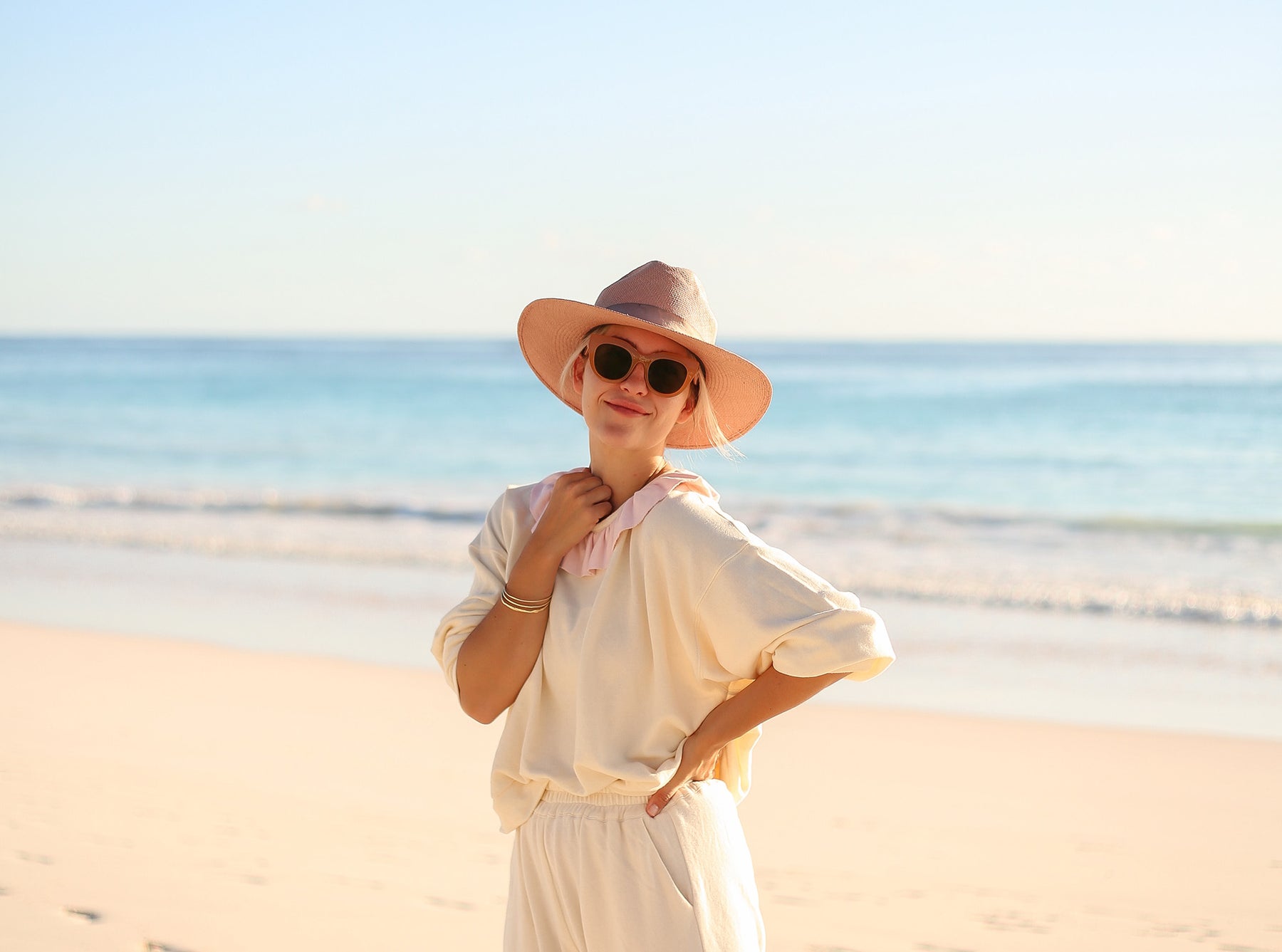 BURU has always been about living truly in the real—messy, loud, exhilarating—moments of motherhood… with a big dose of style. And we know Megan feels the same way. Her chic but simple, and feminine without being ultra-girly, sense of style and vision for her collab lead to a dreamy collection of cozy, transitional pieces we both fell in love with instantly. 
Every piece in the Megan Stokes collection is cut-to-order in our Downtown LA micro-factory using up-cycled fabrics in limited quantities as part of BURU's  responsible manufacturing initiative. (See "How to Shop" the collection under Megan's Q&A below.)
Megan Stokes is a born and raised South Carolina girl. She and her family (husband, Brandon, and children, Watson and Rosie) have called Charleston home for 12 years now, and love being on the coast and surrounded by so many amazing creative people. Her website, MeganStokes.com, is a collection of Megan's favorite home decor, vacation spots, gift ideas, and yes, fashion lines. Call it kismet, because the first ever #BURUxMeganStokes collab is officially here! 
BURU: Tell us about MeganStokes.com--how you started and how the site has evolved.
Megan Stokes: I started blogging during my senior year at the College of Charleston. This was way before there were "influencers." I simply loved to write and document happenings in my life. It was all very raw using a free website platform and unedited, pixelated photos I probably imported from my Blackberry! I've stuck with it over the years and watched the blogging space transform from a hobby into a booming industry--and I just so happened to be along for the ride. I recently rebranded by blog away from the cutesy name it once was titled and now to MeganStokes.com. The name and design feels so much more simple and me. Instagram and other social sites are fun and definitely showcase my creativity, but my website will always be the epicenter of my work.
BURU: How would you describe your personal style?
MS: Classic, yet not preppy. Feminine, but not frilly. Simple, but not boring. I like to pick up trends if they feel right in my gut, but I definitely put my own classic spin on things. And I never tire of a tone on tone outfit.
BURU: We know you can't reveal all the deets about the BURU x MS capsule, but can you give us a little hint about your favorite piece in the collection?
MS: Definitely the pink swing coat. Fun fact, I don't wear a lot of bold colors, but pink is one color I can't get enough of these days. It has to be the right shade, though, and we absolutely nailed that perfect azalea pink shade with the swing coat! Plus, it just makes you feel fancy yet effortless all at the same time. 
BURU: in a word (or two), give us the "scoop on Megan." 
MS: Determined. Tender-hearted.
BURU: Favorite book?
MS: Are children's books an acceptable answer? Because I feel that I read those more than just about anything else these days! I love nothing more than cuddling with my children and diving into a story. Right now, we are loving the Lola Dutch books and Jimmy Zangwow's Out-of-this-World-Moon-Pie Adventure.
BURU: Favorite movie?
MS: It's Complicated. I can watch it again and again.
BURU: Favorite vacation spot?
MS: Harbour Island, Bahamas. Or laying on a sailboat in the British Virgin Islands.
BURU: Favorite song?
MS: "Queen Bee" by Taj Mahal is pretty hard to beat for me.
BURU: Favorite children's clothing brand?
MS: Pukatuka.
BURU: Must have beauty product?
MS: Westman Atelier cream blush in "Chouchette."
BURU: Must have accessory?
MS: Always a nice piece of jewelry--usually a gold bracelet or a pair of simple diamond studs if I'm not mixing it up with a statement earring!