BURU X Maisonette BTS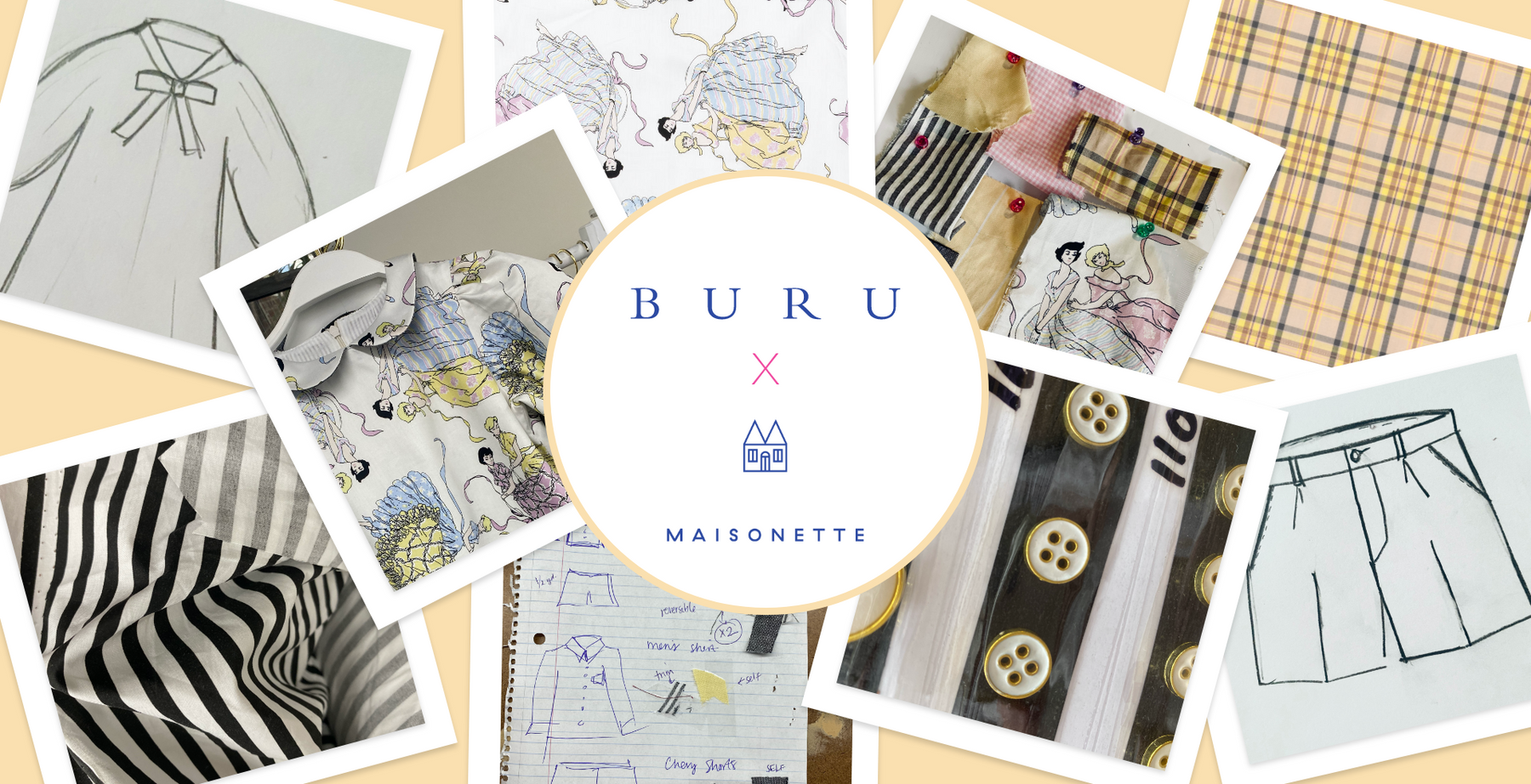 Creating a Father's Day Collection exclusively for Maisonette has been an actual dream come true.
As the mother of two boys and one total daddy's girl, a coordinating collection for the entire family has been on my mind for a long time. I can't think of a better launch partner than Maisonette. As a longtime fan of the brand and the beautiful assortment they curate, I'm beyond thrilled to have BURU in the mix (as of 12 PM EST on Sunday, May 23rd!) 
If I had my druthers, I would dress our family in coordinating looks every single day. Silly you say? Maybe. But it brings me joy.  It makes me feel connected—like we are one unit, taking on the world together.
When designing this collection, I thought about my favorite "matching moments" that we've had over the years. One thing really stood out to me—we weren't exactly "matching". Sure, we matched, but we didn't necessarily twin. I think the difference is important, especially with older children.
As I do with all my designs, I started with the textiles (all up-cycled, dead stock, as is all our Pink Label). I wanted gender-friendly colorways in timeless, season-less prints.  It was love at first site with the yellow, black and pink plaid brushed cotton. I stopped in my tracks when the vintage dancing ladies caught my eye, and then I added in some stripes, a classic black chambray and a happy yellow Oxford cotton to round out the collection.
When it was time to consider silhouettes, I went back to my southern roots. Think—Peter Pan collars, Short Shorts (reversible & styled with knee socks for as long as they'll let me), Housecoats, Classic Dad Button Downs and easy Day Dresses. I also wanted to feature as many reversible pieces as I could to offer you versatility and value. 
I love each unique piece, but I believe they all shine brightest when paired together.  Just like a family.
I can't wait to see how each of you style the collection to make it your very own.
A FEW SPECIFICS TO NOTE:
Styles are EXCLUSIVELY available on www.maisonette.com (not on BURU).
All pieces are cut on demand, sewn in our DTLA factory and will take 2-3 weeks from your order date to ship from LA.
For styling ideas, tune into our Instagram try-on that will go live on Sunday, May 23rd shortly before the collection launches.
SIZING NOTES:
Children's styles are TTS or slightly forgiving to allow room for growth.  Please note the Reversible Chevy Shorts have a shorter inseam than other brands. (I mean...who doesn't love a baby leg!)
Both women's' dresses are a forgiving fit. If you're in between sizes, you might prefer sizing down in the Housecoat or Reversible Tiered Mini Dress.
Our Dad model, Brett, is 6', 175 lbs wearing a size Large in both the Chevy Shorts and Dad Button Down Shirt.
Baby Carlyle is wearing size 12-18m shirt and size 2/3 shorts.  He's 16 months old and 80th percentile in weight, so he's pushing the limits of the buttons on the Peter Pan Collar Shirt.
Schafer is 4 1/2 years old, very thin for his height. In these pictures he's wearing a sample size 2/3 y in the shirt, but the 4/5 y would certainly give him more room for growth.
Olive is 8, average height & weight for her age, and wearing the 7/8 in both the Mini Housecoat and the Peter Pan Collar Dress.