Lindsey Regan Thorne in the Mama Mini Dress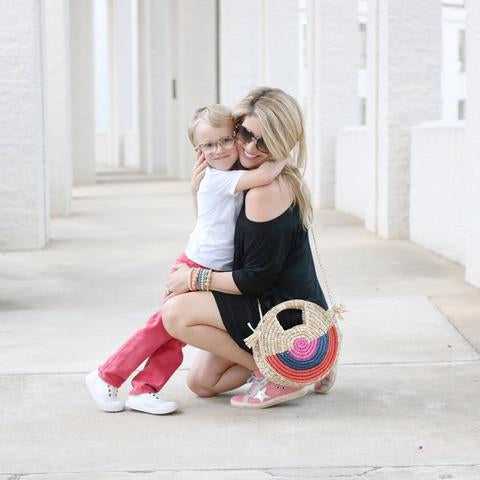 We asked 4 chic mamas to style their favorite color MAMA Mini Dress
and of course the talented make-up & hair artist, Lindsey Regan Thorne,
chose classic black.
LINDSEY REGAN THORNE
make-up + hair artist 

  
Mini Squad:  |  Where do you call home:
 mom of two: Olive, 1.5 and Henry, 4.5  |  hometown: charlotte, nc
Our 3 word slogan is:
Mom. Life. Styled.
In 3 words for each below, please share with us:
MOM
Love. Encouragement. Joy.
LIFE
Wonderful. Hectic. Exhausting.
(very exhausting)
STYLE
Casual. Easy. Feminine.
 
BIGGEST ACCOMPLISHMENT
Becoming a mother. Having children did not come easy for us. I've never wanted something so badly,
and I've never had to work so hard. I'm beyond grateful for modern medicine and my two perfect
babies.
BIGGEST MISSED OPPORTUNITY

I don't feel like I've had some big missed opportunity. All of the decisions I've made
and all of the things that have happened in my life have brought me to where I am today.
I wouldn't change any of it.
3 PRODUCTS YOU CAN'T LIVE WITHOUT

Dry shampoo (because #momlife), mascara and a good face mask.
Can I add concealer? And botox? We're moms!
BIGGEST FEAR

To not achieve goals I've set for myself and my children. Also—empty nesting.
I have no idea what I'll do without them!
ADVICE FOR YOUR YOUNGER SELF

Life passes so quickly.  Enjoy the journey. Take chances, try new things, go places you've never been,
embrace different cultures, and live knowing the only constant is change.
BEST ADVICE FOR YOUR LITTLES

The Golden Rule—treat others the way you want to be treated.
Love always wins!
BEST PIECE OF ADVICE YOUR MOTHER GAVE YOU

Drink lots of wine.
 SHOP HER LOOK here

Shop ALL the MAMA Minis here