Hostess with the Mostess: The Slate Sisters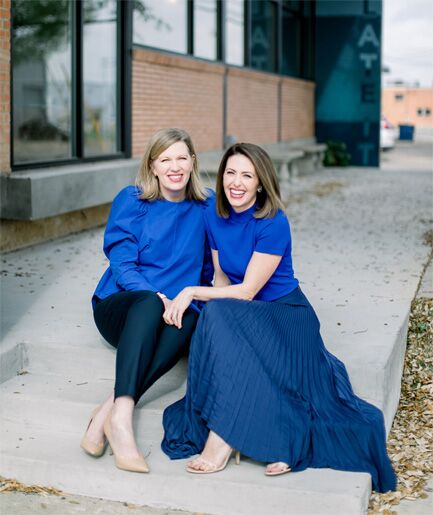 There is nothing quite like an intimate group of women coming together—to connect, to share, and to inspire. It's amazing what happens when you put us in the same space (perhaps with a glass of wine in hand) with a bit of time to dream.
Our BURU x UPPAbaby dinner series, sprinkled across 6 cities, was nothing short of pure magic. We are so grateful to our hostesses and of course, none of these dreamy evenings would have been possible without our amazing partner, UPPAbaby. 
Each hostess brought a unique sparkle and magic to her dinner, and what better way to celebrate that than sharing it with all of you? Let's meet our hostesses!
Meet the Slate Sisters: Jodie Hastings and Shelly Slater, sisters and co-founders of The Slate, know the power of collaboration. The Slate is not your traditional co-working space; it's boutique, built with the new media world inside. From a studio to a podcast room, Jodie and Shelly love to share the stories of awesome people "Slating It" in their hometown, Dallas, Texas. Jodie, attorney and mom of two, is making a pivot into the entrepreneurial world. She aspires to be "The People's GC." She holds daily office hours at The Slate (coffee included). Shelly wrangles three rowdy boys at home most days. As a former news anchor, she now runs her communications consulting business out of The Slate. 
BURU: What was your favorite moment from the dinner?
The Slate Sisters: We go way back with Morgan, so just getting to see her at The Slate was exciting. We live through social media updates these days, so frankly just getting a hug and saying hello, (while trying on clothes, of course) made it a super worthwhile evening. 
B: Do you have a favorite UPPAbaby product? 
SS: We love the UPPAbaby MINU stroller!
B: What did you love most about being a hostess for our dinner series?
SS: It's just fun welcoming people into your world. At The Slate, we want people to feel like they are walking into a home, not a co-working and event space. So when we see people relaxing on the couches or laughing in our lounge area, we know we've done our job. No stress, just friends and a good glass of wine!
B: What's your go-to hostess trick? 
SS: Our favorite hostess trick is shuffling tables at seated dinners for dessert. We like to set two sets of place cards – it allows guests to visit in a meaningful way with several guests and introduce new friends to old!
B: What are your 5 favorite BURU products right now?
SS: We love the Dotty Tiered Midi Dress, the Penelope Pleated Blouse, the Mia Mini Skirt, the Lion's Head Belt and the Black and Gold Baubles!