The Art of Capsule Packing Guide: 8 Days, 10 Outfits.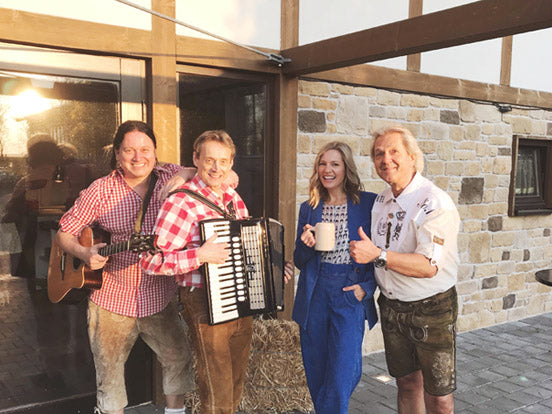 Capsule packing is a legit art form.
Perhaps it sounds a bit extreme, but when it comes to preparing for a week or longer trip with one small bag, many women are at a total loss as to how to effectively and efficiently put together a collection of mix and match pieces that offer looks for all occasions, while keeping things fresh and photograph worthy.  
Our very our @burubrandace is an expert in the packing space. With extensive travel experience, both domestic and international, this mama knows how to pack a bag—FO REAL!
When she shared her upcoming German adventure with us, we knew we had to document and share her packing list for the greater good. Using many of her favorite BURU pieces, Brandace created 10 looks for her 8 day trip by re-purposing many styles to keep her suitcase in check.
Scroll through all her super fun mix & match looks below, paired with a helpful packing tip AND please enjoy 25% off her entire packing list with code: CAPSULEPACKING. (expires 4.24.19)
Packing Tip:
A printed scarf goes a long way. It adds life to a basic black look, camouflages stains and spills, and acts as a blanket on chilly planes, trains and automobiles.
Packing Tip:
A neutral set, like the Bolu Trousers and matching vest, that can be worn together for a dynamic ensemble or separate to create additional looks is a great "bang for the buck" when it comes to suitcase real estate. 
Packing Tip:
White buttons downs are a capsule packing must. Easily dressed up or down, this timeless staple looks as good with a ball skirt as it does with denim. Plus, it can act as a nightshirt or bathing suit cover-up after its been worn "out".
Packing Tip:
A blazer, specifically one with a pop of color, turns "clothes" into "outfits". It can read casual chic when paired with denim or provides an element of professionalism with matching trousers or a pencil skirt. It's also an excellent layering piece that can be used as outerwear if needed.
Packing Tip:
Shoes are a total space and weight killer in luggage. Finding the perfect, non-neutral neutral that can take you from day to night is the key to keeping your checked bag under 50 lbs. These gold slides are a winner.
Packing Tip:
A day to night dress that easily rolls up (without wrinkling) and can be washed in a hotel sink gives you all the versatility you need. This long sleeve cheetah dress is lightweight, seasonless and the cut allows you to eat all the German Schnitzel you can!
Packing Tip:
Jeans and sneakers are a practical must-have, but they don't have to be boring. Find a comfy sneaker like our rose gold platform to keep it stylish and comfy at the same time. And when it comes to denim, pack a pair that is simple enough to wear multiple times without being obvious.
Packing Tip:
Don't forget to accessorize! Jewelry takes up very little room and can make an outfit look entirely different.
Packing Tip:
Layer until the cows come home. Sport a dress solo for dinner and then layer it over a blouse and jeans for a complete fresh daytime look.
Packing Tip:
When re-wearing pieces, GO BOLD. Unique color combos and creative choices will mix up your look to make it unrecognizable. 
Final Packing Tip:
When it comes to capsule packing, making a list of each day and mapping out a specific look is the only way to do it. Once you get half way through the list, it's time to repurpose as many pieces as you can. By doing this you will keep things focused and condensed.
PS—Don't forget to use code: CAPSULEPACKING for 25% off any style linked in this post! Code expires 4.24.19