Emily McCarthy in the Mama Mini Dress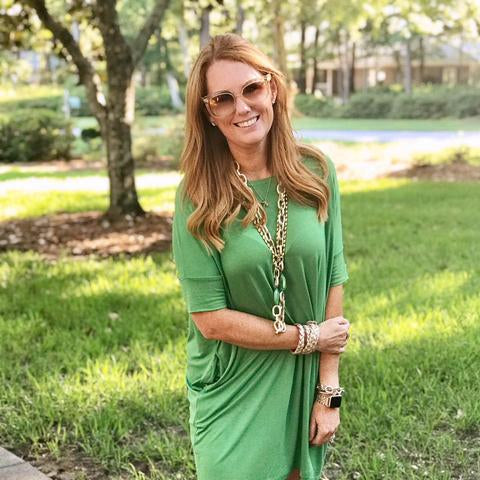 We asked 4 chic mamas to style their favorite color MAMA Mini Dress
and of course the beautiful red head, Emily McCarthy, chose her
signature color—green (aka lime).
EMILY   McCARTHY
SHOPPE + STUDIO OWNER OF EMILY McCARTHY
____________________
Mini Squad:  |  Where do you call home:
 Mom to two: 6 1/2 Year Old Boy, 3 Year Old Girl  |  Savannah, Georgia
Our 3 word slogan is: Mom. Life. Styled. 
In 3 words for each below, please share with us:
MOM
Teach Happy Independence.
LIFE
Joyful Living.
STYLE
Easy. Chic. Colorful.

BIGGEST ACCOMPLISHMENT:
 My two children and opening my Shoppe.
BIGGEST MISSED OPPORTUNITY:
Not taking my husband seriously when he asked me out Freshman year.
I finally took him up on it Junior year. 
3 PRODUCTS YOU CAN'T LIVE WITHOUT:
BIGGEST FEAR:
Not showing our children the world. 
BEST PIECE OF ADVICE TO YOUR YOUNGER SELF:

Listen to your parent's advice.
BEST PIECE OF ADVICE YOU WILL GIVE YOUR CHILDREN:

Always take the path less traveled, that's where adventure lies! 
BEST PIECE OF ADVICE YOUR MOTHER GAVE YOU:

What's for you, won't pass you by.
(This came from her mom, my grandmother Lillian.)