BURU Pink Label—New Styles and Updated Favorites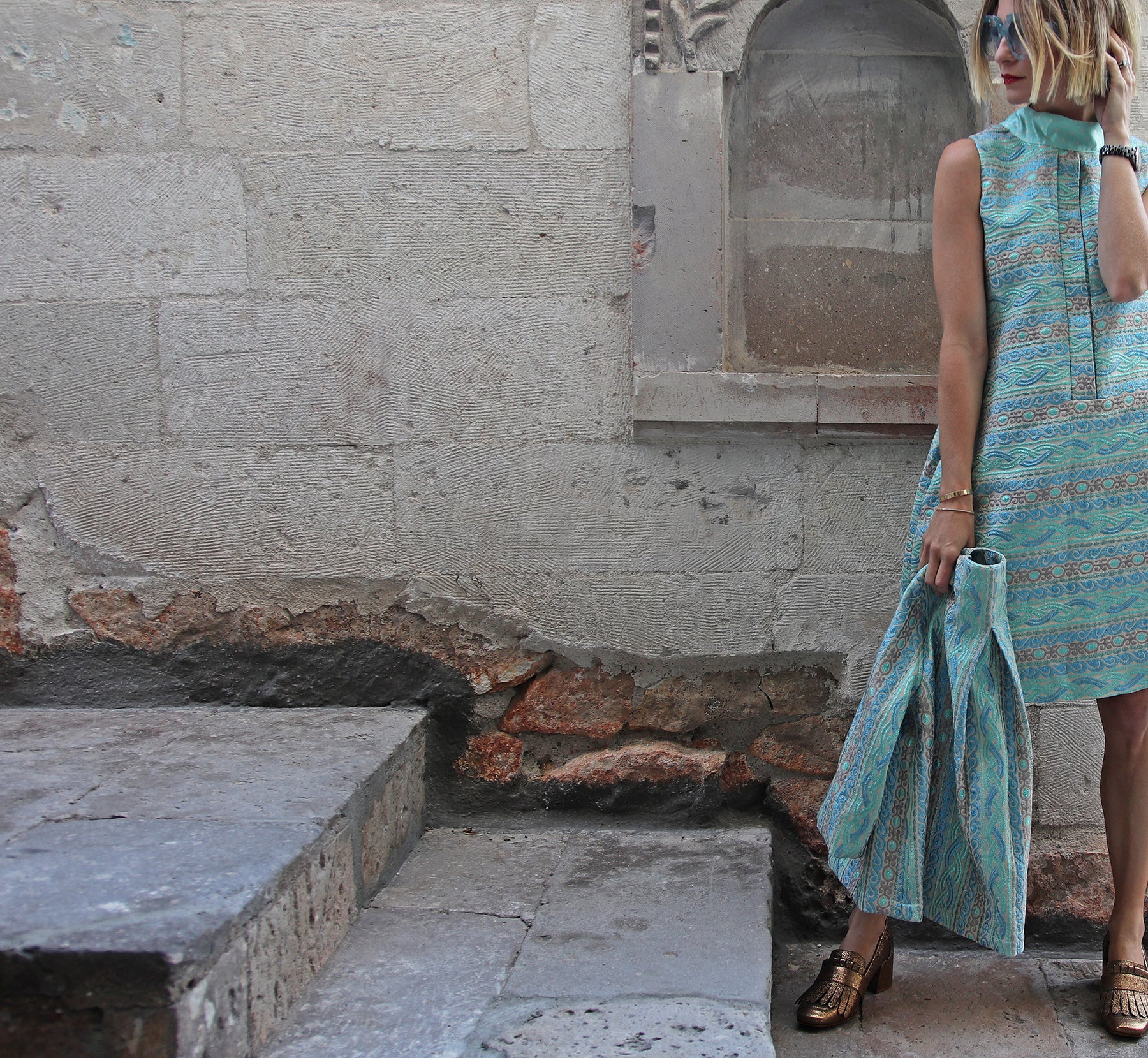 When the Pink Label launched last spring—I felt the vitural equivalent of standing on stage, bright lights beaming down on me, in a room full of people...TOTALLY naked. 
It's not that I don't feel vulnerable when we drop a new White Label Collection, of course I do, but somehow The Pink Label feels more personal. Perhaps, it's the fact that the inspiration is tied to my grandmother, and I want you all to love the collection, and her bold sense of style, as much as I do. Maybe it's the fact that our site is dedicated to moms, and a vast majority of The Pink Label asks all of you to step out of your "mom comfort" zone.
Whatever the reason—I'm one anxious mama when we launch new BPL styles. 
For our sophomore collection, we continue to explore the evolution of Jean Evelyn, my amazing grandmother, who's journey from a stay-at-home mother to mod working mother inspired me my entire life. In this collection, we feature beautiful pre-existing fabrics, in hopes to reduce our clothing footprint—new silhouettes, in hopes to elevate your mom style—and important changes to previous favorites, in hopes to make them even better!
It's these "tweaks" that I want to chat with you about first.
First up—our bestselling Swing Top.
Guess what? It's now REVERSIBLE! You asked and we answered.  Get ready for unique color pairings in this 2 for 1 top that is sure to make getting dressed faster and more fun! We also added a size XS to the mix and some of them will now have sleeves!
Next—our classic New Look Shirtdress.
We got it. It ran small. Our bad.  The last thing we want to do is make a mama feel bad about her body!  A fun new color way is coming tomorrow, and we're thrilled to report it fits more true to size.
Now—let's talk about The Swing Dress. I think it's pretty clear that we love a little drama is our dresses. But it seems that the original silhouette was a little too dramatic in the hip region for some of you. SO—tomorrow we welcome the Slim Swing Dress.  We removed a bit of volume through the hips to create a more svelte, yet "swingy" shape. Available in 2 new color ways with knee and mini lengths.
Let's move on to our Circle Skirt. Funny enough, this style actually ran big! We sized it down to make it true to size, and we're confident you're going to love this new fit!
In addition to the updates to our BPL favorites—we have a few new silhouettes that we are SO excited about.  Personally, I know I'll be living in our Swing Coats and Bow Blouses!
Amazingly enough, one of our Swing Coats sold out before it even hit the site, but the red one is perfection (and there are more colors coming soon too!) This lightweight, intentionally unlined duster length jacket, with pockets large enough to hold your iPhone+, is the perfect mom "coverall".  Throw it on over jeans and a raggedy t-shirt or top off a cocktail dress at your holiday party!

Our new Bow Blouse adds a touch of femininity to any look and it's the perfect layering piece to bring new life to a tired dress or make a sleeveless shirt fresh again!  We love the way it dresses up an otherwise boring suit for the office or gives your jeans some ladylike glam. Each color way offers its own unique fit with different fabrications and super fun, vintage buttons.

Though our Pink Label will continue to evolve and grow, one thing will remain true—each style, in its unique textile, has its own personality. Every thoughtful detail has you in mind—from vintage buttons, to washable textiles, to nursing friendly features. We will continue to produce this collection in Los Angeles with responsible manufacturing and the use of pre-existing textiles. AND of course, we will give back to Bring Change to Mind, our charity partner on a mission to end the stigma of mental illness with each garment sold.
We are so thrilled to have you on this journey with us—one filled with love and lots of lamè!
SHOP THE COLLECTION HERE
XO
Morgan