Q&A with Tori Mellott - Traditional Home Market Editor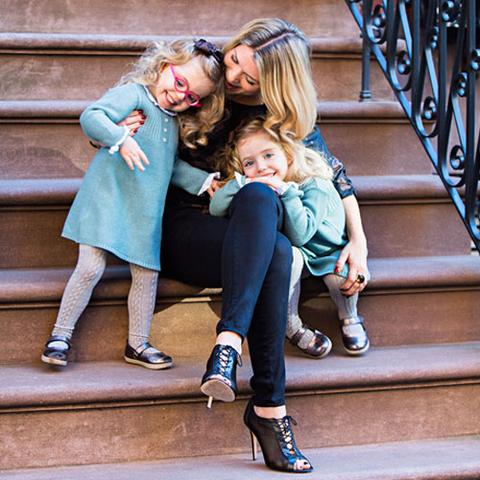 Born and raised in a small town in Western Pennsylvania, Tori moved to NYC to attend New York University almost 18 years ago. Many moons and dramatic sagas later, she is the exuberantly proud mom of four year old identical twin girls, Frances Rose (Franny) and Lucy Marguerite (Lou). Currently, she is the Design and Markets Editor for Traditional Home magazine. She'd take a diet coke over a smoothie, and spicy potato chips over kale chips. She has a great passion for engraved stationery, fine china, tassels, and the color pink. She likes her shoes in suede or velvet and prefers her upholstery in floral chintz.
What do you love most about being a mom?
 Every day there is something new. It might be the smallest thing, like my daughter Franny mastering riding her scooter or it might be something monumental, like my daughter Lucy being able to recognize every letter in the alphabet. Something magical happens every single day. I even look back at the "not fun" moments, like public meltdowns, and chuckle. Oh, the joys of motherhood! 
How has motherhood changed you?
I think the question should be, how hasn't it changed me? I was not a very maternal person before I had children. Now, I am much more organized, responsible, conscientious, and more full of love than I ever thought possible.  Motherhood has completely transformed me.
Did you breastfeed? If so, how did it affect your wardrobe choices? 
Yes, I breast fed the girls for 10 months. It was a very special time for us. My children were born at 33 weeks and were in the NICU for nearly two months. I missed out on a lot of that early bonding time, which broke my heart. My goal was to breastfeed for one year, but they weaned themselves at around 10 months. And, yes, without question, breastfeeding affected my wardrobe choices. No jumpsuits that zip in the back! In the beginning, I lived in oxford button down shirts – easy, comfortable, and something I could dress up with a long skirt or dress down with a pair of jeans.
Has your personal style changed since becoming a mom? How would you describe your #momstyle?
Yes, there are a lot less stilettos in my life and a lot more Converse. But all kidding aside, I don't think my personal style has changed all that much. I've always been all over the fashion map – it depends on my mood that day. Some days I like to dress very preppy, some days I'm feeling Bohemian, and other days I feel very Sigourney Weaver in Working Girl…it all depends.
Tell us about your company. What's its story or history?
I started off interning at HomeStyle magazine when I was in college. I was lucky enough to land a job as an assistant at House Beautiful in 2001. There were so many talented people at HB during that time – Marian McEvoy, Senga Mortimer, Elizabeth Mayhew, Miguel Flores-Vianna, Carolyn Sollis, and many others. It was the perfect place to lay the foundation for a deep understanding of good design. From there I went on to Elle Décor and worked for Margaret Russell and Anita Sarsidi – both wildly talented and excellent mentors. In 2004, Conde Nast brought me on board to help create Domino magazine and I stayed until the bitter end. That was truly a once-in-a-lifetime experience. I cherish every memory – the friendships I cultivated while working there will last throughout my lifetime. After Domino folded, I floated around doing some freelance and I worked in television at The Nate Berkus Show, but ultimately, my heart longed for a job at a shelter book. An opportunity came up at Traditional Home and I was lucky enough to get the job. I've been at TH for 5 years and I love it.
How would you describe your design aesthetic?
My taste has remained pretty consistent throughout the years – I gravitate to color, pattern, passementerie, and a little bit of fussiness. However, to date, my house looks like a Toys R Us exploded. It's not in tip-top shape. There seems to be a glaze of syrup and Cheerio remnants on every surface. I scrub my kitchen floors every single night and still I wake up to a sticky film and crumbs. Unreal.
Tell us about your twinning mini squad.
Well, I have no other children to compare them too, so it seems normal. There are definitely some challenges to having two at one time, but you figure it out and do the best you can. A lot of people ask me, "How on earth do you DO it? A single mom of TWINS? You must be EXHAUSTED!" Guess what, I am tired, but every mom is tired. Twins or not. Single mom or not. I think it's all relative.
Even though they are identical twins, Lucy & Franny are vastly different. Lucy is like a lone wolf – she likes to play and read by herself and she marches to the beat of her own drum. And the girl loves a dance party! Her current favorite song is Bonnie Tyler's "Total Eclipse of the Heart." Franny is much more social and a rule follower. She likes things to be "just so" and she's very girly. She would live in her Princess Elsa costume, if I let her. Franny loves story time and currently her favorite book is "Go Dog, Go".
What does Motherly mean to You?
Motherly means constant nurturing, unconditional love, lots and lots of snuggles and a stiff upper lip. Sometimes that unconditional love involves revoked ipad privileges, but my job as their mom is not to be their friend, but it is to teach these two itty-bitty humans how to be responsible, strong, loving, giving, thoughtful adult women.
What does a typical day look like for you?
I run my house like an army barrack! During the week I'm a total drill sargent - up and at 'em!  WE have a really strict schedule. It takes an hour to get to school in the morning - Brooklyn to midtown – so I have it timed down to a T! I even have "buffer" time built in in case someone has to use the potty or if the subway is running slowly. The girls are pretty used to it by now, but I still struggle with the 6AM wake-up time. I love to sleep in but those days are so long gone!
6AM – WAKE UP
6:30AM – GET DRESSESD
7AM – EAT BREAKFAST
7:45AM – GET ON SUBWAY
8:45AM – ARRIVE AT SCHOOL IN MIDTOWN
2:30PM – NANNY PICKS UP GIRLS AND BACK TO BROOKLYN
6:30PM – MOM COMES HOME AND THE THREE OF US IMMEDIATELY EAT CHIPS AND SALSA, THEN WE READ, PLAY, AND GIRLS GET A BATH
8PM – PRAYERS, COUPLE SONGS, THEN LIGHTS OUT
We rarely deviate from this schedule. Weekends are the exception, of course!
How do you find a balance

? Any special tips you can share?




Balance? There is no such thing for working moms! It's a myth; an utter fabrication.  I just try to be as efficient as possible when I'm at work and when I am with my girls, I am totally engaged. No phones, no work, no texting – I just want to savor every second. I get such little time with them as it is, it's extremely important for me to be as present as possible. I don't want to miss a thing!
We would love to hear more about your home base?
We live in Park Slope, Brooklyn (which I'm still coming to terms with…I always imagined myself and my children as "city folk" not "borough folk" but I'm warming up to it…slowly…) We love JJ Byrne Park, Ample Hills Creamery, Jacob Riis Beach, The Brooklyn Children's Museum, Jane's Carousel, The Prospect Park Zoo, and Puppetworks, but our favorite is LOBO, which is a Mexican restaurant. My daughters definitely inherited my penchant for spicy foods.
In one word how would you describe yourself in all the roles you play?
mother: devoted
wife: dodged that bullet
editor: careful
interior designer: moonlighting
friend: grateful
Can you share a few of your favorite mommy moments?
 Bedtime Story: A Fish Out of Water and With You Always, Monday
            Lullaby: My Favorite Things or Dixie
            Vacation Spot: Montauk
            Restaurant: LOBO or Shake Shack
            Children's Brand: Mini Boden, Neck & Neck, and Freshly Picked
What is the one thing you wish you would have known before becoming a mom?
White rugs and white linen sofas are not your friend, no matter how pretty.
Words to live by:
"He who has a why to live for can bear almost any how." - Friedrich Nietzsche