Morgan's November Must Haves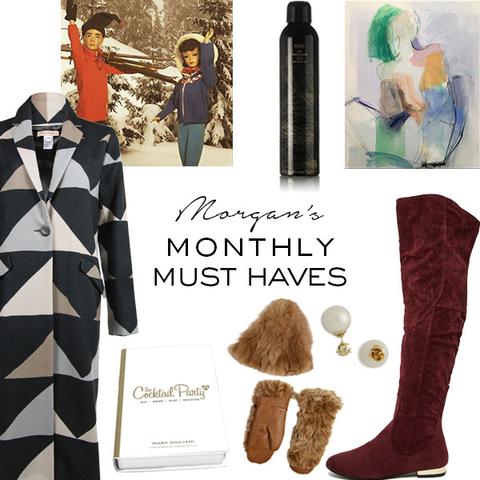 It doesn't seem possible—but we are more than half way through November! The cold is officially here in Utah.  It's time to bundle up and get into the holiday season.  Here are a few of my must-haves this month!
The Brand Shop - Pop Up Shop in Charlotte, NC
In a few short weeks, we will head to Charlotte, NC for an amazing weekend with The Brand Shop!  It's BURU-to-You in a whole new way.  We will join 30+ women owned brands for a fun, 2-day event of shopping, book signings, happy hours, and a speaker series.  Please help us to spread the word about this incredible event!
ASOS Oxblood Over The Knee Boot
It's that time of year, when you need a boot that can handle even the muddiest puddle at the playground.  For me, I don't want to be burdened by the thought of ruining a $$$$ pair of suede knee highs, so this affordable pair from ASOS is the perfect stress-free, workhorse boot. 
Mara Hoffman Triad Stone Car Coat 
And speaking of the playground...who says you can't be a showstopper on the swings? This Mara Hoffman Car Coat is a great weight for running around after the kiddos and it makes a super chic statement.  (Even if you are wearing yesterday's outfit or jammies underneath it—no one else will be the wiser!)
Rachel Comey Fur Beanie & Mittens
Struggling with dirty hair and cold hands?  Then this Rachel Comey set has your name written all over it! In one chic blink, my greasy roots are undercover and my hands are toasty warm!
Speaking of dirty hair, I couldn't live without my Oribe products right now.  Of course the Texturizing spray  (shown above) is a long time favorite, but recently, I have become addicted to the Anti-Humidity Spray.   It locks the moisture in and keeps the static, fly-aways at bay.  Something I desperately need with my "sweater weather" hair!
Mary Giuliani's The Cocktail Party
One of my favorite things about this time of year it the entertaining aspect.  Sadly, our kitchen is not in any state yet to welcome guests, but I can't wait for that day so that I can take advantage of every great tip and idea that BURU Tastemaker, Mary Guiliani shares in her new book, "The Cocktail Party".  Run and pick up your copy now!
Speaking of our house...it really is starting to come together.  The Artwork purchasing stage is in full swing, and I am so exciting about a custom piece that NYC artist, David Parise did for our entry hall.  Known for his beautiful photographs of Vintage Barbie and Ken traveling the world, his whimsy, yet sophisticated approach is right up my alley.  I can't wait to reveal where we decided to take Barbie and Ken...(FYI it's not skiiing).
Really hoping that this beauty makes it's way into our living room!
Juliet and Company Pearls & Petals Earrings
The holidays are rapidly approaching and things tend to get a little crazy.  I love how these classic earrings can take you from the office to a school party to out on the town!  They make getting dressed easier without breaking the bank!
Happy November!