Q&A with Rita Polak, Founder of Juliet & Co.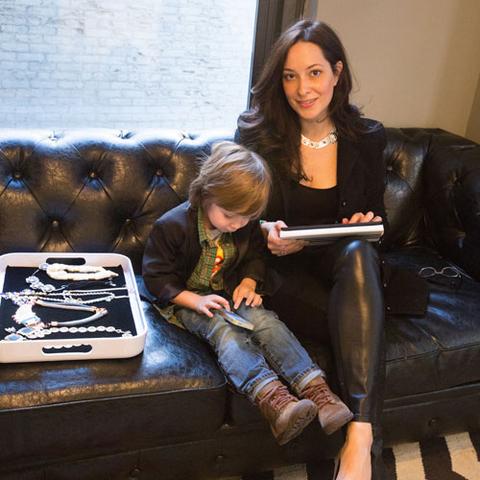 Juliet & Co is a collection of decorative jeweled pieces and fresh pearl silhouettes representing the perfect buy now, wear now items. Rita Rainieri-Polak continues to find innovative ways to design accessible jewelry and add to the jewel boxes of the fashion-conscious.
I love the cherished moments. The laughter and innocence found in everything my babies say and do.
I have the gift of permanent happiness and fulfillment no matter what is happening around me. Grateful for a greater understanding of what life is about.
Motherhood has made me want to have more fun with my looks. Like, hey – I'm still so young and this body's created 2 kids! I would describe my #momstyle as fresh, feminine & very lanvin. Right now I'm loving a great bodysuit, epic scale earrings, & and anything new-denim - belted, cropped, bejeweled…
Love Love the Cake Lingerie black lace panty for the beautiful feel & comfort.

I live in Cashmere all year round because I'm always cold so the White & Warren Coatigan is something I believe was made just for me.
I've always been drawn to the jewelry aesthetic. At 19, I began working at Fragments in Soho & ended up in a variety of roles through several years. It was an entrepreneurial environment like no other and there will never be anything else like it. So grateful.
1- The perfect layering piece. Juliet & Co Baby Pearl Tassel Necklace is one of my all time favorites. So light for layering, yet speaks on it's own.
2- A sexy cuff. I'm obsessed with our Confetti cuffs & collars – they just make me happy.
3- Juliet & Co Classic Long Pearl Necklace. Wear it layered with your Chanel, or doubled as a choker. 
4- A keepsake. I absolutely love our Juliet & Co Tresor locket. It's Femme & vintage with a great neutral shine.
5- Favorite earrings: you def need one of each. Juliet & Co knot studs & a big over-the-top celebration chandelier.
Every day brings it's own surprises. I'm not a night owl anymore, so I start at 7am getting the kiddos on schedule. Emails first and then I'm psyched for what the day brings. It's always different, sometimes bazaar, and it's always fulfilling.
It's important to take time for yourself. I just need an hour here & there, then coming back to my family & fashion with a fresh eye is essential.
My mother. How special she is, and everything she is to me.
mother: lucky
wife: adoring
designer: fresh
business owner: conscious
friend: fun!
your favorite...
Bedtime Story: Where the Wild Things Are.
            Lullaby: You are my Sunshine.
            Vacation Spot: Anywhere with my gorgeous husband & babies.
            Restaurant: My son insists on going to The River Palm, at 5 he's already got quite a sophisticated lifestyle.
            Children's Brand: Kids' Moncler coats for warmth. Anything styled for Mommy & Me from Mara Hoffman. And of course, the beautiful blankets my mom knitted. If it was up to my husband, both our babies would be walking around in Grateful Dead tee shirts daily.
How fast the first weeks go - how you will hold those times close, and not everything has to be perfect. It's the unperfect that is unparalleled.
"Don't make fashion own you, but you decide what you are, what you want to express by the way you dress & the way you live" - Gianni Versace.