Morgan's Monthly Must Haves: October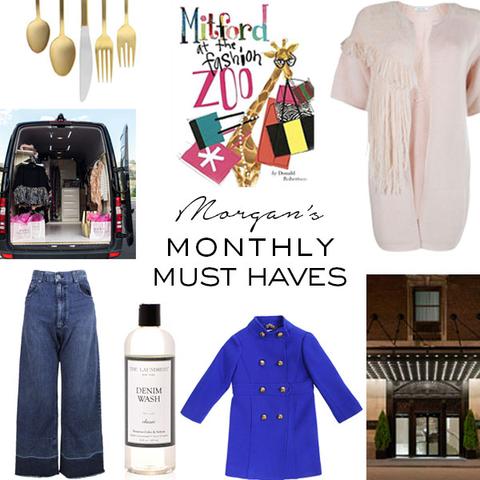 Happy Fall Mamas!  It's my favorite season, and I am so excited to share of few of my personal favorites for the month of October!
Fringe Puff Sleeve Cashmere Cardigan
It's officially sweater weather.  Thank goodness!  There's nothing better than snuggling up with your little one(s) and your main squeeze in a cozy, comfy and totally chic knit.  Mother of 3 and upstate New Yorker, Ryan Roche knows a thing or two about this.  Her knits are gracing the pages of Vogue and every other fashion mag you can think of.  My personal favorite is this fringe puff sleeve cardi hand dyed using avocados.  Amazing that you can create this sweet pink out of green goo...don't you think?
Mini Milly Double Breasted Coat
Little coats get me every time.  I think it stems from my mother's obsession of Rothschild Coats when I was a wee lass. This MINI Milly jacket in royal blue is ideal for the little girl in your life.  Dress it up over a dress, tights and Mary Janes—or style it her favorite jeans.  It will brighten up even the chilliest winter days!
I am super excited to be heading back to Chicago later this month for a really fun event (see below).  I am also excited to be staying in a new place—though The Virgin Hotel where I stayed in August was fab, Brett and I consider ourselves to be hotel wh*res.  Meaning—we love to check out as many hotels as we can in a city.  I love seeing new designs, new uses of space and new hotel bars and restaurants. 
Land of Nod is hosting a BURU pop up shop in Chicago! October 23-24
OMG!  This is really happening!  As a long time, super fan of the Land of Nod, I am pinching myself over the fact that BURU is popping up at the "Nod's" flagship store in Chicago.  More details to come with specifics, but please save-the-date if you are in the area.  We would love to see or meet you!
In my opinion, fall is the best season to entertain.  As a southern girl, sterling silver has been instilled in me as the cutlery of choice—but with the gold trend on the rise, I was pumped to find these stunning and affordable gold place settings to jazz up my fall table setting. Okay—I don't actually have a finished dining room yet, but a girl can dream!
Mitford at the Fashion Zoo by Donal Robertson
If you follow @shopburu on Instagram then you might already know about my love of all things Donald Robertson.   I even had a custom illustration painted on a handbag during NYFW!  If you have a girly girl or you yourself are into fashion at all, then Mitford at the Fashion Zoo is a fantastic read.  Your little ones will love the stories and the imagery and you will love the play on words!
Rachel Comey Legion Denim Pant
Fall is the season of all things denim.  That doesn't mean you have to be in your staple skinny or classic flare all the time.  How about mixing it up with a signature silhouette from Rachel Comey.  She's the woman behind the exposed hem (don't let the majors and nock-off denim companies fool you...it was all Comey) and her shapes will keep your denim collection fresh and interesting!  On that note—don't forget to brand out to denim is all forms: dresses, skirts and culottes!
What better to wash your denim with than Denim Wash by the Laundress.  Lucky for you—receive a free bottle with every denim purchase over $100! 
Sneaky peak at the progress of our home renovation.  Our move-in date is still not until the middle of November—but things are definitely inching along.  For example—this killer custom Stark Carpet for our dining room.  Can't wait to reveal!