5 Outfits / 3 Days - Highlands, NC Packing List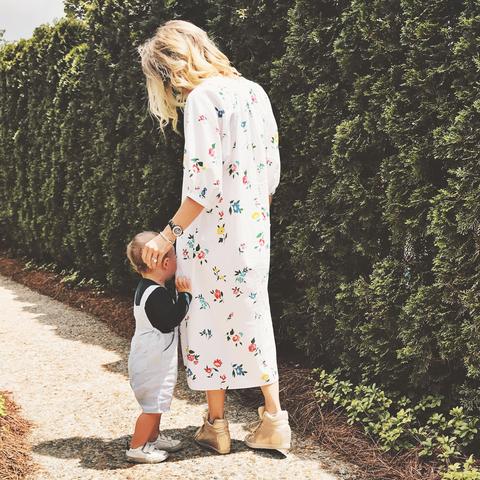 There is something truly magical about the tiny mountain village of Highlands, NC. Tucked away from the hustle and legitimately off the grid (don't visit for the cell service) this dreamy spot is surrounded by waterfalls, incredible views, delicious food and good people. And though I feel positive it's extra special over the Fourth of July—Highlands is a wonderful family escape that I highly recommend!
If you decide to check it our for yourself, then I would like to extend 3 packing tips for this off the beaten path spot.
ONE
Dresses reign supreme. 
You can't go wrong with an easy, breezy sun dress. Style it with sandals and sunnies for day—or elevate the look with a pretty wedge for dinner. If it's your first time to Highlands (like it was ours) it's important to note that many of the clubs do not allow jeans at dinner AND they take their croquet seriously—white clothes only!
click any image below to shop Morgan's looks
TWO

Patriotic Style...is always In Style

Clearly the 4th of July is peak season for red, white and blue ensembles, but I get the sense that this All-American community welcomes our classic USA colorway EVERY day of the year. I would also consider a sleeve. Even in the summertime, day time temps rarely go above 80 degrees. Lightweight long sleeves keep you comfortable in the cool mountain air.
click any image below to shop Morgan's looks
THREE

Plan activities & Pack for said activities.
I'm not a super outdoorsy person anyway, but having a clumsy 19-month old in our mix cut out many of the hiking and slippery waterfall tours this time around. Our activity plan centered around the kiddie pool so I packed accordingly—a chic one-piece that I can chase a toddler in comfortably and an easy cover-up to throw on quickly for frequent bathroom breaks with our 5-year old. To save room in your suitcase, I would pack sandals that can work double duty at the pool and around town—a simple wedge or solid platform sandal will work great!

If you're in a more adventurous phase of life, then you should most definitely pack your best "Wilderness Girl" style. But let's be honest, I'm not your gal for those kind of packing tips. Wink emoji. Followed by laugh emoji.
click any image below to shop Morgan's looks
One more thing—pack an umbrella! The rain comes in as fast as it goes out. We got caught numerous times in 3-minute long storms—just long enough to ruin freshly styled hair.  Good thing mine is never freshly styled.