Q&A with Grace Lee, Founder of Nine Naturals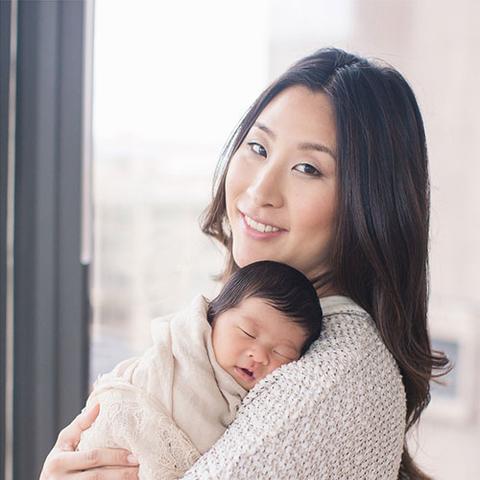 Photo credit: Lindsay May for Classic Kids Photography'
A devoted mother and wife, Grace was a vice president working on Wall Street when she learned about the health risk posed by chemicals contained in beauty products. Disappointed by "natural" products, that were neither as pure nor as high-performing as they claimed to be, she founded Nine Naturals (www.ninenaturals.com). She has since dedicated her life to creating chemical-free, high-performing products for women and educating mothers about the potential risks of environmental toxins. Grace lives in NYC with her husband and two daughters, Charlotte and Frances.
I love the family bond--the intimate and unique relationship each member has with each other and with the family as a whole. It's beautiful to see my two daughters play with each other and then also with their dad. Memories are built on quality experiences with each other and I'm glad to be able to witness and be apart of it.  
After becoming a mom, I have come to appreciate my own mother more. It's a full-time job that doesn't pay over-time. There is no occupation or role in the world more selfless and deserving of appreciation than being a mother. I have so much respect for all mothers--working and non-working.
I'm currently breastfeeding my second! Button-down tops and dresses and blousy tops that I can slip the baby under are my go-to's.
What's changed the most in my wardrobe is my shoe collection. The number of flats, low heels and sneakers I own has grown substantially. While I still love my heels, I definitely have caved to comfort and convenience to help me keep up with an active toddler. On heavy rotation right now are my Valentino rockstud sandals (with super-manageable 2.75" heel), Birkenstocks (hey, if Eva Chen can rock them, why can't I?!) and Miu Miu metal-trimmed slip-on sneakers (not great for getting through the TSA security pre-checks, but look amazing!).
Having just given birth to my second, I really value pieces that are versatile enough for before, during and after pregnancy. As a busy mom, I also gravitate towards pieces that can help make me look put together even on a few hours of sleep – well-tailored clothes, dresses and blazers are my go-to's.
Rachel Pally Super Long Leggings – high quality leggings are an absolute must in any mom/mom-to-be wardrobe. I love the stretch on these leggings that give enough as your body changes through pregnancy but still keep everything tucked in!
Demylee Aimee Black Drop Waist Shirtdress – super chic dress that can take you from nursing your baby to the boardroom!
Sam & Lavi Pippa Drop Waist Navy Shirtdress – another great shirtdress that is perfect for transitioning from day to night and works while nursing!
Myne Heidi Snap Front Dress / Grey – who doesn't love elastic waists during and after pregnancy? This is a great dress for early pregnancy and post-pregnancy. The deconstructed fit is also very forgiving!
Sam & Lavi Eva Black Mesh Pullover Tunic – I'll wear this top with a nursing tank underneath, so I can feed my baby underneath it when I'm out. It's a chic cover for on-the-go nursing!
Derek Lam Sleeveless Oversized Tie Front Top – I love everything by Derek Lam! This is the perfect top for a growing belly that can transition easily to post-pregnancy and nursing.
Hunter Bell Tess Button Down Bow Blouse in Mint – a gorgeous, feminine, well-tailored top that will make you look put together instantly!
10 Crosby by Derek Lam 2 in 1 Layered Shirtdress – a clean tailored shirt dress with a little flair should be a staple in every working woman's wardrobe.
Sam & Lavi Levi Wine Mojave Pants – a great alternative to a black pant. Perfect with a mom crop for a cool downtown vibe.
Corey Holly Collared White Poet Top – a cool spin on the white tailored top. A staple for any wardrobe!
Corey Kora Blazer Cape – instead of the typical blazer, I love this cape for adding a finishing touch to any outfit
Rachel Comey Villa Dress – easy, chic black dress that looks good loose or cinched with a belt to get you through the various stages of pregnancy and beyond.
Smythe Hunting Jacket – the perfect blazer for fall. Love this modern take on the classic hunting jacket.
By Malene Birger Pleated Faux Leather Skirt – a perfect complement to the hunting jacket!
Rachel Comey Hunter Long Sleeve Shirtdress - Stars and Stripes – love the classic windowpane pattern on this chic shirtdress
10 Crosby by Derek Lam Lilac Sheath Dress – wear this into fall with a white turtleneck underneath. Sheath dresses are a great cut post-pregnancy when you're still trying to lose the baby weight!
The idea for Nine Naturals took root when my friends and I were looking for safe beauty products to use during pregnancy. We all ran into the same two problems – 1) most products that claimed to be natural still contained harmful ingredients and 2) many natural products simply didn't perform well; the shampoos didn't lather well and the body products didn't do much for our skin. I created the Nine Naturals line of natural haircare and skincare products so that women could have peace of mind using products made from natural, pure ingredients safe for pregnancy without compromising on beauty and performance.
Nine Naturals Replenishing Belly Butter
Even when I wasn't pregnant, I loved to lather the Nine Naturals Replenishing Belly Butter all over my skin, because it's not only amazing at preventing stretch marks (everywhere), but it smells amazing. The scent of vanilla and geranium livens up every room I walk into. And as a major plus, because the formula is grease-free, it never sticks to my clothes or seats.
Eminence Organics Yarrow Oil
Essential oils do wonders for hair and skin. I love to use Eminence Organics Yarrow Oil as moisturizer for my face. In New York, winters can get blisteringly cold and dry, which not only is and looks unhealthy but can get quite itchy. Incorporating high-quality oils such as this one ensures that my skin stay nourished throughout the holidays. Tip: if you don't like the feel of applying oil directly to your face, mix in a drop or two into your morning and nightly moisturizers!
RMS Living Luminizer
If you're a working woman like me, you probably feel and look exhausted juggling a million things at once between work and family life. That's why RMS Living Luminizer is always in my beauty bag. It keeps me looking well-rested and fresh even when I have to catch an early flight with no coffee. Just rub a little on your under-eyes and it'll do its all-natural magic.
Nine Naturals Repairing Body Balm
When you're in a hurry (or carrying a small bag), you can't be lugging around 5 different types of moisturizers. That's why it's important to find a really good all-in-one balm. I use the Nine Naturals repairing Body Balm which effectively treats dry skin, cuticles, elbows, lips, and also acts as a diaper cream if needed!
Trust Fund Beauty 7-free nail polishes
Nothing ruins a beautiful manicure more than toxins--yes, even more then chips and hair streaks! Knowing that harmful chemicals are seeping into my nails and cuticles takes away from the relaxing and luxurious experience. Trust Fund Beauty nail polishes come in fun colors that look good year-round and are free of parabens, dibutyl phthalate, toluene, xylene, camphor, formaldehyde or formaldehyde resin.
We live in Tribeca, a beautiful neighborhood in Manhattan that is great for kids. It has lots of resources, activities for kids, and famous restaurants. Our favorite restaurants include Locanda Verde and Bubby's. On the weekends, our family likes to walk a block west to the Hudson River waterfront, where the kids can play mini golf, puppy-watch, run through the water playground, and enjoy the beautiful view.
Now that I am juggling a newborn and a toddler I am still trying to get to a "new normal". The mornings are the craziest for me. I wake up at 6am to get a head start on emails. Between 7am-9am, I'm getting both girls dressed, and fed, and keeping them entertained before my nanny arrives. Since I'm still in breastfeeding mode, I'm normally holding and feeding the baby with one arm and serving breakfast to my toddler and playing her with the other! Then I'm out the door to my office or running to a meeting. Once my workday is over, I come home to catch up with the kids and put them to bed. Bedtime is a sacred ritual in our house. I try as much as possible not to miss it. Once the girls are asleep, I do any work I haven't had a chance to finish up and spend precious alone time with my husband.
I don't really believe in work/life "balance". It's a constant juggling act trying to manage a family and household while also fostering a successful career. One thing that has helped immensely is creating boundaries around the time I spend with my family and time with my business. In the mornings and evenings, I have carved out time specifically for spending time with my daughters and my husband (can't forget him!). I give them my undivided attention and try not to answer calls or check emails. And when I'm at the office, I really focus on work. It makes me a better mother and wife and a more successful businesswoman by being able to prioritize my time in this way.
Trusting your instincts and having confidence in knowing what is best for your children.
mother:
tiger (mom) - and not afraid to admit it!
wife:
partner
business owner:
leader
friend:
supporter
Bedtime Story: The Gerald and Piggy book series by Mo Willems for Charlotte, Brown Bear, Brown Bear What Do You See? by Eric Carle for Frances
            Lullaby: Somewhere Over the Rainbow (the Israel Kamakawiwo'ole version)
            Vacation Spot: Mexico
            Restaurant: Bubby's Tribeca
            Children's Brand: J.Crew, Zara, Mini Rodini, Stella McCartney Kids
There's no one right way to parent. I think it is easy to fall into a trap of comparing yourself to other moms and feeling like you are not doing things correctly or not the "supermom" that other women appear to be (which is normally a façade anyway). As my oldest daughter Charlotte has grown, I've grown as a mother as well – I've stopped comparing myself to others and gained confidence in knowing what is right for her and the rest of my family.
"Regret is a wasted emotion."