Q&A with designer Erin Kleinberg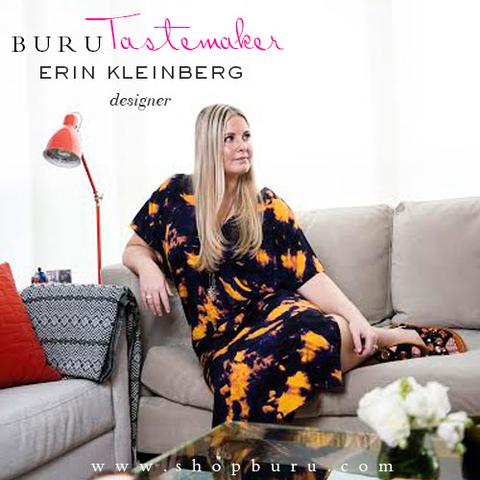 As CEO and Designer of her own eponymous line, Erin Kleinberg continues to change the landscape of how today's tastemakers dress. EKI began in 2008, though designing is not the only thing Kleinberg dominates. Taking a hiatus from designing to explore the closets of many of the worlds greatest tastemakers as co-founder of the wildly popular fashion platform, The Coveteur, elevated Kleinberg's innate sense of what women want to wear daily. Now, EKI is back in full swing as Kleinberg combines her passion, cool demeanor and experiences exploring how women love to dress into creating some of the dopest womenswear pieces in the game.
We are so excited that EK is about to join the ranks of motherhood.  No doubt she will kill it with her #momstyle just as she has with her bump!  Read our exclusive Q&A with Erin below as we delve deeper into #thatEKlife!
I'm most excited about being able to experience what my mom has been talking about all of these years☺ I have a crazy close relationship with her so I can't wait to see how it feels on the flip side!
Straight up. Giving birth.
I am open to breast feeding for sure – but kind of just going to see how it goes. Definitely flowy boho maxis and BF shirts will be dominating my life at that point.
Pregnant or not, my go-to pieces are the ones that are comfy and chic. Having a baby in my belly has made the shlumpy-chic look a staple, but no matter what, comfort and style will always be my thing.
I'm obsessed with the juxtaposition of the ethereal pink fabric with the black web lace on the "Momma said Knock You Out" blouse. The EK girl loves an edgy contrast that still feels really chill. This blouse takes me from meetings, to working in my studio, to a glam dinner with my besties.
The "Encore" is another EK staple that comes in the same amazing tie-dye fabric. The tulip-esque skirt is the perfect transition from day to night. As a mommy on the go, I know I can just throw it on, and feel good for an entire day or night. It is perfect for travel as well – it is wrinkle resistant and can act as a tube dress cover up for moms on the go!
"On to the Next One" is my sh*t. It is a take on our classic Theo Silhouette with a dope tie-dye print and super comfy fabric. So literally a match made in heaven. As a new mom I will definitely be living out of this one. It is THE definition of comfort and chic and that's why girls (and Jared Leto) are so obsessed with it☺ It also has pockets, another clutch EK touch that I can't live without.
The Yvette floral print elastic waist pants seem pretty dope. I love printed pants and these ones look super comfy! The elastic waist is key. I love how I can style them down for a more laid back day look and than could totally where them to a glam event or dinner!
It is hard to find a chic baby bag out there! That is what I love about the kestrel coated canvas and leather backpack. The stripes and leather are absolute perfection. I also love that it is a backpack so my hands will be free to attend to all of my mothering needs! 
Constance Maxi/ Token Rich is one of my fave EK silhouette's to wear. This is the perfect black dress for pregnancy and beyond. Super comfortable and super flattering.
The Iselin dress has been a real winner for me this season. I love the v neckline, it's very flattering and the fabric is to die for.
I am obsessed with this Rebecca Minkoff reversible shearling to vegan leather coat. It is awesome. I love that is reversible so it can give me two totally different looks. And vegan leather is rad.
My obsession with heather grey is no secret. That is why this White + Warren cashmere grey scarf is a must have for me. Cashmere + grey = perfection.
The Easy Sweat Pant in ice wash denim is literally a dream. You will def see me running around in these. These are quintessential shlumpy-chic pant.
I love the Higgun Button Front Sweater. I die over a soft knit; the fabric is so amazing against the skin. The satin detailing on the henry collar is also so glam. Could totally be paired with a sweat pants or a gorgeous satin skirt for a more evening look.
This Ace and Jig short duster takes me back to my earlier EKI days. I used to make kimono tops out of silk scarves! I think this is such a dope look. Pajama dressing is my fave and this piece emulates that. The fact that it is reversible is amazing. This piece will take me through my pregnancy and motherhood!
 I have one word for this faux mink bolero. GLAM.
Gold Carnaby Zebra Stacking Dish fits perfect in my apt. I love chic little accent pieces. They can really spruce up a room.
I am keeping the gender of my baby a secret. But I really can't get enough of this little outfit. It is beyond cute. And those blue stripes are beyond. Why wouldn't you want your baby dressed and ready for the South of France?
I really want to design clothes that real #girlbosses can wear. Clothes that are functional but just as glam. During the Cov days, I saw so many epic pieces in the most fabulously curated closets, but the part of the closet that I was always drawn to was that single edited rack of clothing that the women could not live with out. And THAT is the part of the closet that EKI represents.
There is no single day that is just like the other, but that is what always keeps me on my toes and so stoked for the next. No matter what, I always start my days between 7-9 to plow through my emails before the craziness of the day. Around 9am I meet up with my team to figure out our game plan, which often varies between production at the factory, press pulls, sample maker runs, fabric searching, or planning our next shoot. There's so much to do but we seriously have the best time together.
I believe it's so important to take a break when necessary and to not stress the little things. If I feel overwhelmed, something as simple as a walk in my hood helps to clear my head. Then I can return to work and be super productive with a rad attitude.
Mother-to-be: Responsible (fingers crossed, lol)
Designer: Dope
Wife: Loving
Business owner: Focused
Friend: Entertaining
Cravings: Homemade ice cream sandwiches. Always.
What helped you sleep: My new epic king size bed ☺, hubby cuddles
Vacation Spot/Babymoon: Palm Springs
Push Present Wish: Won't say no to a Cartier bracelet!
Children's Brands: I actually haven't bought a ton for the baby yet, but my mom is planning on knitting this kid up some rad jodphurs and ponchos I am thinking…Maybe I'll get some mini EKI in the works too!