Babymooners Instagram Round-Up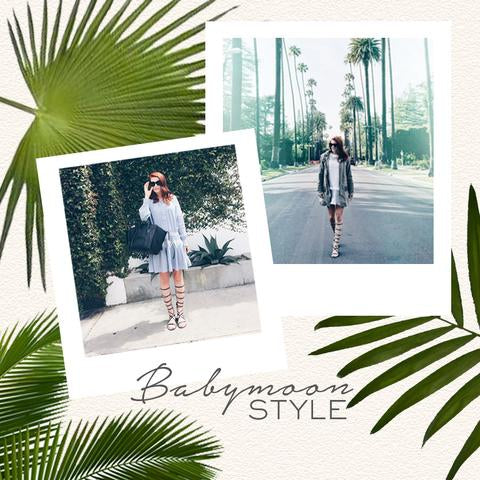 Some people think a "Babymoon" is a ridiculous marketing ploy, created by the travel industry.  It may very well be.  But honestly, whose marriage doesn't need a little one-on-one time before the wonderful upheaval that a baby brings.  And furthermore, what mama doesn't need a stress free vacation (complete with multiple prenatal massages) before the sleepless nights and decades of putting herself second (or third...or fourth...or fifth) arrive.
We rounded up a few stylish mamas who recently took their bumps on vacay   These ladies certainly know how to Babymoon-in-Style! 
Shop the story below
Rachel Parcell of Pink Peonies glowed in bright citrus hues and crisp white frocks on her tropical pre-baby holiday.  Bold solid colors make a strong statement, but they often have a longer shelf life than a very memorable print.  Also, if you choose your fabric wisely, then you can transition them into fall with tights, cardis, and booties. 
And don't forget about "easy access".  As a first time mom, it's so easy to forget that you are going to need to pull your melons out every 2-3 hours for many months if you decide to nurse.  Buying styles with dual purpose really helps stretch the $$. 
Shop our BURU versions of Rachel's looks below:
We can't get enough of Jaime King's bump!  From easy breezy swing dresses to bold prints to bump-con sheathes, Jaime reminds us that we should be proud to show off this beautiful phase of motherhood.  The truth is that it goes by SO fast.  Have some fun with it!
If you are up for trying prints, but nothing too loud, then I suggest finding a more neutral color palette or something in classic black and white.  Can't go wrong there.  If your motto is the bolder the better, then Mara Hoffman fits the bill.  If you need a classic LBD to get your through every phase (Babymoon included) then go with the Rachel Pally converter skirt or the black Yahaira dress.
Shop the BURU versions of Jaime's looks below:
Though I haven't pulled out a Webster's dictionary recently, I suspect that if I did, a photo Amber Venz Edits (Ernst & Youngs Entrepreneur of the Year) may appear next to the word chic.  Traveling the world for amazing Reward Style events with her bump in tow, this first time mama-to-be is already nailing #momstyle.
To recreate Amber's sophisticated looks, go with elegant pastels and rich hues of navy, black, and olive.  Select shapes that will look good post bump as well, so that you can get a longer life out of them.
Shop the BURU versions of Amber's looks below:
If a tropical isle getaway is not in the cards for you due to time or budget, it doesn't mean you can't create an amazing (and affordable) staycation complete with fun outfits and memorable photographs.  Block off a weekend, go off the grid (aka NO social media or emails), book a fab dinner, a massage, and maybe even a movie marathon while decked out in a comfy, yet completely over-the-top gorgeous gown.  Who says that you can only wear a goddess dress on the beach?  Certainly not BURU!
SECRET DISCOUNT CODE:  BURUBABYMOON25