Morgan's Monthly Must-Haves: July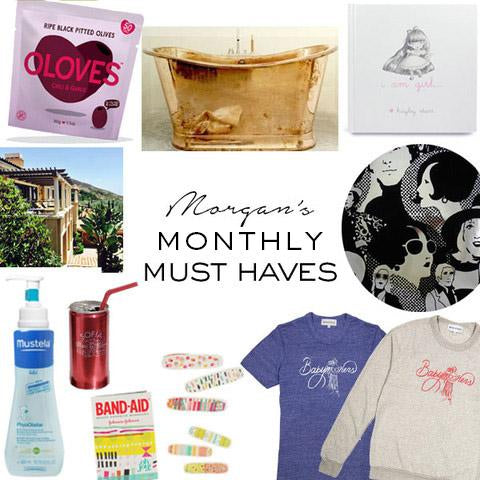 It's amazing to think that August is just around the corner.  With summertime in full effect, I wanted to share some of my favorite things that are beating the heat, the boo-boos, the later bedtimes, and the home renovation project that is dominating life right now!
It doesn't actually get dark here until around 9:30.  This (and the fact that Olive hates to sleep) is seriously cramping our bedtime routine.  Hayley Starr books are a life saver.  They're sweet, simple, and enjoyable for reading OVER and OVER again. 
Between the travel and the renovation, it has been an on-the-go kind of summer.  Call her a cannibal, but our Little Olive LOVES olives.  I keep a half dozen of these in my bag and car for healthy snack options.  They only have 50 calories per pouch so they're great for mamas too!
Have you seen our exclusive "Babymooners" tees and sweatshirts?  I am slightly obsessed!  Our BURU x Rachel Antonoff collaboration is the perfect statement tee.  Heading out to your own tropical getaway before baby?  Best instagram announcement ever.  Have a baby daddy who thinks babymoons are a stupid marketing ploy?  Best "hint hint" ever.  Have a friend on her 2nd or 3rd bump and buying another set of swaddle blankets feels lame?  Best baby gift ever.
Babymooners Tee >                        Babymooners Sweatshirt >
Summers are hot, sweaty and busy!  This rinse free cleanser is a life-saver.  I keep one in the car for quick clean-ups on-the-go and one in Olive's room for touch-ups before bed if a full on bath is not in the cards.  It has a great smell too!
Mustella PhysiObebe Cleansing Rinse >
I don't know about your kiddos, but Olive's knees look like a crime scene right now.  Thanks to the lovely Joy Cho, we have managed to move Elsa and Anna to the back and the band-aid drawer.  Hallelujah!  This mama is totally maxed out on Frozen paraphernalia.
Nothing says summertime soiree like champagne in a can.  Am I right?  These little Sofias with matching pink straws are the perfect outdoor party drink.  No risk of broken glass and no glasses to wash at the end of the night.  Plus, it's tasty!

Our home renovation is in full swing, and this free standing brass tub is my inspiration for the master bathroom.  We just have to be sure it goes glam, not Liberace.  Though I am a fan of his.  Obviously.
I am on a wallpaper kick right now.  I love the idea of vamping up small spaces like a powder room or play nook for Olive with a bold, unique print.  I recently discovered a site dedicated to vintage wallpapers with an entire flocked collection.  I think it's safe to say that these fashion faces will be greeting our guests in the loo.
I feel that the summer is not complete with out taking the fam to beautiful blue waters covered by endless blue skies.  The Villas at Pelican Hill are an incredible option for vacays with tots-in-tow.  We booked the 2 bedroom which has ample space for kiddos and even grandparents.  We brought Momo along too! 
The kitchen is quite large and stocked with essentials like juice, milk, fruits, etc upon arrival.  There are 2 pools on site, but the Villas pool is ideal for little ones with long, shallow steps for toddling.  And while there are various activities off site and beaches abound, we actually stayed on the resort the entire time.  Room service is pretty much Olive's favorite thing in the entire world.  That's right.  We're screwed. 
Happy July mamas!  I look forward to sharing more of my "Monthly Must Haves" with you!