Transition Your Wardrobe From Winter To Spring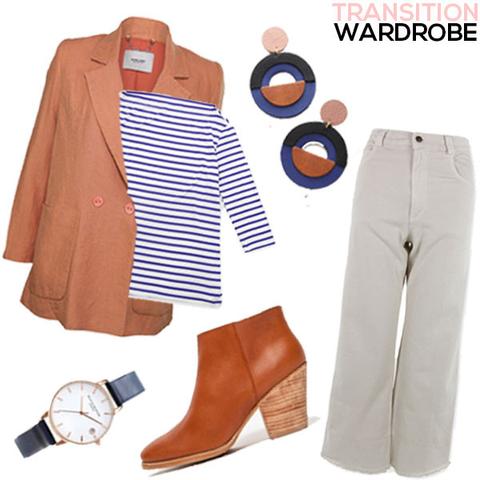 As mamas, we are constantly transitioning—from phase to phase, school to school, and season to season. Building a wardrobe that transitions with us is the key to #momstyle survival. Because let's get real, the time that we used to spend "planning" a good outfit has been reallocated to cleaning up spit-up, changing diapers and preparing countless meals and snacks! 
BURU wants to help you build a TRANSITION wardrobe that takes the guess work out of getting dressed—no matter the season of weather or of life. Below we are sharing 3 tricks to easily #elevateyourmomstyle through every TRANSITION.
It's so easy to just throw on head-to-toe black (in fact we actually encourage that on occasion below) but if you do it every day—it becomes a fashion rut. We suggest adding a few bright colored cardigans and a whimsy t-shirt or two to help brighten up your outfit and ultimately your day. It's amazing what the right hue...can do!
Plus, cardigans and t-shirts are easy layering pieces to transition you from winter to spring! Make sure your closet is always stocked with 2-3 washable options.
Click any image below to shop
 If you find pairing the perfect colors together intimidating or if it just slows down the process of getting you out the door—then by all means, go black. That said, black doesn't have to be boring! Adding a stripe, a scarf, a great shoe or even an interesting silhouette can liven up the look. The goal is to feel put together so that you can take on the day in style (not in activewear). At least not everyday :).
You also want to be sure that the black you buy is in fabrics that work at least 9 months out of the year for your climate. Bigger bang for your buck and you can always layer if need be.
And mamas—keep in mind that cool sneakers are in. Pairing them with an elastic waist pencil skirt and a cute top is a great (and easy) way to beat the jeans and tee rut.
Click any image below to shop 
We get it—prints are personal and they are not for everyone. BUT...when incorporated into your wardrobe correctly, they can actually make you feel like the most put-together mama in the carpool line. The key is to selecting timeless prints in easy-to-style color ways.
For example: let's talk leopard.  It's always in. Plus, who doesn't love black and taupe paired together. It works in every season and if you choose a simple silhouette, it can live in your closet forever. Other prints to stock up on— stripes and window pane plaids. These non-trendy looks are not going anywhere, and you can wear them time and time again.
Unnoticed Repetition = the secret to #momstyle success!
Click any image below to shop
Save
Save
Save
Save
Save
Save
Save