Q & A with Supergoop Founder Holly Thaggard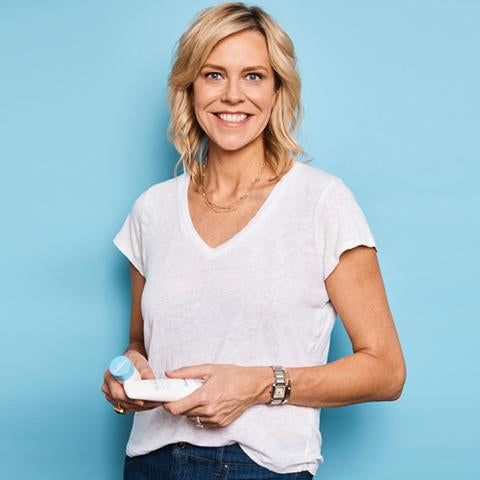 I'm a fun-loving wife and mom of two who is obsessed with SPF. I started Supergoop! to inspire the world to wear sunscreen every single day. For that to happen, I realized we had to create clean, efficacious feel good formulas that take away all excuses for not applying SPF. During my free time, I love entrepreneurial conversations, traveling with my family, snow skiing and entertaining at home. Keeping fit and healthy is really high on my list of priorities.
What do you love most about being a mom?
"Tuck me in" time at night is the best. It's the one time of the day that both of our kiddo's come up with all kinds of cool things to talk about and share. I've found that they let their guard down most when we're snuggling up in the evenings.
How has motherhood changed you?
I'm definitely more of a worrier. I think because I'm on planes so much, I just can't help but think about everyone's safety ALL of the time. It drives our family crazy.
Tell us about your mini squad.
Emery is our oldest and just turned 13, so we're getting used to all that comes with being a teenager, like sleeping late on Saturday mornings. Sometimes it's like noon and I haven't yet even seen her sweet face! Our son Will is 10, and he is quite the opposite. By 8am he has already gone for a run, built a new Lego creation and has already arranged a big breakfast production for the family. He is an early riser like his father.
Did you breastfeed? If so, how did it affect your wardrobe choices?
Yes, but to be completely transparent, I think I did it more for selfish reasons. I read somewhere that two (cumulative) years of breastfeeding reduces your risk of breast cancer. Because I have a family history of breast cancer, I'm always looking for ways to reduce this risk. If only breast cancer were as preventable as skin cancer! Imagine how popular it would be if there was a magic lotion (like SPF!) that prevented breast cancer. OK—so back to your question regarding wardrobe... I lived in easy tank tops and stretchy tees.
Has your personal style changed since becoming a mom? How would you describe your #momstyle?
My mother has always been in incredible shape and she looks fabulous in jeans, so I wholeheartedly have followed her lead and would describe my style as super casual. My closet is filled with a wardrobe of jeans and perfect white, black or grey tees. Even when I'm wearing a suit, I'll pair it with a great white or black t-shirt.
What are your must-haves from BURU and why do they work in your mommy lifestyle?
great staple that can be dressed up or down and travels well. 
 I love jeans and these have such a fun sparkle element! 
great travel jacket to keep warm on airplanes but still look pulled together. 
perfect layer for jeans and an oxford. Super cute! 
a must have for weekend mornings reading the paper. Great color too! 
I love a good soft pajama set for lounging! 
This looks super easy to style with jeans or pants and I love the color. 
Because I am often on airplanes I love a good wrap that goes easily with jeans and a tee.
Classic button up with a pop of femininity with the drop ruffle…. So cute!
Camel is one of my favorite colors. This has my name all over it. 
Slips easily inside of a larger carry-all and can also be carried alone. 
Lindsey and her team at The Laundress make the best products –I'm obsessed with all of them and this spray makes it so easy to keep my wool and cashmere fresh.
What key pieces should every mama have in her closet?
A stretchy long black dress, a knee length black pencil skirt that travels well, a silk print blouse, a perfect white tee-shirt, a few great cashmere sweaters, several great pairs of jeans and lots of shoes!
Tell us about your company. What's its story or history?
My post-college career actually began as a school teacher. Fast forward several years later, a friend of mine was diagnosed with skin cancer, and I recalled those moments in the classroom where I watched kids outside without ever a trace of sunscreen. A close friend of mine was finishing her residency in dermatology and explained to me that sun exposure at a young age is cumulative and likely the cause of my friend's cancer. Through research, I learned the #1 reason why people do not wear SPF is that it doesn't feel good. This experience inspired me to fill the void in the market for a clean feel-good skincare brand that was built on a foundation in protecting the skin from sun damage. An SPF that you would want to apply every single day, 12 months a year. Supergoop! is a very mission-driven brand with a big purpose.
What is your favorite aspect about running your own business (or your specific role in the business)? What is your least favorite?
I think this really comes down to how much I love to create. Ideas have always come easily for me, so I love to find ways to do things differently and create things that don't currently exist. My least favorite: conference calls.
What does a typical day look like for you?
I travel a lot so my weeks often look very different, but when I'm home my husband wakes me up (he is the early riser) at 6:30am, and I'm in charge of waking our kiddos up and making breakfast for everyone. Breakfast is always our family meal so I make it kind of an extravagant one. 
I don't even think about getting my workout in until after the kids get out the door at 7:20am. Then, I either go to the gym and do a combination of rowing and weights, or I stay at home and do a spin class on my Peloton. After working out, I spend about an hour and a half testing out our latest SPF formulas from our research team, sending emails/slack and showering/getting dressed. I make a crushed iced coffee and try to get to our office by mid-morning. 
I usually walk right in to a two-hour product meeting. Product is everything to us and we spend a crazy amount of time evaluating and researching ingredients and formulas. I don't usually stop for lunch because eating during the day isn't right for my body type and it just makes me tired, so if I'm hungry I'll snack on some almonds or greek yogurt with a little stevia. 
Our product meeting is usually followed by slack video conferences with our marketing and creative team in NY. I frequently check in with our controller on cash flow, budgets and help with any checks that need to be signed. 
There are usually one or two days a week that I'm not traveling so when I'm home I try to wrap up my office time early around 4:30 or 5:00 so I can be around the house in the evenings. As an entrepreneur, I don't really ever turn it off except during our hour of the bedtime tuck-ins. I wrap up most days with a Fresh sake bath and then we go to bed by 10 or 10:30pm. I need a solid eight hours of sleep to be my most productive and to feel good.
We would love to hear more about your home base?
We live in San Antonio. We love entertaining at home, so our weekends are spent with friends and family. Our office is at the Pearl Brewery which has the most amazing restaurants. It is also home to one of the three cooking schools by the Culinary Institute of America, so
when we do eat out we pick one of the restaurants close by. My favorite brunch spots are Il Sogna, which is an Andrew Weissman restaurant, or Supper at the Hotel Emma. Jason Dady recently opened Shuck Shack which is also near the pearl. It is a favorite of ours for oysters on weekend afternoons.
What does Motherly mean to You?
Unconditional love and nurturing of a safe & healthy environment.
In one word how would you describe yourself in all the roles you play?
mother: multitasker
wife: best friend
business owner: inspiring
product designer (tech?): fast and detailed
friend: discontinuity. I have work to do here in this area as 100% of my time and energy goes into family, health and work.
Can you share a few of your favorite mommy moments?
Bedtime Story: Strong is the New Pretty by Kate T. Parker
Lullaby: We sing "we're all in our places with bright shiny faces" every single weekday morning if even via a telephone call.
Vacation spot: Aspen
Restaurant: Balthazar in NY
Children's Brands: Stella McCartney Kids, Mini boden, Crewcuts
What is the one thing you wish you would have known before becoming a mom?
Now with our kiddo's being 10 and 13, I wish I had known before having them how quickly it would now seem that they are no longer babies. I might have spent more time enjoying those younger years. I was always so busy!!
Words to live by:
When I was growing up, I loved the animated classic Santa Claus is Comin' to Town. I watched it over and over. The song "Put one foot in front of the other" sung by Mickey Rooney was one of my favorites. I still find it inspiring! Kris Kringle was trying to inspire the Winter Warlock to change his ways. He tells him that change is as easy as taking your first step. I believe it is this early in life advice that still today reminds me to keep going by simply putting one foot in front of the other!
Thank you!