Q&A with Liz Adams of Sequins and Stripes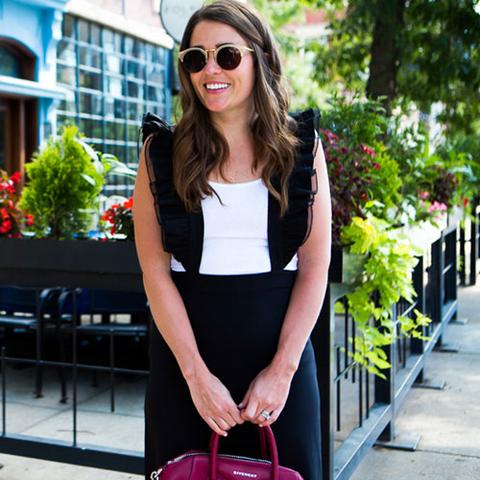 Liz Adams is the content creator behind

Sequins and Stripes

where she shares her personal style, life in Chicago and journey as a new mama to her 10-month old son, Charlie. Liz defines her style as relatable, comfortable, feminine and classic. No surprise with the word sequins in her blog title, Liz always prefers dressing up versus dressing down. She believes women should wear what makes them feel their best and that confidence is the best accessory.
Read our exclusive interview with the lovely Liz below.
Plus shop her Tastemaker Style here
What I love most is the amount of joy that every single day brings me. It is exhausting, challenging and draining but without a doubt the most rewarding thing I have ever done.
Motherhood has made me much more compassionate and emotional! I've learned to live in the moment because you never know what can happen tomorrow. Charlie changes every single day and if I don't allow myself to slow down, I'll miss it.
Charlie is 10 months old and a TOTAL BOY. He bangs, throws and beats everything and is the happiest boy in the whole world.
I breastfed Charlie for 6 months and I relied on v-neck options or button down shirts so I could nurse in public.
I think my mom style has become much more simple. Comfort is key! I tend to opt for distressed denim and a stylish top to get me through the day.
Gingham Sleeveless Button Down Top
Aaron Gingham Skirt with Sequin Pockets
Caroline White Button Down Blouse
Perfect Vee - Navy + Ivory Stripe
Sequin Dot Wide Collar T-Shirt
Flash Camera Sequin Cotton Sweater
A great pair of denim, a blazer, a fabulous pair of heels, a great tee, a dress that works for day and night, statement sunglasses and a classic handbag.
Sequins & Stripes is actually my third blog! I had left my job as a clothing buyer and wanted a place to channel my creative side. I started S&S in 2011 and have loved sharing my personal style, fashion favorites and life with my readers.
We live in the Lincoln Park neighborhood of Chicago which sits right on the shores of Lake Michigan. I have actually lived in this neighborhood for 9 years and it is the perfect place to start a family. We have a chocolate lab named Webster who loves to be outside and love that Lincoln Park is surrounded with outdoor areas. A few of our favorite spots in the city include Oz Park for puppy play dates, Gemini Bistro for date night, boat rides on the Chicago River and picnics on the lakeshore.
Charlie wakes up at 5am. We have breakfast and go for a walk as a family followed by playtime before he naps at 9am. At 11am we like to go to music class, then lunch and maybe a trip to the park before he naps again at 2pm. At 4 pm we meet our friends at the dog park, followed by dinner, more playtime, a bath and bed at 7pm.
When Charlie was 6 months old I finally felt comfortable enough to leave him a few days a week and refocus on work. I now have a babysitter two days a week, which helps me manage everything. It is important to hold on to a little bit of your life before baby! Once Charlie goes to sleep, I decide to put the computer down (even if I haven't done any work that day!) to spend time with Dave. We also try to get a babysitter one night a month so we can have a date.
Compassionate, nurturing, influential and loving.
mother: obsessed
wife: grateful
Blogger: happy
friend: faithful
Bedtime Story: goodnight moon
Lullaby: you are my sunshine
Vacation Spot: Turks & Caicos
Restaurant: High Five Ramen
Children's Brands: Roberta Roller Rabbit, Zara Kids, Tucker + Tate

I wish I was prepared for the amount of exhaustion it would entail!

Your journey has molded you for the greater good, and it was exactly what it needed to be. Don't think that you've lost time. It took each and every situation you have encountered to bring you to the now. And now is right on time