Q&A with Jessica Morse of Bare Beauty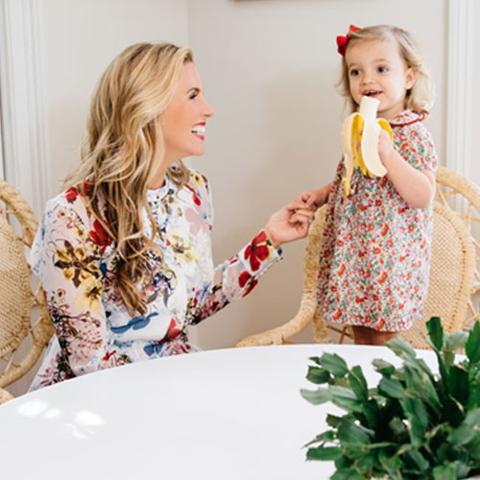 With her blog, Bare Beauty, Jessica Morse offers illuminating advice about what's clean in wellness and beauty.  Her expertly researched recommendations on a wide range of items - from shampoo to diaper cream, lipstick to laundry detergent - paired with easy-to-understand reviews, simple tips and a healthy dose of humor, proves that glamour can be green.
 We are thrilled to have Jessica join our BURU Tastemaker Tribe. Read our exclusive Q&A below with this beautiful beauty expert.
Plus, shop her curated #momstyle

HERE.
In this role, I don't need to be perfectly put together, or the smartest person in the room.  Annabel doesn't care about that.  She cares that I'm present, funny, and loving.  That I can do, and to her, it is everything.  It is the only role in which I have ever felt, without a doubt, that while I am not perfect, I am enough.  The love and joy she gives back to me in return are immeasurable.
I am not a naturally patient person; my own mother has even referred to me as "hasty".  Being a mama has taught me more patience in 3 years than I might have achieved in a lifetime without a child.  There is no choice but to slow down, whether it is to wait for her tiny gait, explain an important lesson or simply give her a hug when she needs one.
Oh, Morgan...  I wish I had known about your ingenious business three years ago.  When I nursed Annabel, I was the mom in the cute outfit who had to completely undress and feed her baby in private.  Or, if we were at home, I was the mom in the big, ugly button down shirt.  There was no in between.  Next time, it will be different!
It's all about the dress for me.  I throw on easy dresses during the day, and tailored ones for evening, and I'm ready to go.  I love fashion, and I hope that in a few years I have a little more time to mix and match and coordinate pieces the way I used to, but right now, dresses are saving my life.

The Great Camper Shirt Dress
BWL Jackie Dress
Hatch Slouch Dress
BWL Amy Bomber
BWL Mono Moto Pants
BWL Lorna Tunic
Hatch Date Night Top
Hatch Stable Legging
BWL Alie Plaid Pant
BWL Kate White Tunic
Shop Jessica's Tastemaker Collection >
After a traumatic miscarriage, I took a good hard look at the "healthy" lifestyle I thought I was living.  My OBGYN suggested prescription drugs, but I just wasn't ready for that (although I totally would have gone down that road if the natural route didn't work for me).  I was already occasionally seeing a naturopath, so together we dug deeper.  I was tested for food allergies and hormonal imbalances, I started seeing an acupuncturist regularly, and I started researching the chemicals present in my home.  Once I realized that just about every single beauty and personal care product I was using contained endocrine (hormone) disruptors, I fell down the Clean beauty rabbit hole; I was willing to do anything to improve my chances of conceiving naturally.  I often shared my findings with friends and family, and a few suggested that I should be documenting what I learned, and Bare Beauty was born.  While the site has evolved, the intention is still to help people navigate Clean beauty and safer options.
Many women are under the misconception that natural products don't work as well as their favorite stand-bys.  And, in 1995, that was definitely the case, but Clean, Green beauty has evolved so much from the crunchy, hippie-dippy potions made in someone's kitchen.  I've replaced every single product in my vanity, shower and makeup bag with an equally effective, luxurious product that is also safer for my body and the environment.  I am a girly-girl, a luxury lover and a product junkie.  My standards for cosmetics, haircare and skincare are high.  If I could make the switch, anyone can!
Chances are that if you're transitioning to a more green beauty routine, you're already open to suggestions. Still, be patient. You may go through a few mascaras until you find your match, and just because one isn't good doesn't mean the whole batch is bad. And keep in mind that there are some things that natural cosmetics just cannot do. That mascara, for example, is going to be safer and can even be smudge-resistant, but it won't be waterproof. Ever. That's nature trying to tell you that you shouldn't be wearing the same makeup for 24 hours straight!
It can be tempting to purge your entire makeup bag or vanity all at once, but it can also be very overwhelming. Instead, switch out a few products at a time, or as you run out of your old stand-bys.  You actually end up saving time, money and your sanity by making the switch "slowly".
Of course you should always do your own research—when you can. But sometimes there just aren't enough hours in the day. To make things snappy, you can find a list of trusted green beauty retailers on my Where to Shop page. These independently owned e-commerce sites have the highest standards when it comes to safer beauty because they do not tolerate green-washing, and you can shop worry-free. Many of them even have sample programs, so you can try a few options before making a commitment.
This isn't about perfection!  Making the switch is about being aware of the environmental toxins around us, and doing what you can, when you can to limit your exposure to them.  Go easy on yourself.  We are all doing the best we can.
If you're looking for a place to start, the most important products to switch out are body lotion, personal fragrance, shampoo and conditioner, hand soap and sanitizer, sunscreen, toothpaste, deodorant and whatever you use on your lips regularly.  These are the products we use most often, and unfortunately, the ingredients in the conventional versions of these products are some of the most dangerous to our health.
Luckily, because I use Clean beauty and personal care products, I don't have to change my routine much when I become pregnant.  I use the entire CLEAR line from True Botanicals, which saved my skin from terrible hormonal cystic acne that came out of nowhere a couple of years ago.  I love Mun No.7 Ayour Body Serum.  It is one of the only body oils that leaves my skin silky instead of greasy, and it's great for preventing and fading stretch marks.  Lotus Wei Quiet Mind Aromatherapy Serum is my secret weapon for getting some sleep, and I also drink more water and take more baths when I'm expecting.
I live in Charleston, South Carolina with my husband, Richard, and daughter, Annabel (3 yrs).  I have to admit, I love where I live.  Being able to hop on our boat or spend the afternoon at the beach is how we like to relax together as a family.  We can also be found at various parks, the farmers market, and family friendly restaurants like Five Loaves Cafe, Butcher & Bee and Little Jack's.  For mother-daughter acai bowl and smoothie dates, Annabel and I head to Huriyali.
Mother: warm
Wife: supportive
Business Owner: dedicated
Writer: descriptive
Friend: loyal
Bedtime Story: Where's the Party by Ruth Chan is the cutest book.  We all know it by heart.
Lullaby: "Is this Love" by Bob Marley & The Wailers.  I listened to a lot of reggae while pregnant, so this just came to be Annabel's lullaby.
Vacation Spot: Any beach, anytime, but we really love Kiawah Island.
Restaurant: Butcher & Bee has vegetables on their kids menu.  Enough said.
Children's Brand: Egg Baby by Susan Lazar for contemporary, stylish play clothes.  Pixie Lily for precious traditional pieces.
To mother is to nurture.
That breastfeeding doesn't necessarily just "happen".  We had the hardest time; you can read my blog post about it here.
We tend to forget that happiness doesn't come as a result of getting what we don't have, but rather recognizing and appreciating what we do have. - Frederick Keonig
Save
Save
Save
Save
Save
Save