Q&A with Jessica Hughes of Happily Hughes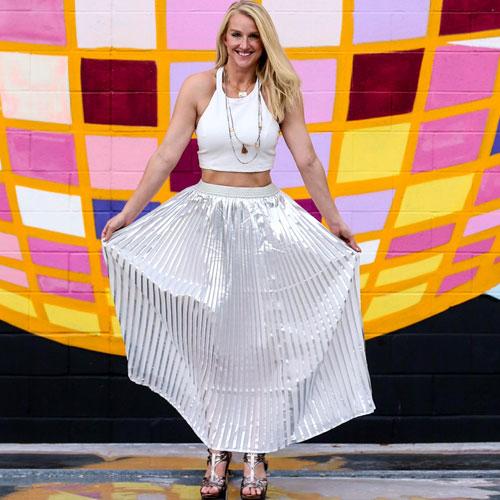 Jessica Hughes, wife, mama bear to two darling little ones, fashion addict and ACE Certified fitness professional lives in Atlanta, Georgia. A huge lover of all things family, glitter, style, fitness and fun, Jessica shares her passions on her blog HAPPILY HUGHES.
We are so thrilled to have her join our BURU Tastemaker Tribe!
Read our exclusive Q&A with this multi-tasking mama below.
Shop her #momstyle HERE
Just one thing? Ah that is SO hard. I love their simple enjoyment of the world. Everything is new and exciting to them.

Motherhood has made me more grateful. Before I had kids, I let little things bother the heck outta me. Now that I have these little hellions, I take pleasure in the small day-to-day. My children laughing or a hot shower to myself are enough to make my whole day great!

Hudson is 3 and my sweet social butterfly. He loves to love and he loves to party. Henley is 7 months and the most happy, active and alert baby I've ever met. She is in everyone's business all the time, and cannot wait to be walking. She'll definitely give me gray hairs.

I did breastfeed and I was all about fashionable and functional pieces.

My #momstyle is definitely more reserved than my #singleladystyle was. It also has to be comfortable and easy to move in.


BURU is one of my favorite places to shop of all time ever. Morgan just gets being a mom, you know?
I am LOVING the...
Shop Jessica's Tastemaker Collection >

The Jackie Dress and the Boxy Sweatshirt are must haves!

I started a private blog to keep my out-of-town family up to date on my first pregnancy. Other people started reading it and by the time Hudson was 6 months old I had a real life blog!
I know it seems impossible to fit into your busy day-to-day but you HAVE to find the time. Even for a 20-minute walk. I promise it will help with anxiety, sleep, and overall well-being.
I live in a suburban town outside of Atlanta. We walk to the downtown every Friday for dinner and dessert with the kids. It's a great community with lots of young families like our own.
I don't know that I can claim achieving balance. Half the time I feel like I'm running around with my head chopped off. But one tip I highly recommend is putting your phone away for exercise and family time. Just turn it on silent and hide it.
Motherly means affectionate. It means loving. It means hard-working.
Mother: affectionate
Wife: devoted
Blogger: passionate

Friend: loyal

Bedtime Story: I LOVE when Hudson reads books to Henley for story time. My heart melts into a puddle every single time.
 
Lullaby: Both my kids have a song I sang to them while still in my belly. For Hudson it's Bubbly by Colbie Caillait and for Henley it's How Long Will I love You by Ellie Goudling. If they need to be snuggled or loved on I sing their lullabies to them and feel them instantly relax.
 
Vacation Spot: We just got back from Captiva in Florida and it is the best small beach town for families. We got to reconnect and spend loads of quality time together.
 
Restaurant: Hals in Atlanta is my husband and I's favorite place to eat. They have the best steaks I've ever had.
 
Children's Brands: Shop Sweet Threads, Sweet Luka Mo, June and January, Hugo and Tiki, and Tocoto Vintage are some of my favorites.

Give yourself grace! You won't know everything and being a mom is terrifying. Give yourself grace and love and know you're doing your best.

Live life to the fullest.
Save
Save
Save
Save
Save
Save
Save