Q&A with Harriet Gilmore, founder of Casuarina Jewelry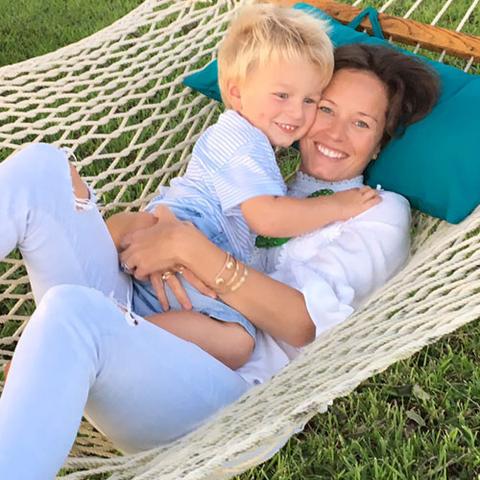 Harriet Gilmore's jewelry obsession runs deep. After wholesaling costume jewelry for 8 years, she finally decided to make the jump into fine jewelry and design her own line. Based in Beverly Hills for 7 years, she made the move home to Charleston with her family. Casuarina Jewelry is a style reflection of her favorite places: Beverly Hills, Charleston, and Harbour Island. The pieces are delicate and feminine—certain to make every mama feel special!
BURU is so excited to offer Casuarina 14K Gold Diamond Letter Necklaces just in time for Mother's Day!

What I love most is Laughing! Thomas makes me laugh everyday, and laughter makes for a joyful day. He is already a performer with some serious dance moves!
 

My son Thomas is my 3 year old wild child! He wants to be outside until it gets dark, never sleeps, I mean never ;), and is the sweetest Momma's boy.



I'm exhausted! Ha! I have given up having a spotless house and dry clean only clothes, and I have learned to find and treasure a special moment with Thomas each and every day. With 3 year old tantrums, it's sometimes a quick moment, but I take a sec and breathe in the good ones.


Getting dressed in clothes I love, is my "me" moment, so although the fabrics I choose have changed, I think I have kept the same style. I love a skinny pair of jeans and a flowy or crisp white top with ruffles and jewelry! Pretty, delicate pieces of jewelry make any momma feel pretty!


I am a summertime girl, so I LOVE all the new BURU summer pieces!
Zenia Zip-Front Ruffle Dress

is going to be perfect for our HOT, Charleston summer.
Light blue + Ruffle = Summertime Perfection
Super Mom Sunglasses in White

- Nothing makes me feel better than a cool pair of sunglasses.
Roxy Ruffle Sleeve Shirt

- my go-to style shirt! I love the funky ruffles on this one. They give it edge.
Florrie Floral Walking Shorts

- Such a beautiful print! I am always looking for shorts that make me feel feminine and pretty, and these are them!
Lem Lem Aden Fly Away Pants-

Summer Pants are my favorite! These look so cute over your swimsuit or perfect for a hot night's dinner at the beach.
Christa Coat-

The Color! A beautiful jacket always make me feel chic, even when it's just thrown on over a t-shirt and jeans.
Emy Embellished T-shirt-

Perfect T for dinner out with Scott. I love a top that makes me feel spicy :), and this is the one!
Shop Harriet's Tastemaker Collection >

My Mom, 2 sisters, and I are obsessed with bathing suits and tunics and all things beach, and we were always looking for a piece of jewelry we could swim in and splurge on while we were on Harbour Island. We could never find the delicate, bohemian look we wanted, so I decided to make them some pieces, and Casuarina was born. My husband named it after the wispy Casuarina pine trees that line the white beaches in the Bahamas.
One of my favorite things to do is selecting stones for my pieces. It is relaxing to sort through the thousands of sapphires, tanzanites, or emeralds, looking for the perfect shade. I have been told I have "microscope" eyes :), so I really enjoy knowing I am picking the very best for my customers. I spend a lot of time laying out the stones to find the perfect combo of colors, shapes, and sizes. The rest of the day includes taking lots of photos of the new pieces, working with clients for custom orders, and chasing my wild child.
eeks! I have SO many! My newest most treasured piece is the most beautiful blue sapphire stone my husband gave me after I had Thomas. I made it into a ring. I talked about it for months, almost bought it for myself :), and he surprised me with it by having Thomas hand me the box on my birthday in Harbour Island. He said it was a beautiful blue for our Baby Boy's Blue eyes. Definitely a sweet moment.
We just moved back to Charleston from Beverly Hills, so we are having so much fun relearning the city! We live in Mount Pleasant, just across the bridge from downtown Charleston.
Thomas' new favorite restaurant is Mex1 on Sullivan's Island. Goldbug is the cutest, little nugget of a shop right under the restaurant. We love popping in to see Ashley Martin and all of her gorgeous creations.
We walk and Thomas scoots to Alhambra Park in the Old Village in the afternoons.
And Thomas loves getting milkshakes at the Pitt St Pharmacy. I grew up running down there for candy and ice cream, so I love that my son will get to experience the same thing!
I'm still trying! I LOVE what I do, both as a mom and a business owner, and I am constantly pep talking myself from feeling guilty. I remind myself that I need both. They each make me better at doing the other one.

Loving and caring for someone and making sure they know they are loved.


Mother:
In Love
Wife:
Confident: I have the coolest husband! He thinks every one of my wacky
business ideas are genius.
Friend:
Loyal
Designer:
Energized

Bedtime Story:
When Thomas was tiny, I loved reading "The Crown on Your
Head" and the others from that little series. They all made me cry because they put into words the crazy mom-love you have for your new baby.
Now, I still like finding books that are also fun for me to read. A good one that we both love is "Happy Birthday, Madame Chapeau"
Lullaby:
"You are my sunshine" and "I love you a Bushel and a Peck" My grandmother always sang that to us when we were children, and Thomas loves to sing it now, and gives me "a Hug around the neck" for every verse he sings! I'll take it! ;)
Vacation Spot:
Harbour Island in the Bahamas. I compare every beach to that one. It is where Casuarina Jewelry began and where we took our 1st Family Vacation with Thomas. There's nothing cuter than a baby in a bathing suit on a pink sand beach!
Restaurant:
My friend Jessica Morse of Bare Beauty is the best at knowing all the good spots in town. She and her husband took us to Chez Nous when we moved back to Charleston and it was dreamy!
I am missing my neighborhood sushi place, Sushi Kiyono, in Beverly Hills like crazy!
Children's Brands:
I love mixing traditional with modern for Thomas, and I never want him to look too old. I pair Zara T-shirts with Shrimp and Grits elastic waist corduroy or gingham pants. They make the perfect shade of turquoise corduroy!


That a 3 year old can be harder to handle than a newborn! LOL! My mom tells me now that once you have children, you're tired for the rest of your life from worry. She survived four of us, so I'm hoping I can make it with my one sweet, wild boy.

Choose to be happy and always be kind to others.
Save
Save
Save
Save
Save