Q&A with Cabbages and Kings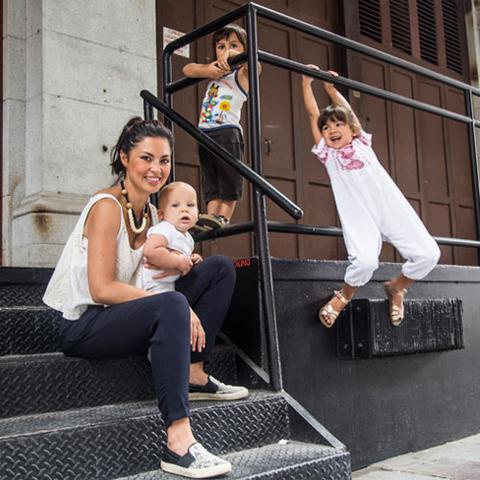 Founder of children's clothing collection, Cabbages & Kings, Alexandra Gizela is a born and bred New Yorker. She has 3 kiddies and graduated Cum Laude from Skidmore College in Business Administration and Anthropology. Alexandra says, "at the time people thought was so bizarre, but I have managed to put both to use". Alexandra LOVES to travel the world and bring those experiences back full circle to her designs. She recently got back from Peru on her first solo trip with her 7 month old baby sourcing for Cabbages- it was AMAZING.
Motherhood makes me appreciate the little things, the things we tend to overlook as we age. It's magnificent to watch the wonder and excitement of your children looking up at the braches and leaves blowing in the wind- the fascination with the touch of grass...it's divine. But most of all I love waking in the morning to a bed that is spilling over the edges with my little ones-feet in the face and all.
Well…I am more exhausted than I could ever have imagined myself to be, but I have never been more efficient. You get the most out of your days. All of my virgo-ness has been magnified and well tuned. Timeliness, planning, balancing of all realms…it's great.
Luella is 5.5 years old. She is the oldest and plays that part to a T. She knows best. She looks out for her brothers, and is very protective. She is very very silly and picks up on everything. She can spell now- so there goes Jamie's and my "secret language." I think we have to turn to Pig Latin!
Jameson is 3. He loves winding Luella up. He is a Gemini…and is definitely true to it. One minute he is the golden child that could do no wrong and the next he is a naughty/manipulative little human being.
Stirling is 8 months and he is just full speed ahead. He is always smiling, such a happy little baby. He is thirsting for more of everything. He just stares in awe at his older siblings…you can feel the urgency of how badly he wants to join them in their games and giggles. He is growing too quickly
Yes, I breastfed my 2 older children till they were 2 years old. Will most likely be the same for Stirling. My wardrobe drastically changed with the first baby. It was hello button down tunics and collard shirts. But it gradually got more "me-like" with my 2nd and 3rd. I wear just about any top and just lift it….but still my dresses are a distant memory :) Unless I have a night out on the town!
My style has stayed the same…but has definitely taken the more comfort friendly functional route. I have become a "flats" woman. High heels, just are not the convenient go to shoe any more.
Click any item listed to shop
Every mama needs:
I started my business out of the frustration of not finding what I wanted for my first baby. Luella was due in September and I was in search of fashionable, warm, layer-able clothing/accessories. I could not find anything I loved and so I thought "you know what, I'm going to have to just do it myself." And here I am.

I have always been conscious of how and where things are made. When I started my company there was no question that ethically-made products were going to be the core of my business. Mostly all of Cabbages & Kings items are artisan-made. I knew I wanted to support the extremely talented artisans around the world and help preserve their centuries-long traditions and culture.
Visiting the families that we work with in Central Mexico and South America is definitely one of the MAJOR perks of my job. Being immersed in their cultures from food, dress, and play…it's absolutely amazing. To know 100% that what we are doing is directly helping these families, is all I need to keep me going.

I was over the moon to get into my first shop. I actually have that same feeling of excitement and butterflies in my stomach every time a new shop decides to bring us on board. It's a wonderful feeling to know that people appreciate and love what we are doing.
 

I am a born and bred New Yorker and so this city has always been my playground. I grew up on the Upper East Side and went to middle and high school in Brooklyn. I lived in Chelsea for a good portion of my life but now reside in Harlem. Our favorite spots and activities luckily brings us all over the city.
Our favorite playground is the Billy Johnson Playground in Central Park. It has the most amazing rock-slide!!
We love picnics and our favorite spot is Conservatory Garden in Central Park on 105 st or Morningside Park by the waterfall.
We are in LOVE with the Seaglass Carousel in Battery Park, it is just gorgeous.
All of the museums are just fabulous from The New York Historical Society to the Natural History Museum to The Frick to the MOMA, they are all fantastic for children and the rotation never gets old.
Loop of the Loom on the Upper East Side for kid's weaving!!!

Everyday is so different…but if I were to sum up a typical summer day…I am always woken up by one of my kids. It's funny, it seems to be a different one each day! Jamie or I make breakfast with them and engage them in some sort of craft or puzzle or painting after. I then put Stirling down for a nap while Luella and Jameson have their own playtime in their room. This is when I get some work done! Lunch time rolls around and the kids again help prepare it. Cooking with the kids is something we love to do!! They typically have a class in the afternoon that we walk to and that's when I get some more work done. It's then some reading, playtime, dinner, bath time, story time then lights out. And I cap the night with a glass of red and some more work and a movie!

BE FLEXIBLE. Things happen, things change and you have to be easy going and not stress. Life really is too short.
Roll with the punches is the way I see it. It's good to have a tentative scheduling of things- an outline that can be rearranged for life's "unexpected" moments.
Mother, wife, owner… are all important facets of ones life and so you do have to work at finding time for all of it.
But it's impossible to do it all on your own. I am lucky to have my family in NY so they help me out a lot in time of need.

Unconditional.

mother: selfless
wife: best-friend
business owner: dedication
friend: loyalty
designer: creator

Bedtime story: anything & everything by Julia Donaldson
Lullaby: Moonriver
Vacation Spot: Croatia
Restaurant: Joe's Shanghai
Children's Brands: Trico Fields
To be honest, nothing could have prepared me. You have to experience it for yourself. Each child has been so different- the experiences are so unique…you just have to go with the flow.
"Little Things Are Life"
Save
Save
Save
Save
Save