Q&A with Deirdre Zahl of Candy Shop Vintage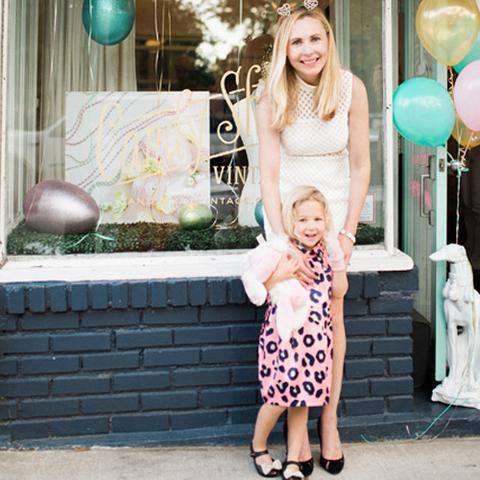 Founder of the fab costume jewelry collection, Candy Shop Vintage, Deirdre Zahl is a mom and a creative entrepreneur. A resident of charming Charleston, South Carolina, she lives with her husband John, daughter Daphne and standard poodle named Birthday.
Beyond her incredible taste in jewelry, Deirdre's #momstyle is second to none. We are so thrilled to welcome her to our #BURUTastemaker Tribe!
Learn more about this super talented mama in our exclusive Q&A below.
Plus, shop her curated mom style!
I just love watching my daughter Daphne observe the world. The way she sees things is so different and fresh and it really has brought an element of magic and wonder back into my life.

 I have become more patient and less Type A. I honestly feel like I have less anxiety than before I was a Mom, as having children gives you much better perspective on things. You realize there are just so many things you cannot control and that is OK and sometimes even wonderful. I have also (begrudgingly) become more of a morning person.

 Daphne age 5, creative, funny, sweet and a little bit shy.

 I would say my #momstyle is "dressy casual." I love to dress up and I am almost always in heels, plus I live in a warm place that lends itself well to skirts and dresses. That was honestly true before I had my daughter and is still true. I own a retail store so am frequently in front of customers, I am generally pretty dressed up every day – heels and a romper, cute shorts with a girly top, or a dress. I dressed this way before Daphne and during pregnancy and aside from the months I was at home with her at the beginning and in leggings and a breastfeeding tank every day my style has remained remarkably consistent.
 

These edgy but chic jeans are a great staple:
 Love this lemon yellow summer romper:

 This is the perfect seasonal dress that could go dressy or casual depending on your choice of footwear:
 I have this top and it looks great paired with the blush ruffled shorts below or tucked in for a more formal look:


 Love this fun, fringy cardigan that goes with everything:
 
 You always need some animal print in your wardrobe:
 I am out in the sun a lot more now that my daughter is swimming and this surf suit offers great sun protection and looks chic:
 White shorts are my summer go-to:

A flared skirt is always flattering:
 A great pair of comfortable ankle boots, a romper that you can throw on that becomes your whole outfit and cute pair of non-athletic sneakers and a cross body bag which is a total necessity for keeping your hands free on Mommy-daughter adventures.

 I started Candy Shop Vintage because I felt there was room in the market for a jewelry brand that makes whimsical, high end costume jewelry with the quality and precision that is reflected in many of the vintage and estate pieces I'd collected for years. My love of vintage jewelry became kind of an obsession and I became equally obsessed with designing and manufacturing my own line of vintage inspired pieces, working with some of the jewelry industry veterans (mostly in Rhode Island) I hunted down in my travels and research trips. I started my business the same year I became pregnant with my daughter Daphne and gave birth right before I launched my first collection. She would sleep in a swing in my home office and I would bring her to the post office in a baby carrier to ship our online orders and I would pump so I could run up to New York and do trunk shows. We showcased our line at Henri Bendel and Bloomingdale's and have slowly expanded over the past few years to about 50 retailers along the east coast and have our own retail store in Downtown Charleston, SC that sells vintage jewelry and the collections I design as well as other fun gifts and accessories.
 
When you run a business you have to wear a lot of hats. For me, jumping around from organizing a photo shoot, working with our manufacturers, designing the windows of our shop or a trade show booth or updating this website keeps things super interesting and keeps me from getting bored and is the part of being an entrepreneur I enjoy the most. My least favorite part is probably dealing with manufacturing problems. I don't think this ever goes away – but trying to constantly achieve quality and consistency with our products as we grown is an ongoing process. Experimenting with new finishes and ways of making things always has it's risks and rewards and I have definitely made my mistakes along the way.
I wake up around 7 and make my daughter breakfast and make and pack her lunch and help her get dressed. I walk her to school/camp with our poodle Birthday who loves to drop her off at school – they are like siblings. I go back home, shower, get dressed and spend some time at home answering emails and organizing what needs to be done for the day then head into the store. At the store I work on anything from pricing new vintage pieces that we've bought to checking inventory, designing, overseeing production and constantly nagging our manufacturers about where things are. I probably write an email that has the subject line "Checking in" at lease once a day. Close up shop at five – and hear up to pick up Daphne from after school or maybe meet friends for drinks after work. Dinner at home with my husband and daughter or one of the dozens of amazing restaurant options in Charleston. Read books and hang out with Daphne until bedtime and usually do a couple more hours of work in the evenings after Daphne is in bed, it is really my favorite time to sit and focus with the distractions of the day are at bay.

I live in Charleston, SC. We live on the upper peninsula and love going to Hampton Park for picnics and to run around. Sugar bakeshop is a great spot to grab something sweet and sit in the garden with your little one. The Aquarium in Downtown Charleston is always fun, Sullivan's Island Beach is a must and The Park Café is my favorite lunch spot – both kid and adult friendly!

 Caring, nurturing, supportive.

mother: loving
wife: fun
business owner: creative
friend: loyal

Vacation spot: Watch Hill Rhode Island watching Daphne ride oldest carousel in the country!
Restaurant: Daphne loves raw oysters so sometimes I take her to "Oyster Hour" at The Ordinary in Charleston as a treat from 5-6 when they are half price. It is amazing to watch her put away a plate of oysters!
Children's Brands: Janie & Jack, Gunner & Lux, Finktoys, Zara Kids

How much being a morning person matters – I would have practiced more!

 "Do what you can with what you have where you are."