Morgan's Top Packing Tips with Tots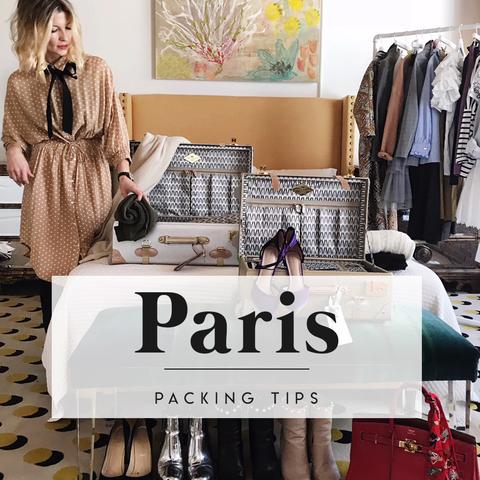 We are embarking on our first international trip with both tots in tow.
Gay Paris—here we come!
While I realize that I cannot prepare for everything that our two bundles of joy (or life in general for that matter) will throw at us during the trip, I know for certain that planning ahead will make all the difference.
For my own sanity and future reference, I decided to round up my top tips for traveling internationally with tots. I hope you will find them useful too!
First things first—The Carry-On Counts:
I don't waist an inch when it comes to what I can bring on the plane with me. AKA, I pack the biggest bag the airline will allow. When traveling with kids, I want to have my bases covered so the contents of my carry-on, and the size of the carry-on itself, are key to survival. If your children are big enough (and responsible), make them bring their own as well. I let Olive select many of the things she packed for the airplane ride so I could actually fit a few "mom-survival" items into my own.
I'm not one for looking like a slob (or a carpet bagger) at the airport so I prefer to have luggage that makes me feel somewhat put together. Of course, under it all, I'm typically sweating like a pig trying to get everyone in their seat before wheels up, but no one needs to know that, right?
Steamline Luggage is my go to for stylish carry-on bags. While The Stowaway is technically 1" over the limit, I'm a bit of a risk taker—so I sneak it on anyway. If you're more risk adverse, go for their classic CarryOn. The pieces have a retro, luxe vibe—guaranteed to make you feel more lady, less haggard mama.
Now—Loading Luggage (For Mom):
I've learned that I'm a better mama when I carve out some time for myself (5 minutes will do). This seems to ring true when traveling with my clan too, but in this case, it's carving out space in my carry-on. I find that a handful of easy to bring along luxuries add an element of zen to a long flight with littles.
My go-tos include—
Birdies Slippers: Forget in-flight socks, these puppies are airplane bathroom safe so you don't have to take shoes off and on with every, "Mommy, I have to pee-pee."
Moisturizers: Nothing worse than dry hands, dry lips or dry eyes at 35,000 feet. I pack travel size containers of hand/foot cream, under-eye cream, eye drops and lip balm. If you can swing it, throw in a multi-purpose oil and some rose water misting spray.
Beauty Boost: Nothing shocks the system more than an accidental face shot when your iPhone is set the wrong way. Am I right? To avoid that reality check, I always pack some easy essentials for freshening up right before landing. My quick fixes included a roller ball concealer to hide dark circles, rosy blush for color and red lips for unnecessary (but also necessary) glam.
Unmentionables: Perhaps old habits die hard, but if my Passport Panties' Days taught me anything, it's that there is no shame is packing extra underwear for a long flight. A fresh pair makes me feel like a new woman!
Travel Wrap: I cover up when I'm cold, I wrap my babies when they're cold, I roll it up for a neck pillow or I use it as a nursing cover. It does it all.
Next—Carry-On Contents for Kiddos:
After I make a little space for myself, I use the remainder of my carry on for baby essentials—diapers, pull-ups, wipes, bibs, bottles, sippy cups, medicines, snacks (and more snacks), and a change of clothes for each child.
The Babe's Own Bag:
Airplane entertainment is a requirement for traveling tots. I believe relying solely on the iPad is risky business. Don't get me wrong, it's a great tool to have, but I find that actually giving them things to do makes for less frustrated/bored children. I like to use the space in my kiddos roller bags or backpacks for a variety of crafts, games, toys and for lack of a better word—junk.
Some of my favorites are:
Anything Melissa & Doug—paint with water, sticker sets, and crafty DIY kits with limited parts.
Colorforms or magnet paper dolls—these are particular great for 4-7 year olds.
Magnet board games or dominos—these are even good for toddlers to tinker with so long as they know not to eat the pieces.
Melting Birthday Cake or Snowman sets—I love things that can be made over and over again.
Playmobil carrying case set—these are compact and keep them busy in imaginary play for hours!
For tinier tots, painters tape (to stick & unstick on the tray table) and lightweight books.
Don't feel like you have to go out and buy all new stuff. I like to sort through our playroom to pack overlooked activities. I'm not afraid to tear out used pages of coloring books or notebooks to make them feel "fresh". I also create little craft grab bags out of scraps that tend to migrate to the bottom of our bins/drawers. It's a great way to thin the mess at home too!
On to—The Checked Bags…(Tots first)
I've learned the hard way that not considering the weather (when kids are involved) can be a complete disaster. For this trip to Paris, temperatures are going to be much colder than usual and over the course of our 8-day stay, there is a chance of rain as well. Naturally, we will plan appropriate activities around this as well, but having the proper items packed helps too.
I always bring umbrellas (multiple) in fun colors and styles so Olive actually wants to carry her own. For cold weather, I pack one piece snow style suits for Schafer so he can wear whatever underneath and we don't have to worry about him kicking off blankets or ripping off his hat. For Olive, I like fleece lined leggings worn under dresses and mittens on a string. Otherwise one mitten always goes missing.
To keep the over-packing to a minimum, I trim down on pjs for the kiddos. I would rather pack more "real" outfits and have them re-wear their jams. Better to have more variety for weather changes and more quantity for spills and messes!
For potty-trained tots, I like to pack underwear that is on the verge of retirement. Vacation is the best time to toss tired panties rather than coming home with a sack of dirties. (I apply this tip for myself too…and I make Brett pack pitted white tees to toss along the way!)
One of my other favorite tricks is to pack their clothes on hangers. It keeps them ironed (for the most part) and it makes for super easy unpacking. Hotels never provide enough hangers anyway. It also keeps complete outfits together so getting dressed and out the door takes less brain-power.
Now—Checked Bags (For Mom)
Seeing as I'm in the business of fashion, I don't mess around when it comes to my outfits. I also have the tendency to over pack (like major), so I try to curb it by writing out each outfit for every specific day/activity. (Anal, I know.)
Since becoming a mom, I actually find this to be a very practical practice. I've said it a thousand times (or more), but mom-clothes are different than pre-mom clothes. Mom clothes have to work harder—they have to do it all. If I don't put a little time into what I'm packing for a family trip, then I'm likely to end up with looks that hinder my fun or make me feel frumpy. Properly planning ensures that I will be warm/comfortable enough, that my shoes will go the distance, that I'll be able to nurse on the go, that I will not look like a wrinkled mess and that I will still feel like a real, female human—wearing an outfit, not just wearing clothes.
To keep myself organized, I keep my underpinnings, tights/socks, and pj's separate from my clothes by packing them in BURU dust bags. I also keep complete outfits together by rolling them into one piece to reduce wrinkles and make it easier to unpack.
Packing for yourself and your family is no joke. No matter how organized I try to be, I always forget something. I suppose the old saying, "One can never be too prepared…" really does ring true when traveling with tots. But the real truth is that, short of taking them to Mars—you can pretty much pick up anything you, need WHERE-EVER you are in the world.
Parenting in this day and age is certainly not easy, but traveling with your kids has come ALONG way. I suppose I should give credit where it's due—so thank you, Internet. Thank you for bringing the entire world to our fingertips.