Mommy + Mini Stylish Halloween Costumes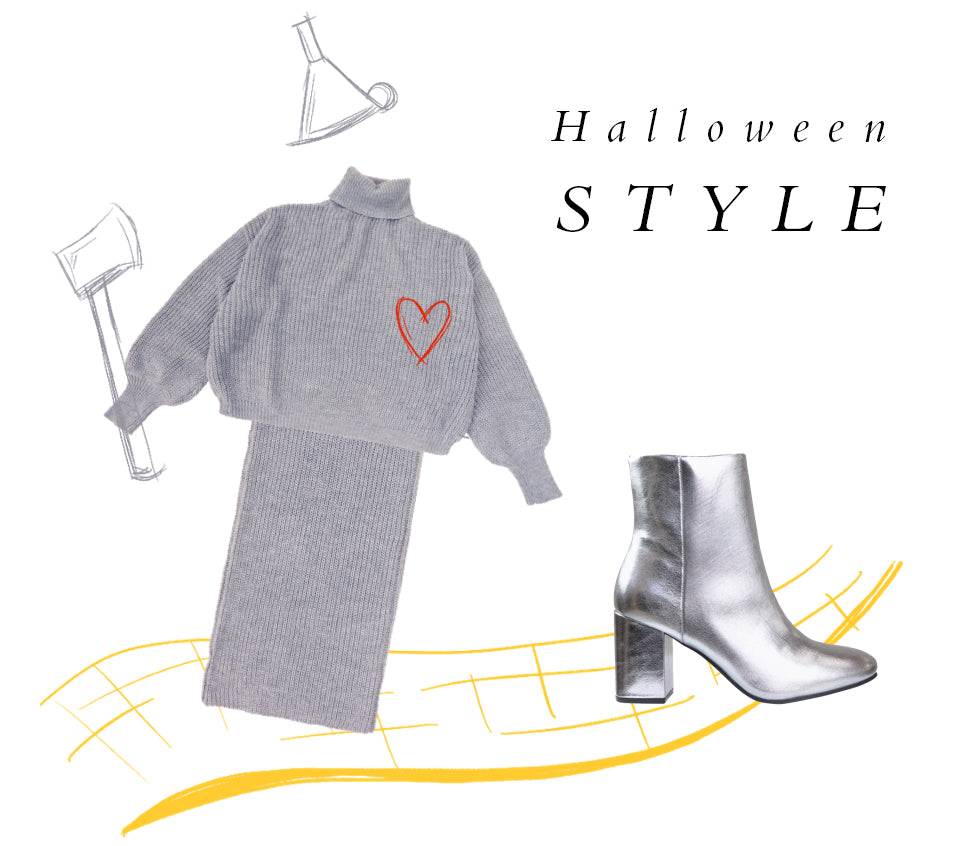 With Halloween just around the corner and numerous costume parties popping up left and right, we thought you might appreciate a few simple Mommy + Me DIY options—using stylish pieces that you'll want to wear long after All Hallows' Eve!
Between rushing home to make a 5PM trick-or-treat kick-off and a last minute run to Wal-greens for extra candy (because you accidentally ate all the mini-snickers)—there is absolutely zero time for you to deal with a fussy, uncomfortable costume. There is no reason you can't pound the streets alongside your candy panhandling mini looking great and festive at the same time!
TIN MAMA
To create our easy TIN MAMA costume, simply add a red heart brooch (courtesy of Amazon for $4.99) and a simple Tin Man accessories (all linked below) to our Grey Turtleneck Sweater Set. Depending on the size of your crew, you can toss in a Cowardly Lion, Dorothy or Scarecrow. We linked our favorite store-bought versions to make it extra easy for you!
1. Grey Turtleneck Set  |  2. Red Heart  |  3. Silver Booties  |  4. Funnel Hat  |  5. Toy Axe  |  6. Mini Lion Costume  |  7. Mini Dorothy Costume  |  
MAMA in the YELLOW HAT
This look is particularly office mom friendly as you can easily wear the trench over your typical work day ensemble.  Just pop on the belt and hat (a $15 amazon find) and swipe some bananas from the break room if you forgot to buy a bunch. Wink wink. Your little Curious Monkey will be so proud to have his MAMA in the Yellow Hat handling his sugary loot.
1. Everyday Trench  |  2. Woven Stretch Belt  |  3. Yellow Hat  |  4. Black Boots  |  5. Yellow Polkadot Necktie  |  6. Curious George Costume
THE GIVING TREE
Though all of these looks are appropriate for schools that require costumes to be based off of books, this one is particularly fitting. Seriously, what's more giving than a mother? Added bonus, this costume let's you wear a beautiful dress all day that's as comfy as your favorite nightgown. Plus, your child can actually wear this costume again—found the overalls on Maisonette!
1. Green Willodean Dress  |  2. Apple Handbag  |  3. Leaf Necklace  |  4. Green Headband  |  5. Golden Boots  |  6. Copy of The Giving Tree Book  |  7. Red Corduroy Overalls  |  8. Green T-Shirt
THE GREAT PUMPKIN
Once again, this costume is great for a busy mama making it home just in time for trick-or-treating. It's easy to throw on and go, yet looks and feels festive. Anything that can be worn throughout the day, yet converts to costume with the quick add of an inexpensive accessory or two, is a win in our book!
1. Swing Coat  |  2. Jumbo Lace Sneakers  |  3. Leaf Garland  |  4.  Pumpkin Headband  |  5. Charlie Brown Costume  |  6. Lucy Costume