Meet the MacDaddy of BURU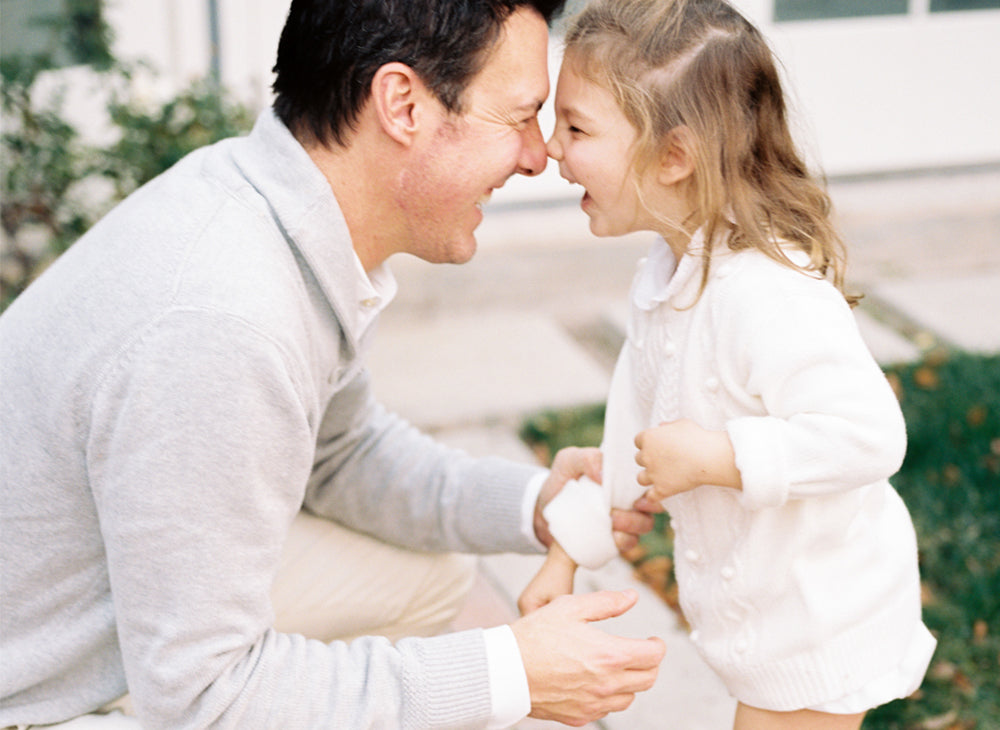 Though he's typically the man behind the lens, holding the BURU crew together by handling all the financial, logistical and tedious tasks that come with business ownership, we think it's time for co-founder Brett Hutchinson to shine in the spotlight.
Learn more about BURU's favorite, most loving daddy in this exclusive Q&A.
We are so 

thankful

 for you, Brett!
How old were you when you became a father?
Less than 2 weeks before turning 41   
Did you always want to be a dad?
Absolutely 
What signaled that you were ready for fatherhood?
Meeting my amazing wife    
When it comes to said "Fatherhood", what is:
The Best Thing?
How much they miss you even when you are gone, even for only a short time
 
The Hardest Thing?
Balancing time alone with my wife with being away from the kids - especially when they are young
 
The Most Surprising Thing?
How well you handle it when they pee, poop or throw-up on you - because it will happen.  More than once.
 
The Weirdest Thing?
That they want to be with you when you go to the bathroom and that they want you to be with them when they go to the bathroom.
Share with us a special event that you look forward to sharing with your daughter, Olive, and your son, Schafer.
I am not sure which I look forward to the most, but I think often about the special milestones like graduations and weddings.  That said, I love the simple things too - like marking their heights every 6 months on the wall in their rooms.  They get so excited with every inch they grow.  It is so much fun to watch.
   
What #dadlife products can you not live without?
The Uppababy MINU was literally life changing.  It folds up and down with one hand, has a shoulder strap and easily fits under the table at even the most crowded restaurant.   My other must have is a good face wash (I am currently using a great one by Beauty Counter).   Between helping my wife run a business and raising kids, I don't get to shower every day - so washing my face has replaced my morning shower most days.
  
What is your current "dad style"?
I am more casual now than I have been since college—mostly because of where we live. Los Angeles is much more laid back than any other city I've lived in, so I predominantly wear sneakers, casual pants or colored jeans (sometimes blue, but not often) with a untucked button down; I am rarely clean shaven and my hair is short and messy.
 
What is your "dream dad style"?
I am one of those people that would like to wear tuxedos more often than my life allows. and I wish that men still wore ascots.   When I am not so formal, I always love a great fitting suit and well tied tie; however, based on my current reality, I just try to incorporate as much color and a sport coat as often as possible into my casual wardrobe.
  
Fill in these blanks with favorite brands or style:
Go to Sunglasses:
I used to wear gold Ray-Ban Aviators until my son kept destroying them, so I now wear more affordable Warby Parkers 
 
Shoes:
I so want this answer to be Salvatore Ferragamo - but I am sure that the layer of dust currently on the few pairs still in my closet make the more accurate answer Puma.
 
Necktie or Bow tie?
Again, I do not get to tie a tie as often as I like - but when I did, I loved Charvet or Hermes. (Of course this is before kids and my answer to The Most Surprising Thing above - a tie is like a magnet for things that come out of a baby.)
 
Facial hair or clean shave?
I only shave my face with a razor a couple times a year - so I'm usually I somewhere between a homeless person and a teenager trying to grow his first beard. 
   
Favorite Sport?
To Participate: Running 
To Attend: Baseball 
To Watch on TV: Literally any live event that is on during one of the few times I am still up after my wife and kids fall asleep.
Favorite Meal?
Sushi in Tokyo, steak tartar in Paris and a slice of pizza in New York City (Ben's is my favorite) are all locked in a dead heat tie.
   
Favorite Travel Destination?
Anywhere with my wife. It literally doesn't matter—anywhere I go to with her is paradise!