Hostess with the Mostess: Carolyn Sutton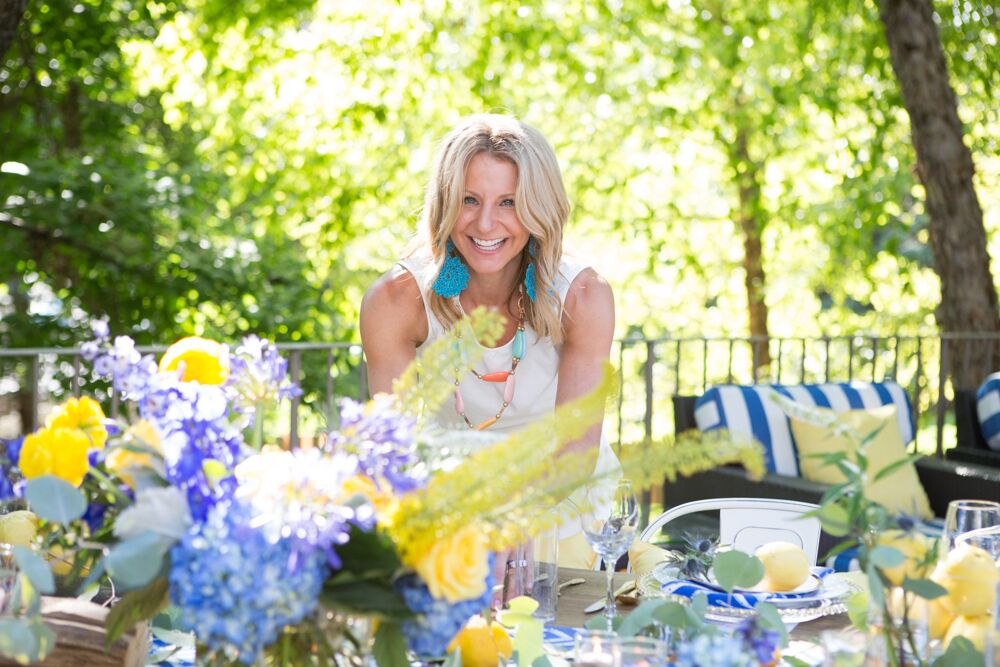 There is nothing quite like an intimate group of women coming together—to connect, to share, and to inspire. It's amazing what happens when you put us in the same space (perhaps with a glass of wine in hand) with a bit of time to dream.
Our BURU x UPPAbaby dinner series, sprinkled across 6 cities, was nothing short of pure magic. We are so grateful to our hostesses and of course, none of these dreamy evenings would have been possible without our amazing partner, UPPAbaby. 
Each hostess brought a unique sparkle and magic to her dinner, and what better way to celebrate that than sharing it with all of you? Let's meet our hostesses!
Meet Carolyn Sutton: With more than 16 years of public relations experience with nationally-recognized lifestyle brands and publications, Carolyn has built her business on relationships that reach across the country – and across all media and social platforms – to help her clients make meaningful connections. In 2009, Carolyn experienced the joy of motherhood, which motivated her to start her own Public Relations firm––624 Public Relations. Seven years later, Carolyn refocused her energy and vision to a new brand––Carolyn Sutton PR.
Carolyn knows the audience that her clients aim to reach, because she is that woman. As an entrepreneur with a busy travel schedule and three school-aged children who are already following in her go-getting footsteps, Carolyn understands firsthand what it's like to juggle the joys and demands of a purpose-driven life – backward and in heels.
BURU: What was your favorite moment from the dinner?
Carolyn: Our BURU dinner was in a gorgeous setting on my outdoor deck. Two hours before the guests were set to arrive, a torrential downpour and hail storm began to ruin the entire set up! Thankfully the House of R team was ready to react and between their team, myself, and calling a favor in from my mom, we covered the tables, pulled everything inside and saved the space. All in raincoats and with tarps and blankets! Thankfully, it was a short storm and once the skies cleared, we put the space back together and by the time the guests arrived, you never would have known a hail storm had arrived. Cheers to being able to roll with the punches (and ice pellets)!
B: Do you have a favorite UPPAbaby product? 
C: Although we are out of the stroller stage, I have a 4-week old nephew and my best friend also just had a baby boy! So, I cannot wait to buzz around with my sweet littles with the G-Lite stroller––lightweight, sleek and perfect for an auntie. 
B: What did you love most about being a hostess for our dinner series?
C: There is nothing I love more than welcoming guests into our home, creating a beautiful setting and the art of conversation and laughter. I love to entertain and will host anything from a casual night outside to an elegant dinner party to a giant Christmas bash. I love to have a special cocktail or a memorable part of the evening. For a large Christmas party a few years ago, we turned my office into a Champagne Room with a private bartender and a glass of champagne for every guest. It helped with the traffic flow in our home and gave an element of glamour and surprise for our guests. I know the party has been a success if I still have guests past midnight.
B: What's your go-to hostess trick? 
C: Hire a bartender. They are so incredibly helpful, take care of many details like slicing citrus fruit and keeping the ice bucket(s) full. It allows you to entertain, relax more and enjoy your guests. Bartenders will typically also help with clean up throughout the evening, which is a bonus. No one will ever be without a fresh drink or water in hand!
B: And finally, what are your top 5 BURU picks right now? 
C: Right now, these are my top five items: the Drawstring Henley Blouse - Floral, the Paradise Puff Sleeve Top in ivory, these Ankle Strap Heels, the Willodean Wrap Dress in red, and the Tie Front Swimsuit in pink.