Cuixmala Recap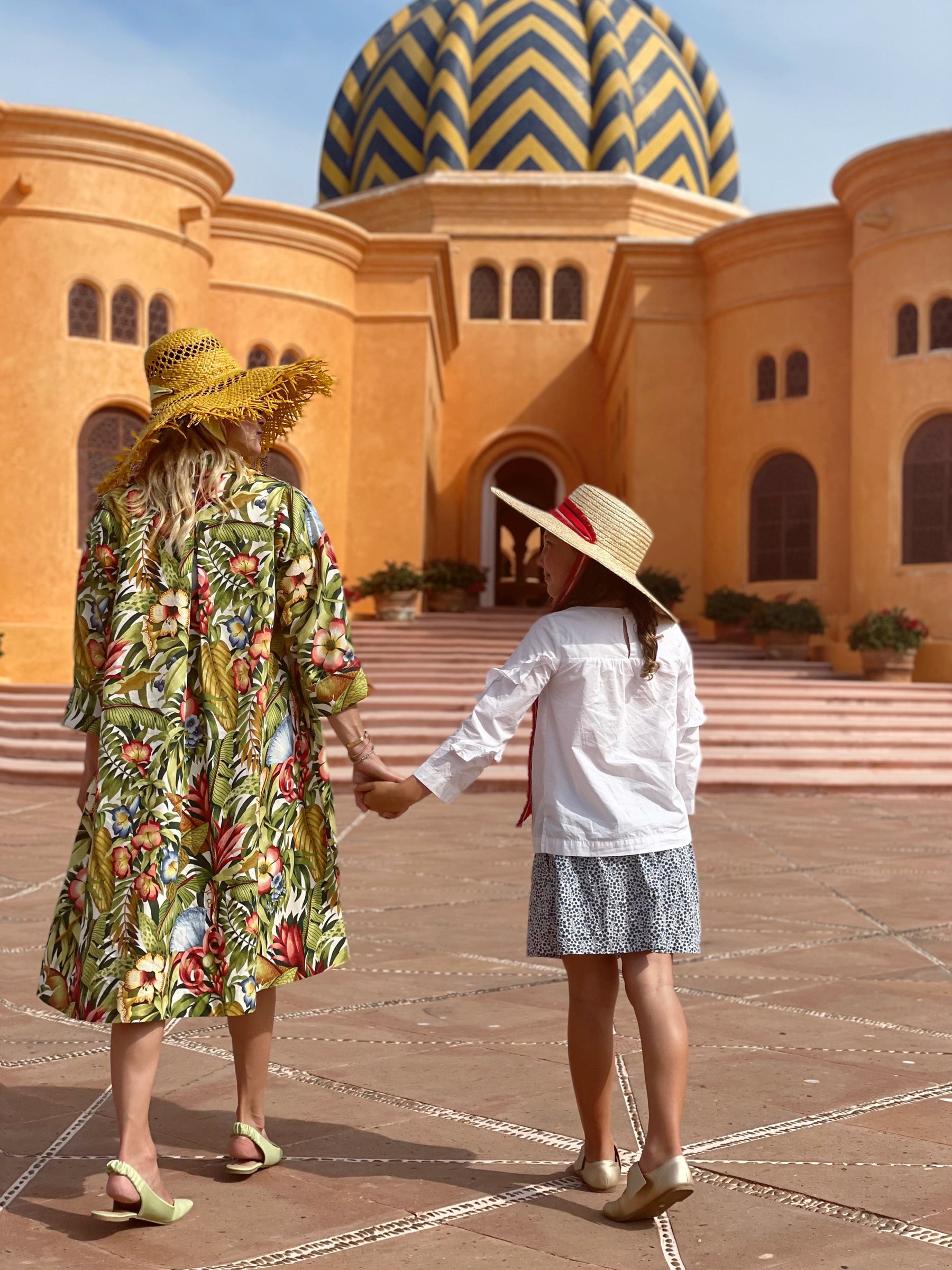 Back in 2017, while scrolling through Vogue.com, our founder and designer, Morgan, came across an article about Cuixmala—a one-of-a-kind resort perched high above the Pacific in the Jalisco Province of Mexico.
The timing couldn't have been worse to discover such an enchanting place.  Not only did Morgan and Brett have a pretty fresh little one (Schafer was just 6 months old when the article was published) but Brett had been recently fired and they were basically living on the road, out of a BURU Bus, peddling their wares. 
But isn't it amazing how things can turn around sometimes?
Fast-forward 5 years and Morgan's dream of taking her family (now a party of 5 with the addition of Covid-Baby Carlyle) to this magical spot came true.  So magical in fact, that it inspired an entire BURU Collection!
But before we get into "behind the scenes" of our new Botanicals Collection—launching this Saturday, May 7th—we wanted to take a moment for Morgan to answer the top FAQ's she received about their spring break trip to Cuixmala to help you decide if this unique property is the right fit for your next family or couple's holiday!
What is Cuixmala?
Formerly a private residence, built on a 30,000 acre nature reserve along 2 miles of Pacific Ocean coastline in Mexico, the property now features 3 large villas, 6 bungalows and 10 casitas in addition to the main house of Casa Cuixmala. Surrounded by private beaches, straight out of a movie, Cuixmala offers so much more than typical coastal activities (of which there are also plenty!) It also offers horseback riding, incredibly cuisine, a sea turtle refuge, lagoon tours, exotic animals (yes, zebras, crocodiles and antelope roam freely), tennis and more!
With so much land and so few people, it's actually rare to see other guests, making it a true refuge for a family or a couple. It's also an ideal setting to celebrate one of life's many milestones—birthdays or otherwise.
The over-the-top architecture and pictures of this unique oasis truly speak for themselves, but if you're planning a family vacay, insider scoop is super helpful, so here goes:
How do I get to Cuixmala?
Though it's possible to charter a plane to land on Cuixmala's own airstrip, that was not the reality for the Hutchinson Party of 5. (They're small business owners...remember!)  The next closest airport is Manzanillo, but flights are limited, so Morgan and Brett chose a direct flight from LAX to Puerto Vallarta (under 3 hours non-stop). 
A 4-wheel drive rental car is necessary to have on property.  If you're not comfortable making the 3-hour drive from PVR to Cuixmala (like Morgan and Brett), then you have the option to arrange an airport pick-up by the resort staff and have Cuixmala book a rental car to be waiting for you. This is a slightly more pricey option than driving yourself.
Do I need a travel agent to book the trip?
The short answer is yes. Though you can "technically" reach out to Cuixmala yourself, it's not the same as booking other large properties online and payment options are more limited. A travel agent can help you easily navigate the booking processes and make sure that your activities and travel plans all align.  If you're looking for a great one—give Leah Winck of

Journey on Travel

a shout!
Is Cuixmala Kid-Friendly?
Answering this one is a bit tricky as it really comes down to personal preference and each family's "vibe". Overall, if all your children are older than 5, then yes. Though you may not be able to do every activity offered on property, you will have plenty to do. On the other hand, if you're like the Hutchinsons, traveling with a 2-year old in your crew, then you should probably ask yourself these questions:
1.  Do I like to go up and down  a lot of steps with my toddler? (Cuixmala is not stroller friendly)
2.  Will my child try to chase a crocodile? (There are 700+ onsite. Choose a high bungalow if this makes you nervous)
3. Can I survive without a "Kids' Club"? (That's not the Hutchinsons thing at the moment, but if its yours—you may want to pick another spot.)
4. Am I okay that nothing is "child-proofed"? (No baby gates. Lots of ledges with big drop offs. Your eyes have to be on the "prize".)
5. Are we, as a family, ready for amazing quality time and adventure? (This may not be your "average" resort, but it's incredible and one of a kind.)
What Room Should I Pick?
Though Morgan and Brett can only 100% vouch for the exact accommodations they had, they did explore and experience many parts of the property. Bungalow Roca, their exact room was a 2 bedroom, 2 bath bungalow that sits high on the hill, isolated by foliage, yet walkable to the main Casa Cuixmala with stunning views of the ocean. 
One bedroom bungalows are also available, each with their own wrap around terraces and unique views. These are all within walking distance of Casa Cuixmala. They do not have kitchens, but who wants to cook on vacay anyway?  
If you prefer your own kitchen, then your best option would be on of the casitas or one of the larger villas that can accommodate larger families and groups.
Though the main Casa Cuixmala does have STUNNING rooms, they are not as private or secluded as the other options on property. When traveling with kids, this would be Morgan's last choice as you might constantly worry about being noisy and disturbing other guests. Bungalows really are the way to go!
Why Do I Need a Rental Car?
As we mentioned above, you will need some form of transportation to get you from one of the two commercial airports nearby, but you will also need it for the duration of your stay at Cuixmala. While the property sits above and has direct access the Pacific Ocean, the other private beaches for swimming and playing are about a 30 minute drive away.  Totally worth the trip when you arrive on these dreamy beaches BTW. Additionally, just driving around the property and exploring is an activity in itself.  Have your own car gives you much more freedom and flexibility.
What makes Cuixmala so special is that you often feel like you are the only people in the resort, but that also means that it is quite spread out.  The car is key. 
How is the staff?
Traveling with their children as often as they do, the Hutchinsons experience a range of service and assistance in relation to their 3 little kiddos. Some good, some great, some judgy. The Cuixmala team was incredible. They did everything they could to make the children feel welcome and included in their own Cuixmala way. It was authentic, warm and lovely.
But as we mentioned above, it's not a "kid's club" type of place. Children on property are also expected to roll with the Cuixmala vibe.  Certainly a good one to roll with...
NOW...let's get to the good stuff!
The Cuixmala inspired BURU Botanicals Collection!
Like the vastness of the property itself, this collection is a BIG ONE! Featuring 12 styles, including 5 dresses, all the pieces reflect the bold hues and beautiful botanicals that encapsulate Cuixmala. 
Though shades of green dust the entire capsule, vibrant corals and a sprinkle of neutrals round it out. Easy silhouettes that transition from daytime by the pool to evenings al fresco, spent with friends and family, complete this summertime influenced collection. Filled with cotton poplins and flowy sheer fabrics, each garment was designed for now, but also ageless and able to transcend seasons.
Join us Saturday morning, May 7th for the launch of our Botanicals Collection.
Sign up

HERE

to be the first to shop it!