BURU Goes East—China Travel Recap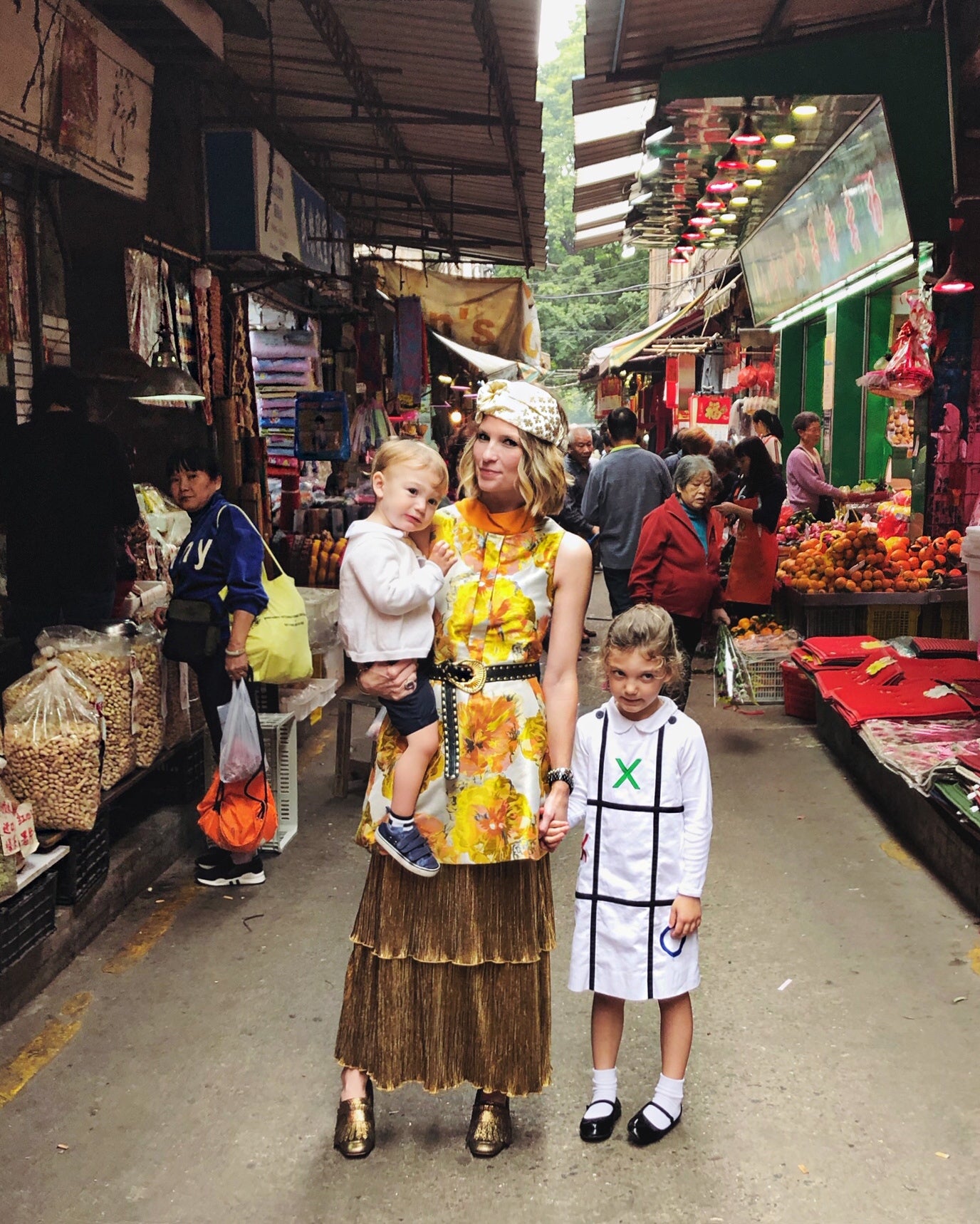 Over the holiday break, BURU Founders, Brett and Morgan Hutchinson traveled to China for three weeks, with their two tots and Momo (Morgan's mother) in tow, to visit with their factory, source fabrics and celebrate Christmas. 
Through the course of their travels, Morgan received countless questions from our amazing followers.  After sifting and sorting though them, we compiled our Top 7. Here they are with Morgan's personal responses.  
Don't forget to comment below if you have a question that we missed!
1. Where exactly did you go? And why?
For the bulk of our trip, we were in and around Guangzhou—China's 3rd largest city, in the southern Guangdong province. It's a much easier city to get around and much greener than Beijing (where we lived from 2009-2012).
Though our factory is located a little more than an hour outside of Guangzhou, it's not an ideal place to stay with kiddos (no international hospitals for starters...) so we opted to make the drive when needed. Additionally, there are much larger fabric and trim markets in Guangzhou and sourcing for upcoming seasons was the main reason for the trip.
For our Christmas break portion of the trip, we headed further south to Sanya, a small city on the southern tip of Hainan Island—often referred to as China's Hawaii. I'm not sure how accurate that statement is...but you get the idea! AKA—it's tropical.
2. How long was the flight? How did you survive it with kids?
We took a direct flight from LA to Guangzhou which was 15.5 hours. Wowza, right? 
To answer the survival part of that question, here is a short list:
+ We took my mom (The MOMO) for serious back-up help
+ We used miles to upgrade to business class for space and full recline beds
+ We took a night flight and changed into jammies as soon as we boarded
+ We packed insane amounts of treat style snacks,

Melissa & Doug

activities and 2 fully loaded iPads
+ We went into the trip with the mindset that no-one would sleep, so any sleep at all exceeded all expectations
3. Where did you get the suitcase scooters?
This might seem like an odd question if you missed our instagram stories during the trip, but I'm including a link so you can see for yourself the magic that is

Zinc Flyte!

 
A friend told me about this company about a year ago. Schafer was too little at the time, but the concept stuck in my brain. When my mother-in-law asked me what the kids might want or need for our big trip, I instantly thought of these

suitcase scooters.

Basically, it's a child size carry-on bag with a high-quality scooter attached to the back that easily pulls down allowing them to ride their bag, rather than pull it.
It's a genius idea, and it made long airport walks so much faster and easier! Not to mention, it wore them out so they slept on the plane!
shop the sneakers | shop the top | shop the skirt 
4. Where did you stay?
Last spring when we traveled to France with the kids, we stayed in a Kid & Coe apartment. That was not an option in China, so I stuck with western brand hotels. We are loyal Marriott/SPG peeps—so in Guanghzhou we stayed at The Westin and in Sanya, we stayed at The Edition.
While both properties were super accommodating and wonderful to our kiddos—offering us upgrades to larger rooms, access to the lounge floors for breakfast and evening snacks—

The Sanya Edition

was next level. I've never experience a place so chic and so kid-friendly at the same time. The property has done an excellent job separating adult versus family pool and dining areas so that everyone can enjoy themselves in their own way.
shop the bettie button down dress  
5. What was the public "potty" situation?
I received the most hysterical comments on Instagram after posting a picture of the typical Chinese potty. To be clear, Western hotels and many Western style restaurants have the same standard potties that we have here in the US, but when out and about in non-touristy areas (or at the fabric markets), the toilets are traditional Chinese style. They are very similar to Turkish toilets—aka porcelain holes in the ground. 
The key to mastering these thigh-workout vessels is to wear an easy lift up dress and pee very slowly (so it doesn't get on your feet...I know, yuck!) Also, if you're heading East, remember to pack your own toilet paper and bring plenty of Purell.
6. What is your factory like? 
Our factory is quite small, actually. It's located on a busy street with hundreds of motorbikes carrying giant bolts of fabric everywhere you look. Many of the sewers (who are all paid above market BTW) have worked there for more than 10 years. I was pleased to see good lighting


 and big windows. To be brutally honest, the conditions are better than many factories I have toured here in the USA. I know you may not want to hear that, and many people have issues with overseas production (specifically China) but this is just my experience.
I believe that great things will come from the amazing women making our goods there. (And how cute are their uniforms!!??)
7. What was it like to be in China for Christmas? And how did you handle Santa?
Even though I spent 3 Christmases in Beijing (we came back to have Olive just shy of our 4th one), I was still pleasantly surprised by how festive

The Sanya Edition

made it for us. Beyond the decor, they offered special activities everyday centered around the holiday. From snow machines to an exquisite Christmas Eve 7-course meal to gingerbread house making classes for the children—the resort went above and beyond to make it special. 
As for our Santa situation, this was a little trickier. For starters, I found a 

Pop Up Christmas Tree

that I packed in one of our suitcases. In fact, one entire suitcase was dedicated to gifts and decor—stockings, garlands and TONS of inflatables! On Christmas morning, the kiddos woke up to an entire band of instruments, a giant rainbow unicorn, reindeer floats, a 3' boat and balls galore. 
For the items that were too difficult or big to pack, "Santa" left a note informing our kiddos that a couple big gifts were waiting for them under the tree at home. They totally bought it.
The number one take away for me on this trip was that being away for Christmas was pure magic. Of course travel has its own set of complications, but it felt more like an adventure than a hassle. It was nice to do things out of the ordinary, to create new traditions and to forgo the pressures that the holidays are often filled with. We hope to make it a Hutchinson family tradition!
 shop the new look shirt dress
Did I miss any questions? I could honestly write about this forever, but I know that we are all operating on borrowed time! Just comment below or DM us on instagram if there is something else you would like to know!  I'm an open book.
XOXO
Morgan