How To: Wash & Wear Rachel Pally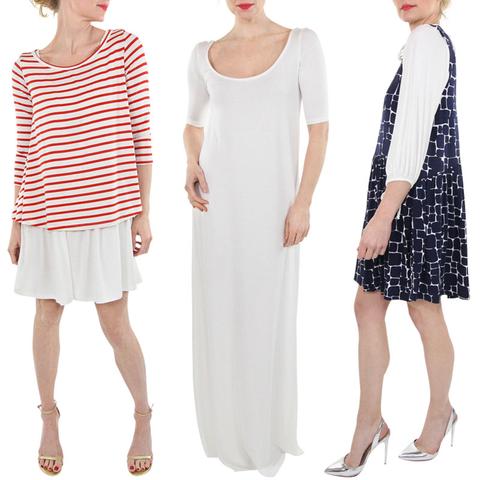 We've all had that moment. You find the perfect dress (like the Rachel Pally Lance dress). It fits just right. It feels just right. Then, you check the tag for the washing instructions only to find those three little words—Dry Clean Only. Boo.

Don't fret mamas!  The reality is that many times "dry clean only" doesn't truly apply! Though it's a safe option for garment care, many DCO styles can in fact be washed at home if you take the proper steps.  Rachel Pally is a great brand for example. Their pieces are made with a super soft stretch jersey fabric that can be cared for without the burden of high dry cleaning bills.
Below are a few BURU tips on how to wash your favorite Rachel Pally pieces in the comfort of your own home.  Keep them looking brand new without schlepping to the dry cleaners!
Use a gentle detergent. We love The Laundress for their all-natural, earth-friendly and incredibly effective products. We suggest using the 
Delicate Wash
or 
Baby Detergent
.
The temperature of your washing machine water affects the lifespan of your clothes.  Washing in cold water will lessen the likelihood of color fading, and it's gentle enough for delicate fabrics. That said, cold water isn't always the best for getting out extra tough stains. Pre-treating the stain before washing makes all the difference.
The Laundress Wash & Stain Bar
gets out tricky spots. Plus it's travel-friendly so it's a great
 product for spot treating, hand washing, and laundering on-the-go.
Most modern washing machines have both delicate and hand-washing cycles. Real Simple provides a break down of the differences between the two.
Delicates A short, cold wash for delicate fabrics and other items which loses its stretch when too much heat is used.
Hand-Wash Designed to mimic the way clothes are washed in the sink, with periods of gentle tumbling and soaking in cold water.
We feel like either of these cycles would be fine to wash your Rachel Pally, but of course you can't go wrong with hand-washing in the sink.
Once you're ready to dry you Rachel Pally pieces its important to skip the dryer all together. Avoid hangers or line-drying.  The weight of the jersey material when wet can cause them to stretch in awkward ways. Instead lay the clothes flat and let them air dry. This will also keep the colors looking bright and bold and the fabric smooth.
Start shopping your favorite spring styles from Rachel Pally! With all the savings on dry cleaning bills...you can afford to splurge!