Q&A with Carrie Morey, founder of Callie's Biscuits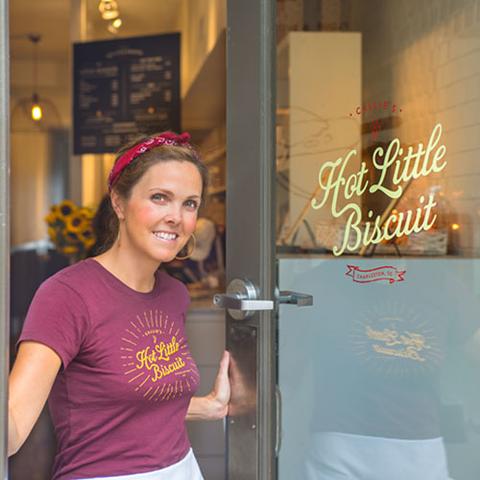 Carrie Morey founded Callie's Charleston Biscuits in 2005 with the goal of making the tender, buttery, made-by-hand biscuits of her mother accessible across the country.
Touted by Saveur, Food & Wine, Southern Living, The New York Times and Oprah among others, Carrie and her small team of bakers are keeping the tradition of Southern biscuit making alive. In addition, she authored Callie's Biscuits and Southern Traditions, a cookbook and narrative on entrepreneurship and life in the low-country. Callie's Hot Little Biscuit – a grab-and-go biscuit restaurant on Charleston's Upper King Street and in Atlanta's Virginia Highlands neighborhood are her latest tasty endeavors. In addition to her role as owner at Callie's Charleston Biscuits, Morey operates an incubator, offering baking space along with mentoring to small artisan food businesses on location at Callie's Charleston Biscuit's bakery. She acts as a consultant to these entrepreneurs – helping them navigate everything from regulations to production and advising on marketing and growth strategies.
We are so excited to welcome Carrie to our BURU Tastemaker Tribe!
Learn more about Carrie in our exclusive Q&A below.  Plus shop her tasty #momstyle on sale!
What I love most is having the opportunity to have a strong impact on my children - I hope that I can teach my girls to be independent, polite, kind, and responsible.  
I think I am more introspective.  I am always thinking about how everything that I do will affect my children.  Honestly, it's such a welcome change when you shift focus from raising yourself to nurturing them.
I did breastfeed all three of my girls and it was when I was breastfeeding late one night that the concept for Callie's Biscuits was born.  As for my wardrobe choices...they were non-existent.  I had my girls so close together that I honestly bounced between maternity clothes and postpartum and blurred those lines a lot.  I was either breastfeeding or in the bakery for that blip (didn't feel like a blip then!) of time - I was so far from being fashionable.   At the time, I wasn't inspired by my clothing options and there weren't as many online resources for inspiration like yours.
I'm having fun with my clothing again! If only your site had been around back when because my #momstyle was admittedly awful for a while - skinny jeans and a slew of different shirts that I'm pretty sure I burned upon arriving at approximately 3 months after the 3rd girl was born.  I spend a lot of time covering up my clothes with an apron and flour so when I'm not in the bakery, I actually enjoy dressing up. a little edgy and a little boho.
Novelty Stripe Paper Bag Shorts
Large Pocket Pullover Phantom Charcoa
Shop ALL Carrie's BURU Picks >
Countless times I watched both my mom and my grandmother (my father's) in the kitchen making biscuits in their own very different ways.  It wasn't until we started the business, that Mom actually taught me the technique.  
My daughters and I cook, bake and party plan all the time together!  In fact it's a daily ritual that we plan supper while doing homework around the kitchen table.   If they could have it their way, we'd entertain every night.  My love of cooking for people and entertaining has definitely been passed down to all three of them.
One of my girl's was recently diagnosed with a medical condition where her diet has to be extremely limited for a few years...no biscuits, no sugar, no carbs...the list goes on and on.  We've turned it into a challenge for all of us and the girls are really experimenting in the kitchen with me.
One of my favorites is Christmas morning.  I was tired of being in the kitchen on Christmas morning instead of lounging with the children so now we do an enormous pot of slow cooked stone ground grits. I still pull out all the silver and china but instead of a formal sit down breakfast we have a "grits bar" with all sorts of yummy toppings.  It was the inspiration for our signature grits bowl at Callie's Hot Little Biscuit.  I just pile it all on...pimento cheese, bacon, roasted tomatoes, shrimp, avocado. It's quite addictive!
I am a native of Charleston and we live in the Old Village of Mt Pleasant just across the bridge from the peninsula.  This is also where I grew up…  My girls are very safe and can ride all over the neighborhood, visiting Pitt St Pharmacy to get treats (my first job).  In the summer, we have a small house in Victor, Idaho where we live for about 8 weeks out of the summer.  My husband is from Jackson Hole, Wy so his entire family lives in Victor and it's such a nice departure from regular life.  My girls are city girls with a little ranch cowgirl on the side!
A typical day is walking or riding bikes to school with my girls and then some form of exercise.  Then I'm off to check on my Hot Little Biscuit shop on King Street downtown in Charleston.  From there I do what is needed, usually heading to my bakery just a few miles up the road from Hot Little Biscuit where we do a ton of baking and shipping for our online business.  There I will meet with staff, work on new recipes, bake, call on new stores and just general business owner stuff!  I almost always leave in time to get my girls from school around 2:30 and from there we do homework, chores and cook supper together before or after being a taxi driver shuttling all my girls to their various activities!
I am not sure that I always achieve balance, but that is my daily goal.  I try not to plan too far in advance because that can get overwhelming.  I also have the same priorities since starting this business and that is family first!  Not just for me, but for my employees.  Life is too short to work all the time, so we try to make it work for our staff to attend school ceremonies, performances, picking children up from school if need be and even if they need to come to work!  I also make sure I have a lot of fun!  I am a firm believer in work hard play hard--otherwise it's not worth it!  Lastly, I have an amazing staff that work their fannies off for me so that I can put my family first!
Motherly means to me, setting a good example for my children, being a good example though is not without faults!  In my opinion, your children need to know and witness that you aren't perfect.  Children idolize their parents and if they grow up thinking they are perfect, you are setting them up for failure.
Mother: encouraging
Wife: supporting
Baker: simple
Business owner: determined
Friend: loyal
Bedtime Story
: Every night it is a prayer and a song that we made up together. I say and sing it with each of the girls individually. Every night whether I am sitting on their beds or states away over the phone. 
Lullaby
: you are my sunshine 
Vacation Spot
: Boca Grande/ Targhee Ski REsort 
Restaurant:
Monza/Red Drum 
Children's Brands
: Pink Chicken
My dad raised me and I had no idea of what a great sacrifice it is.  I wish I had understood so that I could have thanked my dad more at the time.  He's a guiding light in my life and I tell him as much as I can that he is responsible for making me who I am.
Where there's a will there's a way