Q&A With Brianne Manz of Stroller in the City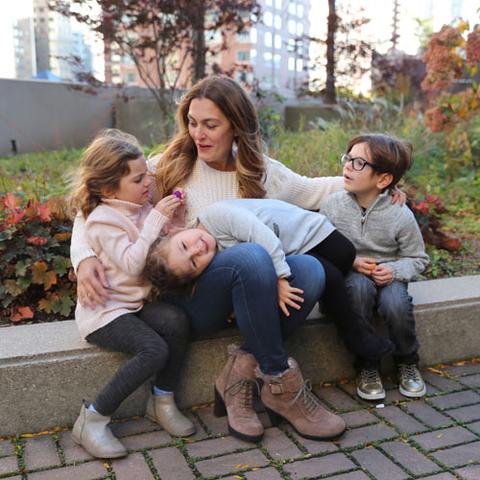 A once fashion showroom owner, turned mom, blogger and writer, Brianne lives in NYC, where she enjoys the fast paced city life with her husband and three children. Her blog "Stroller In The City" boasts about city living, kids fashion, family travel, and all things mommy because being a mom doesn't mean you need to lose sight of the cool stuff.

Read below as this gorgeous mama shares insight to her life and how she balances it all!
I love absolutely everything about being a mom. Watching these tiny people that you've created blossom into their own little personality is something I just cherish.
Motherhood has completely changed me as a person, because now my entire world now revolves around my children.
I breastfed each one of my children. Breastfeeding definitely affected my wardrobe, as I always looked for garments that allowed me to nurse my children easily, while still looking fashionable.
My style changed when I became a mom because my body was different, so I looked for more comfortable items of clothing. I've slowly gotten back my #momstyle, which can best be described as boho chic.
Rachel Palley long sleeve kaftan
 Shop Brianne's Tastemaker Sale >
Oh, it's actually like a dream for me. Never in a million years did I think I would be able to do something I love, while raising my family at the same time. I'm experiencing NYC through my children's eyes, and living here is something I always wanted. Now, to be able to give my children this lifestyle is everything.
With the winter in full swing, my look would be my favorite is ripped jeans from Rag & Bone, a chunky knit sweater, and my Isabel Marant pullover plaid coat, with a thick scarf wrapped around.
Loving, caring, and nurturing.
Well, it starts off with school drop offs. Ryder and Siella are in two different schools, so drop off tends to take about 40 minutes door to door. Two days per week, Gemma attends a program at Siella's school. Depending on the morning, I will leave Gemma with the sitter, or drop all three kids at school, and work from 10-2pm, at a local coffee. Around 2pm, the real work begins. School pickups, after school activities, laundry, dinner prep, bath time and finally bedtime. Once they are sleeping, I am working again, answering emails and prepping for the following day.
The work mom balance for me is an ever changing work in progress. While I do tend to balance both on a day to day basis, I always feel as though one side is unbalanced.
Work demands a great deal of my time, but over the past few months, I have started to implement certain limits, so I can devote enough time to the kids. I set schedules, keep super organized, and do my best turn down work related activities between the hours of 2pm to 8pm. That time is for homework, dinner and the kids.
We live in the Battery Park section of NYC, which can be considered the suburbs of Manhattan. There are a number of playgrounds in our neighborhood, but our most favorites are West Thames Park and Pier 25. Some of our fav restaurants in the area are Bubby's, El Vez; and for breakfast on the weekend, my children love going to Gee Whiz Diner.
Mother: nurturing
Wife: loving
Blogger: lifestyle
New Yorker: always
Friend: honest
Bedtime Story: A bedtime story, where all three children are game for, would be "We Are Going On A Bear Hunt" story.
Vacation Spot: Our absolute favorite vacation that the kids are still talking is our trip to St. Barts, last summer. We stayed at the beautiful Le Guanahani, in a stunning villa and private pool. The island is a special place.
Restaurant: One place we take the kids where they are always behaved and actually eat their entire dinner is Benihana. The hibachi style cooking gets them every time.
Children's Brand: A brand that all my children live in is Zara kids. I love the quality, yet the pint size pieces are always trendy.
Tough one. I don't think I realized that your children become your absolute everything. While I love every minute of being a mom, I do have to stop sometimes and remember to think about me.
I adore this quote by Maya Angelou: "My mission in life is not merely to survive, but to thrive; and to do so with some passion, some compassion, some humor, and some style."