Markey Hutchinson, of TBBC Shares Her Holiday Wishlist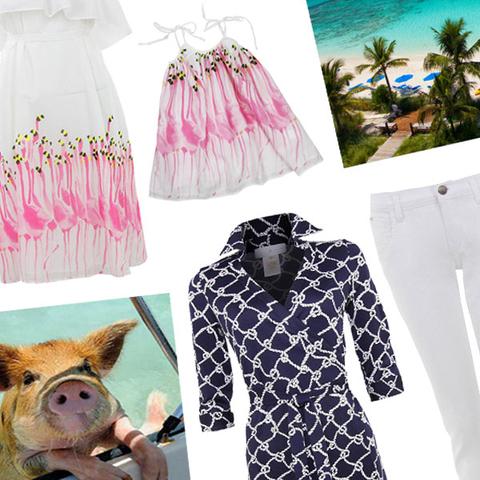 Continuing our Holiday Wish List series with the lady behind the bonnet—the lovely Markey Hutchinson of The Beaufort Bonnet Company.
"Dear Santa, my list is ALL about experiences rather than things and gear. That's actually a white lie- but my only one all year! You see, sometimes 'things' make experiences a little more fun. Please send few items from BURU and a whole lot of sun! My children are at a great age to travel, see, and do… we just need help from a jolly old elf or two."
Swimming pigs, HERE WE COME! First stop: Exuma. Operation: Beach bum.  My children will be giddy with excitement- curious George style… Their eyes will light up- their little faces will smile. 
And can we sail over to Stocking Island for a day?! I'll throw on my Julie Brown Navy Wrap- if it doesn't sell out today.
Mommy & Me Rachel Antohoff Flamingo Dresses are next on my list. Heavens to Betsey! The cuteness! I just can't resist. Once those are packed please deliver my family to Aruba's Flamingo Beach – We'll flamingle with our feathered friends in all their pink and peach!
The Hutchinson family has been behaving all year- Just drop us off in Turks & Caicos; Santa, you're a dear.  The kids can count all the iguanas they see- while Bert & I attempt to be totally care free.
May I ask a little favor for my husband whom I adore? If I can add destination: Jost Van Dyke… he'd love me even more. I know all the logistics- no need to pout - After we sail a boat to the bay, we'll throw the anchor out. Our family will swim the rest of the way and have a sunshiny Soggy Dollar kind of day.
Last but not least, I'd like a beach house on Lyford Cay… I've never been there but that's okay.  Pictures are perfectly perfect and so polite- I'll need BURU's Goldsign 'his jeans'-preferably: Divine White. The little ones can hunt for shells and play in the sand… it's all about the experience- I hope you understand.