#burubrunch 2nd Edition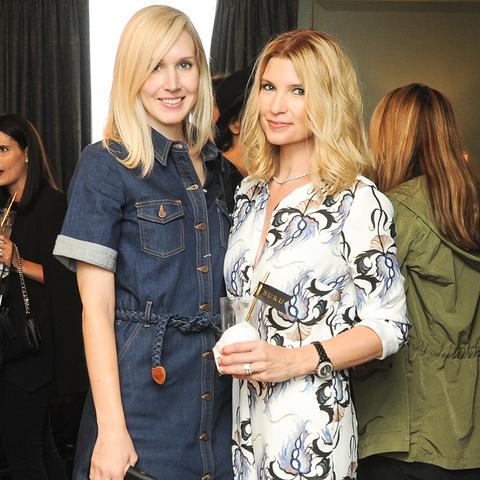 With New York Fashion Week comes gorgeous street style, exhilarating runway shows, endless cocktail parties and now—the annual #burubrunch!  For our 2nd edition, we invited some of our favorite mamas to join us at the SOHO House to kick off the week of craziness with a little champagne and a lot of mom bonding.
I love many aspects of BURU—but getting this group of women in one room is high on my list of favorites.  With a list of talents ranging from designers, editors, business owners, bloggers, social media geniuses and PR mavens—I truly enjoyed being intimidated at my own party.  Not afraid to admit that there was a whole lot of #momcrushing going on!
My own mother's crush on Freshly Picked Founder, Susan Petersen was a highlight of the day for me.  Momo was so excited to meet the talented SP that she became a borderline stalker—sweetest and most supportive stalker ever, I might add.
Another highlight—chatting with the always chic, Jane Keltner de Valle, fashion news director for Glamour, about the downfalls of face timing with your toddler while you are away.  We sadly agreed that while we love seeing their sweet faces—it usually results in tears and confusion on the other end.  I suppose technology only goes so far to making it easier for working mamas!
 A big thank you to Mustela for helping to make our brunch possible and to these two hot moms, Julee Wilson of The Huffington Post and Latonya Yvette, stylist and blogger for joining us again this year.   Your continued support means the world!
Floral BURU letters by the talented Taylor Tomassi Hill of TTH Blooms are quickly becoming a part of our signature decor for the event. 
And let's not forget the signature cocktails with custom BURU flags from Emily McCarthy!
I'm pretty sure it's impossible to host a brunch for moms without the brains behind TheGlow.com in attendance.  What a treat to get some time to talk with these ladies about the movement they are making for motherhood.
The Houston contingency, Lyndsey Zorich of L Avenue and Caroline Knapp of House of Harper getting glammed!  Thank you Glamsquad for the best braid bar and make-up touch-up stations to get us all ready for NYFW! 

Mid-brunch I decided to become Mixologist Morgan.  I don't think the bartender was impressed.
Performing a little illustration magic, Anouk Colantoni did custom paintings on site for our brunchers.  Thank you Emily Stroud, founder of Hayden Reis and Briane Manz of Stroller in the City for sharing your afternoon with us. 
Don't even get me started on these two!  With hearts overflowing and support out the wahzoo—the ladies behind HeyMama.co are rocking the mom space.  If you are not already following them, then you should be!
The new Diesel stroller by Bugaboo might just be the coolest "dad" stroller on the market.  We were so happy to have their support with the brunch.  And what pairs better with a denim stroller than The Laundress Denim Wash!?  Thank you, Lindsey the Laundress (aka Lindsey Wieber Boyd—one of our very first BURU Tastemakers)!
What would I do without this guy?  He's my biggest fan (even on my bad wife days) and he does whatever he can for BURU—dropping his own work to be there for me and even help pack our gift boxes for the event.  Should I be concerned that he is totally content to be the only man in a room of 80 women? :)
These New York Natives take #ministyle seriously.  Sai, mom to Scout (of @scoutfashion) and Colleen Crivello and Maria Benetos, founders of MINIMODE, are 3 genuinely beautiful mammas—inside and out!
Nothing better than reconnecting with people from the past.  Rachel Blumenthal, founder of Cricket's Circle, and I go back the days of our mid-twenties when her jewelry line, Rachel Leigh, and the Passport Panties' booths were next to each other at market.  From jewelry and kitschy lingerie to baby products and #momstyle—things sure have changed!
Three out of four of these pretty ladies are from Utah!  Woohoo to my new home state for representing.  A big thank you to Naomi Davis of Love Taza, Susan Petersen of Freshly Pick, Nicole Gonzalez of Lillies and Leon, Ashley Coppins of Freshly Picked and Augusta Belle with her beautiful (9 months pregnant) bump.  If only we could all look this pregnancy perfect!
Can't remember exactly what Jody Snyder (half of the sister team behind Dannijo) and I were discussing, but I am sure Hannah (about to be a newlywed, sans children) was thrilled to hear our "mom talk". 
It really was a good BURU day.  I am so grateful for the amazing women who attended and for all of the ladies who made it happen.  The sincerest thank you to Jackie and Hannah of Leapfrog PR who spent countless hours planning, organizing and executing.  To Allyssa, my right hand gal for doing whatever I ask of you.  You're the best.  And to Lindsey Belle—thank you for helping us host our event at the lovely SOHO House.  It was perfect!