Real MOM Monday: My Toddler the Tattletale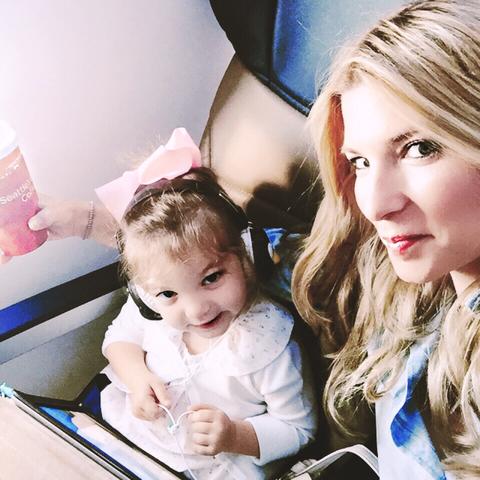 Out of the mouths of babes....
Sunday before last, Olive and I took a solo flight (aka no daddy for back-up) from Chicago to Salt Lake City.  We were late to the airport.  I had to run to the gate - the very last gate I might add, in heels while carrying Olive.  Why do they only want to be carried at the least convenient moments?
By the time we reached the gate, I was soaked with sweat - pit stains and all.  Red lipstick smeared.  Dead hair.   I took the empathetic look from the airline agent as a warning sign that the airplane bathroom mirrors were not going to be kind to me.  But whatever - we made the flight!

With just a few moments to spare, I managed to get my "gear" in order.  For 3 hours of airtime, I bring a myriad of in-flight entertainment.  You name it.  I got it.  Paint.  Play-doh.  Stamps,  Crayons.  Flash cards.  Sticky hands.  Stickers.  Books.  Sofia the 1st figurines (and the rest of the royal family of course). Pillow.  Blankie.  Snacks.  More snacks. And last but not least - the iPad.
I strapped us in.  Got the oxygen spiel from the flight attendant.  The doors closed and we took off.  Over the intercom, they reminded us to stay seated until they turn the fasten seat belt sign off.  That's when it hit me.  Did I remember to wear a tampon?  I looked down at my white shorts.  Sh*t.
As soon as I heard the "ding", I grabbed my bag and Olive, and we scurried to the bathroom.  Of course that was after we straddled the stranger in the aisle seat.  
I sanitized the seat with a wet wipe and covered it with one of those weird seat covers.  Olive gasped, "Mama - what did you get on your girl panties?"  "Why is it red?" she continued.  "Don't you EVER get that on my Sofia girl panties!".
Unfortunately, it was worse than just the "girl panties".  The shorts were ruined and there was nothing I could do about it.  The only sweater I had with me was one of Olive's.  No way that would tie around my waist.  (I'm no Bethany Frankel)   I actually thought about crying for a moment, but that quickly turned into uncontrollable laughter.  How the "F" was I so prepared for every need Olive may have in the next 3 hours, with zero preparation for myself?
I stepped out of the pint size potty room prepared to take it like a big girl.  But my tattletale toddler had other plans.  As we began the journey back to our seats, Olive Bee began announcing to every person along the aisle that "Mommy got something red on her girl panties.  She's not gonna get it on my Sofia girl panties though".
SERIOUSLY!  Is this happening?  All the women - mothers, grandmothers and even the pubescents (though they probably related to me the most) looked at me with pure love and understanding as they tried desperately to control their chuckling.  I couldn't really blame them.  It was hilarious what was happening.
At that moment, I realized that if you can't laugh at yourself you will never survive motherhood.  So I laughed.  I laughed and laughed.  Mid-flight, God through me an awesome bone and Olive actually fell asleep.  I ordered a club soda and flipped through the latest Harper's Bazaar.  It was an incredibly peaceful hour.
Brett was waiting for us in baggage claim when we landed.  After 3 days apart, Olive ran to him, jumped into his arms, and said, "Mama got something red on her girl panties!".
Really. Olive.  Really?