Q&A with Alexandra Macon of Vogue.com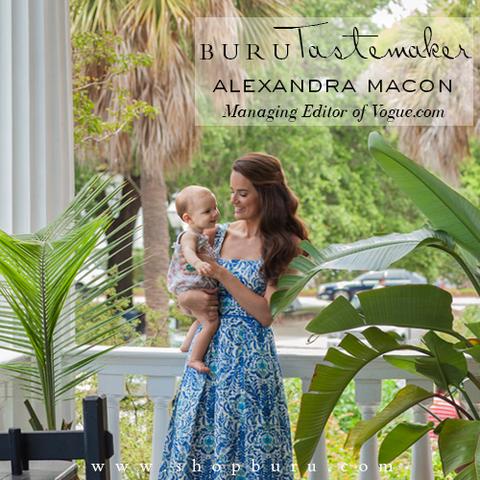 Photo credit: Marko MacPherson // @markomacpherson

Alexandra Macon is the perfect combo of Southern Belle and City Chic.  After more than a decade in the high-pressure, fast pace world of fashion media in Manhattan, Alexandra continues to leave her mark with grace and beauty.  Wife, mother of two, and full time Managing Editor at Vogue.com, she somehow managed (we can't figure out how) to find time to create, Over the Moon, a website dedicated to aspirational, yet attainable wedding inspiration. 
Read below as she shares insight to motherhood, life balance, and mom style.
What I love most is cuddling with my kids, holding hands with them, seeing how excited they are when I arrive home after work, teaching them traditions, games, and songs, and reading stories and watching movies that I remember from my own childhood.  My mother use to sing "Summertime" to me as a child and I love singing it to them now.  And of course, experiencing the world through their eyes.
I sleep with one eye and one ear open at all times now! Also, I am a bit tougher. After childbirth and months of sleepless nights, so many things don't seem as intimidating or insurmountable.  I also constantly feel like half of my heart is outside of my body walking around in the world now. Having children has taught me to love more deeply than I ever imagined possible, but as a result, I also feel incredibly vulnerable. 
Yes, I breastfed—the peer pressure! Just kidding. I wanted to give what's supposed to be the healthiest option the old college try. It was uncomfortable in the beginning, but for the most part, it went as well as can be expected—although I can be impatient so sitting in one place and feeding for 30–40 minutes was difficult for me. Luckily, I got REALLY into The Good Wife with my second child. I logged about 100 episodes while breastfeeding.
My style has changed since becoming a mother.  I would say that "easy" takes precedence over all else. I'm a big fan of investment dresses—one piece I can throw on that I know will look good and then I'm out the door.
We struggle with this. But my husband and I recently took our first vacation alone in three years, and it was a complete game changer. I was like "I do like you!" When your day-to-day is all about work and kids and then doing it all over again tomorrow, it's easy to lose sight of who you were before that routine. This vacation taught us how important it is to prioritize one-on-one time.
Diapers.com, FreshDirect, Seamless, and BlueApron help. I manage my household on my phone, which might as well be fused to my hand.
Sofia the First always travels with us. She's practically a member of our family. We don't go to the airport without several episodes banked on the iPad. And my travel uniform is typically jeans and a top—and then a big carry-on bag for all of our necessities (Goldfish, raisins, wet wipes, etc). 
I once saw an advertisement for a storage unit company on the subway that said: Raising a child in New York City is like trying to grow an oak tree in a thimble. That hit very close to home. Life would be a lot easier if we had a big backyard. We make do, though, and try to get the kids outside as much as possible. My husband and I joke that if we don't have them out of the house before 9:00 a.m. on weekends then the natives start to get very restless.
I launched Over the Moon with my co-worker and friend Andee Olson at the end of June. We love looking at pictures of friends' weddings and felt there was a real hole in the market for a blog that focuses on chic wedding coverage that's aspirational but also attainable, so we're aiming to fill that void. So far it's been a lot of fun!
The list is endless. One thing I try to remind myself is that when times are tough—whether it's colic, teething, or the terrible twos—it's important to keep in mind that it's just a phase and doesn't last forever. They grow so fast!