Q&A with Shannon Bird of Birdalamode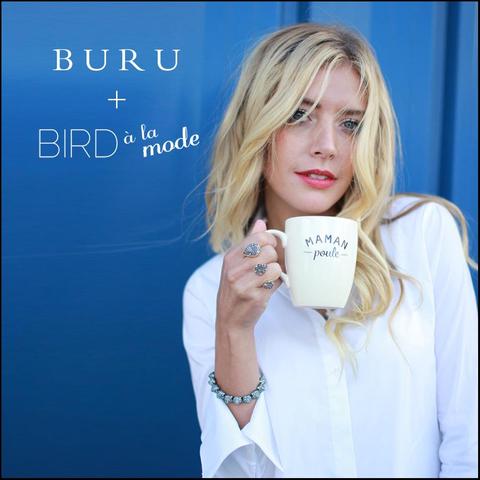 Have you seen our latest lookbook featuring the stunning Shannon Bird of Birdalamode? It is a must-see!  Clearly, this mother of two has not sacrificed an ounce of her #momstyle to meet the demands of her two littles.   Read our exclusive Q&A with her below on all things motherhood and style!
BR:  What do you love most about being a mom?
SB:  The number one best part about being a mother is how I get to relive life. Being around little people all day who are so excited about life and find enjoyment in the small things has given me a whole new perspective of life. Being a mother is a breath of fresh air. Its exciting, it's challenging and everyday brings on new adventures and memories.
BR: What is the number one way in which motherhood has changed you?
SB: Motherhood has taught me patience. I always said that I wish my children were more like the children in the parenting books. You read these books on how to have your child sleep through the night and on paper it seems so easy, but in reality it tries your patience.
BR:  Did you breast-feed? If so, how did it affect your wardrobe selection?
SB:  I breastfed both of my children for over a year. I never wore dresses, unless it was a wrap dress. I couldn't wear a wired bra, I would end up with mastitis. I also had a hard time finding breastfeeding friendly swimsuits that were one piece.
BR: We LOVE Birdalamode– what inspired you to start your blog?
SB:  First of all, thank you. I feel the same about Shop BURU!  I was a fairly young mother (22) when I had my first child. I would post pictures on my facebook and receive  hundreds of messages about how I lost my baby weight, questions about products I was using, etc.  I told my husband that I should just start a mommy fashion blog and call it Hudson a la mode. I was 6 months pregnant with my second when I really took the plunge to start my blog. By then I was getting questions about my pregnancy and fitness routine so I decided that I needed to broaden my horizon and talk about all aspects of my life which led me to using my last name "Bird" a la mode.
BR:  Is there one fashion item, no matter how impractical as a mother, that you will never give up wearing?
SB:  High Heels! I love wearing high heels everywhere! I feel so put together when I am wearing a heel. I feel that the way I carry myself is how I perform. I feel great in them and want to feel great while mothering my children. I will never give my heels up.
BR: What are your top mommy must-haves from BURU and why do they work in your mommy lifestyle?
SB-
1. the hello baby bag is amazing! The perfect take home set for mom and baby
2. The Baby Detergent is fantastic!
3. Rebecca Minkoff Knocked Up Baby Bag.  Great looking & easy to keep clean.
4. Yosi Samra shoes are a staple!  I am a high heel girl myself but when my feel would swell or blister I could whip these foldable flats out of my diaper bag and resume daily life.
BR:  Your children are adorable!  If you wouldn't mind sharing, please tell us a few of your mommy favorites:
SB:      Bedtime Story: Three little pigs. The kids love when I knock on the head board as if I am the Big Bad wolf wanting to come in.
            Lullaby: Here's the ball for baby big and soft and round, here's the babies trumpet see how it can sound……
            Vacation Spot: Beaches Turks & Caicos, Atlantis, Disney World
            Restaurant: Brio. We like that the kids can roll pizza dough into breadsticks (which they cook for us to enjoy) color and the whole family loves the food.
            Children's Brand: Yosi-samra shoes, Mayoral,
BR:  What's the one thing you wish you would've known before becoming a mother?
SB:  When I was pregnant I will admit all I focused on was the size and development of my baby.  I wish I would have read what to do when the baby came out. I was borderline clueless!  For that reason I felt like I really had to do a lot of product testing and try out different parenting methods.  I wanted to help other mothers with similar questions, and I feel like my blog is a great way for mothers to connect. I also felt as a young mom, still wanting to look 22 and wear what my peers were wearing was really hard for me - because let's be honest, not all fashion is breastfeeding or diaper changing appropriate. This is why I just fell in love with Shop BURU!
Shop Shannon's #momstyle
HERE
View our BURU + Birdalamode Lookbook
HERE