Q&A with Amy Stringer-Mowat of A Heirloom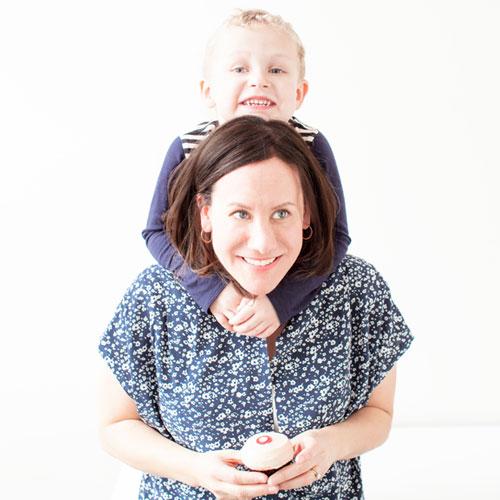 Brooklyn based mama, Amy Stringer-Mowat founded AHeirloom with her husband, Bill, in 2011 after receiving rave reviews for the custom cutting boards they created for their own wedding to honor each one's respective home state. With a Masters in Architecture from Columbia and a love food, design and housewares gained from previous work at Zingerman's Delicatessen in the mid 90's followed by time spent at Monmouth Coffee in London, England—Amy merged her interests to create a killer brand of high quality, made in America home goods with a sentimental touch.
Learn more about this talented mama in our exclusive Q&A below.
Plus shop her #momstyle on sale this week only!
Every morning I am greeted by the sound of tiny feet racing to wake me up and say "Good Morning!" Our son's excitement and energy for life is infectious. As a four year old, there is magic everywhere and I feel fueled by his energy for new experience.
I have also had to stretch my personality a bit. I would consider myself a bit shy and heading out in NYC with a child is very much about interacting with everyone around you. From the city streets, to preschools, playgrounds and running errands people really get a great amount of joy out of seeing kids out and about. I do a better job at smiling, taking my time to talk to people we meet during our days out and fosterig a sense of confidence in my city kid.
I did breastfeed Henry for two years. From the minute he was born Henry and I clicked, breastfeeding just worked. I would defiantly say that it was peasant shirts and button downs for many months, easy tops and lots of good skinny jeans. I still remember when I started to wear silk blouses again and it was amazing.
I would say I was always casual and pretty classic, I need pieces that work over and over… I am actually one step away from issuing myself a uniform, but then that wouldn't be near as much fun!
April green elastic waist cotton pants
It's been intense as we actually are both running small businesses. Bill has an architectural fabrication company in Brooklyn and I run the day to day operation of AHeirloom.   We have been working together for over 10 years on and off, so we certainly know what strengths we both bring to the table. Our work ethic is very similar and opinions about how things should be. The challenge is figuring out how to turn off work mode for sure, having Henry helps!
When we launched in 2010, we weren't thinking about starting a business honestly, it wasn't till early 2011, that we realized we had something that needed to be nurtured as full time. The most important change was the switch to working with other manufactures in the USA. Being able to get parts and pieces made domestically was a true game changer. The state shapes remain a best seller and the new turned objects are a close second.
We live in Brooklyn, NY and spend a great deal of time in the cities playgrounds and pounding the city streets. Henry is learning to ride a bike and I had always thought the city sidewalks would be a challenge since I am a suburbanite by nature, but it's a village and he is getting a great deal of encouragement from everyone we pass.
We live groundhogs day, it's pretty much the same day. Get up, coffee is always set to start brewing 6:30 am, Get ready go to Pre-School drop off (Bill) and take the subway or walk to our studios/production spaces. We start by running through the tasks for the day with our teams and try to get the as much work done as possible… Pre-School pick up (Amy) some Brooklyn playground time and a walk home and repeat!   Dinner is a combination of early for Henry, later for mom and dad or all together, we allow for a range of possiblites. We completely live for summer, when the routine gets a bit more relaxed.
While you are building a business, balance is kind of a myth. We do think there is a balance when everyone can join in and have a decent time. Henry loves to come to our offices, there are lots of tools, loading docks and projects to join in on and we are pretty lucky he likes it for now!
It's means celebrating the little milestones that happen daily, monthly, yearly and creating a memory that lingers and creates a life story for our son.
mother: grateful
wife: lucky
designer: evolving
business owner: persistent
friend: loyal
Bedtime Story: Roberto the Insect Architect
            Lullaby: we sing "This Little Light of Mine" sung very very softly
            Vacation Spot: The Mowat family cabin in New Hampshire
            Restaurant: We eat at our local beergarten called The Bergn in Brooklyn
            Children's Brands: June and January (Amy is the best)
How many more chores would be involved in the day to day! While there is more to coordinate it is certainly rewarded by seeing your child grow and learn about how far hard work can take you.
It's pretty simple, but I think about a phrase my mom always says.. "Everyone is different, not one person is the same" If you can roll that tape through you head, you can get beyond the comparison game and start to focus on what makes your contribution to the world special.