Morgan's Must Haves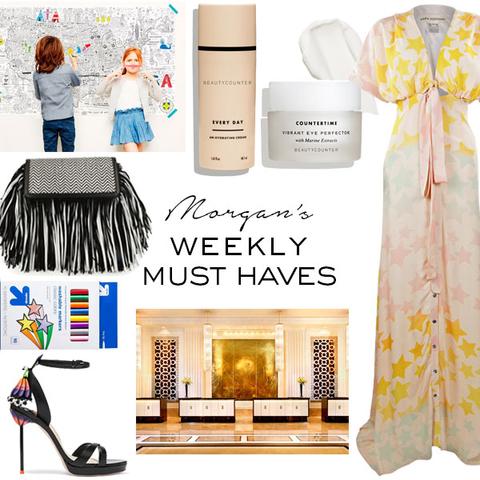 This Friday, I am taking a mini 36-hour getaway to meet my handsome hubby in Viva Las Vegas, where he is attending a conference. Though I am only able to sneak away on Friday night, I am certainly going to make the most of it! As always, Vegas calls for over the top glam, hemlines a little too short, heels a little too high, and handbags too small for toddler toys!
Going for gold at the Trump hotel and planning to take full advantage of their signature spa treatments—like the Las Vegas Oxygenating Facial while Brett attends meetings. (Please note that staying at this hotel is no reflection or indication of our support for this man and his anti-feminist rants!)
I consider myself a great packer for quick trips—I keep it tight in my Tumi carry on, but I never leave home without my skin care. I have just entered into my late 30's which means no more serum skipping. Elasticity is fleeting. Maintenance is everything.
(click any image to shop)
I also never leave home without my JIFFY travel steamer.  Never trust that a hotel iron has been cleaned properly.  And NEVER pay the ridiculous ironing fee to housekeeping.  That's insanity.
I think it is important to make your absence from the little ones feel like a mini-vacay for them as well. So in addition to getting her excited about the fun things she will do while I am gone (New Jungle Book Movie, Trampoline Park, etc)—I will also leave behind a fun at home activity treat!
 (click any image to shop)

Save