Q&A with Nicole Neves of My Sequin Life + Sequin Productions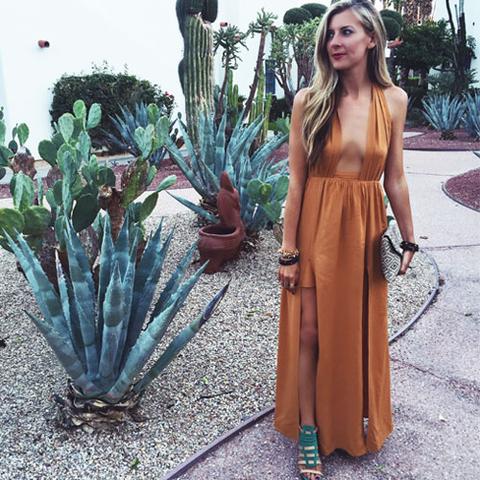 Previously the Director of PR & Events at Guess, now CEO/Founder of Sequin Productions and My Sequin Life, Nicole Neves is one busy mama!
Nicole, a fashion-obsessed mama of two boys: Colson - 3 and Nixon - 1 has been at GUESS clothing for the past 11 years as the PR/Events Director.  Recently she made the difficult decision to quit corporate life and start her own PR/Events company.  She's fortunate to bring on GUESS as one of her first clients.  This new change of career gives Nicole the flexibility to spend more precious time with her two young boys.
We are so impressed with this bold career move! Well done Nicole! Welcome to our BURU Tastemaker Tribe.  We are thrilled to have you!
Learn more about Nicole in our exclusive Q&A below + shop her chic #momstyle on sale this week only!
This is a hard question, and I don't think there is just one thing....so many things bring joy to my heart being a mom, watching them grow, having them love me unconditionally and the endless hugs and kisses.
It has given me a curfew...lol.  My husband and I used to be very social and now we have to be social in a new way – dinner parties at the house, play dates, etc.  But the biggest change is being responsible for the lives of two young boys – keeping them physically and emotionally safe is my main priority.
I have become a sneaker connoisseur. When I'm with my kids, I need to be comfortable in order to keep up with them. I have a boho, California, laid-back style.
Date Night
Working for GUESS, Inc. for 11 years was a dream come true.   I got to travel all over North America, meet incredible people and execute amazing events. I absolutely loved working for an iconic brand. We all have a GUESS story from childhood. When I was a little girl, it was everything to have the GUESS triangle on your jean.
I was always being asked, "what are you wearing?" so I started sharing it with my social outlets. When I became pregnant with my first son, followers became very interested in how I styled my "Bump." And after that, I became a part of the "mommy" social world.
I live in Playa Del Rey, a small beachside community in Los Angeles. Our family loves going to local restaurants like Playa Provisions and then walking to the beach or our local park. We LOVE being outside. And when the weather is 75 degrees most days out of the year, it makes it easy to be active outdoors all the time.

Mornings were very, very crazy when I would have to be in an office at GUESS.
Now that I work from home I take my time with the boys in the morning and evenings. My older boy goes to preschool and my younger son has a nanny who watches him for a few hours while I work at my home office or meet with clients. I love the flexibility of having my own business. It has been the best decision I have made in my career.
As a working mom, I make a conscious effort to focus on the quality of time with my sons – since quantity isn't always an option. This has always been my motto. Now that I work from home, I make sure I put work away when I'm with them. They are at an age that needs my undivided attention and I embrace this with them.
Caring and loving unconditionally.
Mother: Caring
Wife: Loving
Friend: Loyal
Blogger: Hobby
Executive: Dedicated
Bedtime Story: Goodnight Moon
Lullaby: Twinkle Little Star
Vacation Spot: Baby Moon – Playa Del Carmen – Viceroy – Don't vaca much with two kids
Restaurant: Gjelina, Venice Beach
Children's Brands: I love brands that have fun, bright colors and prints. Nununu and Munster jogger pants and fun graphic tees – Prefresh and HATCH
Not sure, I think you can never be ready, until it actually happens to you.
"I just wanna go on more adventures.  Be around good energy.  Connect with people.  Learn new things. Grow."