A Week Of Artists: Kim Willson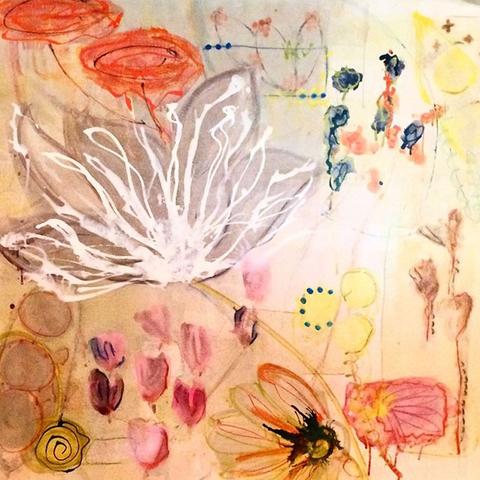 We continue our 'Week of Artists' series with the delightful Kim Willson. Known for her oversized abstracts, often with a floral influence, Kim's works exude happiness through her use of color and shapes.

Everyday this week we will feature a mama doing incredible work in the art space. To celebrate her favorite work, we curated a mini collection of BURU styles inspired by the artist.
I was born and raised in Murray, KY and am now an o
ffi
cial Memphian, with stops in Nashville, New Haven, and New York. I have a handsome Tennessee husband and three adorable Tennessee babies, and I am now somehow related to Dolly Parton through marriage...or at least I am taking that possibility and running with it!
Art has always been important to me: decorating the halls of my high school for a Friday night football game, studying the masters in art at Vanderbilt and Yale, designing lingerie for my former company, Passport Panties, and creating a home for my family. The expression of art has added color to many chapters of my life, and now it is just now being played out in my home studio and on oversized canvases
Playful, vibrant, and interpretive. My work is meant to encourage delightful thought and conversation.
One of the joys of working from home is being near family. The supplies are out in the open and the kids are in them! They have taken a few liberties to project their own artistic talents on the walls and furniture, so we have had to establish a few ground rules. However, they do know that I encourage their creativity and celebrate their masterpieces.
"Fashion, Flavor, Faith, and Fun" are my inspiration, more so than any artist in particular. I am naturally drawn to abstract and upbeat art and anything my identical twin sister likes.
There are countless artists whose works I would love to own, but if i could only have one piece of art on my wall, it would be something composed by my children. They can take glitter, cotton balls, and popsicle sticks and produce art that is priceless to me.
A Bella Dahl button down shirt that I bought on shopburu.com that is now covered in splatter paint. I dress in the morning with getting messy in mind, so that I am ready to act the moment creativity strikes. When I am out of the studio, I reach for my one of my secretary bow blouses and flirty skirt from BURU (do I hear
Nine to Five
playing in the background?).