A Week Of Artists: Sally King Benedict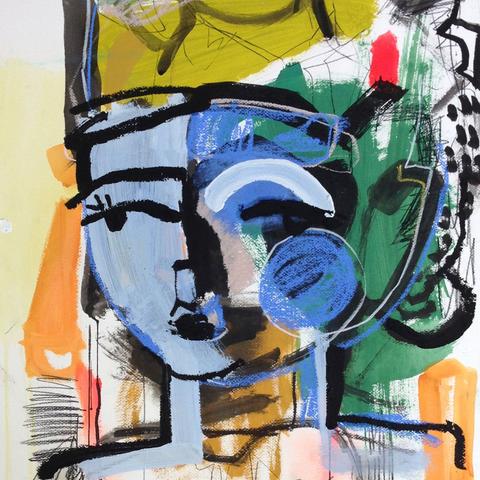 We are kicking off our Artist Week series with the lovely Sally King Benedict. Known for her bold, abstract faces and colorful aesthetic, Sally brings beauty to everything she touches—including her collaborations with fashion brands Marysia Swim and Lizzie Fortunato.
Everyday this week we will feature a mama doing incredible work in the art space. To celebrate her favorite work, a mini collection of BURU styles, inspired by the art, will be on sale this week only!
I grew up in Atlanta Ga, then to College of Charleston.....stayed in Charleston to start my career and family, now back in Atlanta. I have had a real passion for creating art since I was very young. My parents nurtured my curiosities and always made time for after-school art amongst all the sports and other activities.
Contrasting, lyrical, balanced
My son River is an extension in everything I do. My work is definitely influenced by his quickness and movement, softness and toughness, joy and love for the precision of things at such a young age....it's all encompassing. I love watching him draw and paint....the decisions he makes are always surprising and it makes my heart beam with happiness to see his joy for art. Being his mother makes me look at things from new and different angles....I feel like I have a new set of eyes on every subject.
Musicians. To be so in love with music and composition and feel so foreign and incapable of making it makes me crazy with inspiration as strange as that may sound. I envy the ability to hear and just know how to play or compose without knowing what it will hear like until its played. I most enjoy the escape to just listen to music when I am not working or painting. Loud, rhythmic music. There is nothing better in my book.
Most recently a lot of active wear - gotta keep everything in place