Road Trip Diary: Marfa, TX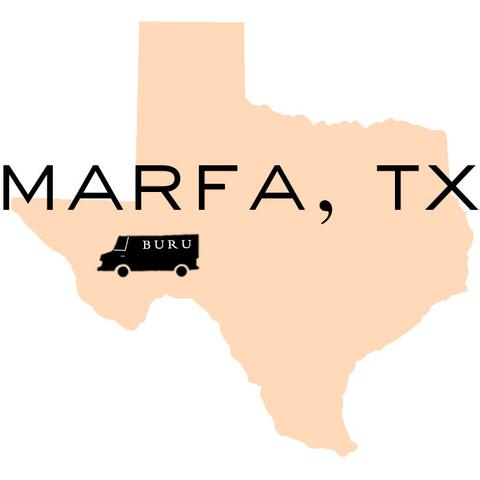 Within minutes of walking into the lobby at the

Hotel Saint George

, I knew that Marfa was a special place. Every person and every detail of decor was styled to perfection. I quickly tried to wipe the "road trip" off of me—but the 10 bags of junk and 2 tired (and wimpering) kiddos were a dead giveaway that Brett and I were not part of the "cool" crowd.
I'm not sure if it's the mystery of the

Marfa Lights

or the energy buzzing from the incredible art all around, but there is magic in the air in Marfa. And while we had great fun and took dreamy pictures with our littles—we both desperately want to come back for a couples getaway. Perhaps it's the "in the middle of nowhere" aspect that adds an extra dose of romance. (Or perhaps we've just been in a big van with our 2 kids for too many hours! ha!)
I hope you enjoy our 2nd Road Trip Diary Entry below. If you're planning a trip to West Texas in the near future—don't miss our quick tip TO DO list!
Morgan:
Into the Mystic - Van Morrison
Brett:
Lovely Day – Bill Withers
Olive:
How Far I'll Go - Moana
Schafer:
Can't Stop the Feeling – Justin Timberlake
Brett
:
This little masterpiece did not disappoint. I just love the brains that created this gem. Even though it has attracted thousands of people, I somehow felt that we had discovered a hidden treasure. Worth the drive, mamas.
Thank you Donald Judd for your vision. Thank you for creating an art mecca out of nothing. Thank you for inspiring. 
Mamas, the Judd installations are really fun for kiddos. I love the interaction with the art. I think starting an appreciation for unconventional art at an early age is a great gift to give your children.
This didn't happen for us—but it's just another reason to go back!
Unfortunately, this darling coffee shop/event space/ art gallery was closed on Wednesday. Most places in Marfa are actually only open from Wed-Sun, but Do Your Thing is still on its winter schedule.  Bummer—but we were popped over to the
H

otel Paisano

, which was equally charming.

 

 
This super chic food truck is a dream. Plus, it's perfect for the entire family—delicious food, fast service, craft beer, and the dining car is an old school bus that Olive absolutely adored! We got to eat in peace and she had a ball! (She ate the food too so it was pretty much bliss all around.)
 This magical spot doesn't open until 9:30 PM. There are nights when our little ones could handle it, but not on the night we were actually there.  Sometimes you just have to call it as a parent—even it your need to privately pout about it later.
This is on my list for our next Marfa visit. And there will be one. I'm certain of it.
We head to our next road trip stop tomorrow—so there is still time to guess the destination at checkout to save 25% OFF your order! Visit (and follow!) our instgram @shopburu for hints!
Save